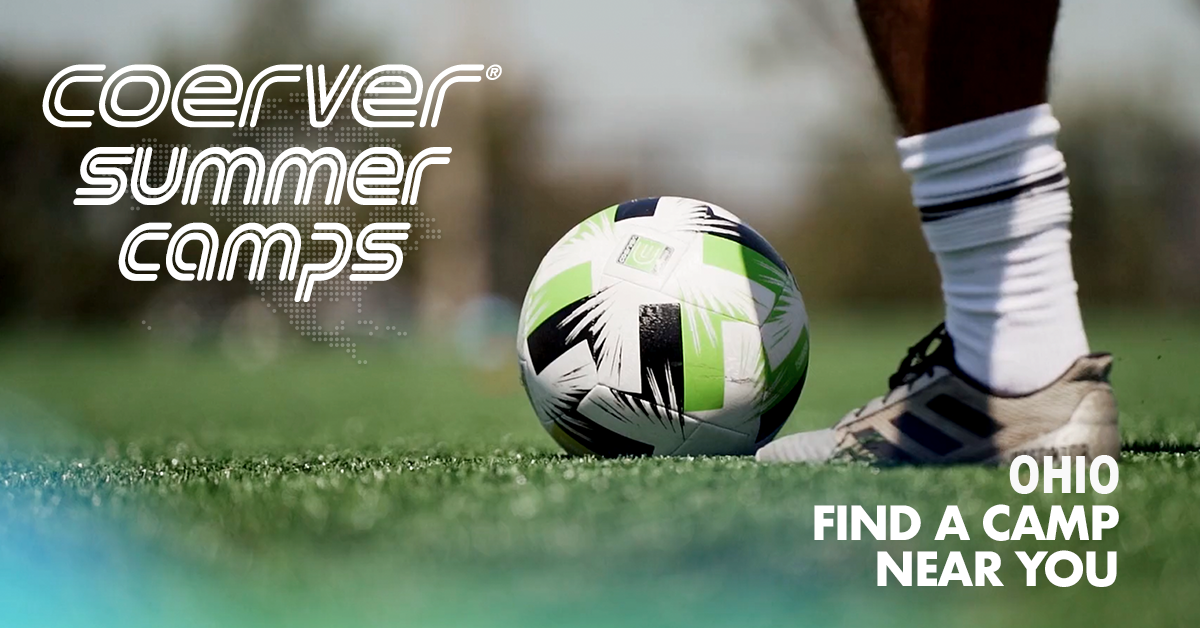 If you're looking for a soccer camp in Ohio, you've come to the right place. Below you will find the best soccer camps available in the state of Ohio. If you don't find the right soccer camp near where you live, it might be worth it to attend a quality soccer camp in a larger city or even another state nearby. Here are some of the best youth soccer camps in Ohio to attend this summer.
Featured Soccer Camps
Soccer Camps International
www.soccercampsinternational.com  – The leader in online registrations for famous and Elite European Clubs Youth Summer Soccer Camps and Soccer Schools, offers players the opportunity to discover new ways of learning and developing soccer skills with players from all over the world in some of the world's best soccer countries including England, Spain, Italy, Portugal and France. Learn how to play the soccer style of Real Madrid, Barcelona, Manchester City, Chelsea, Arsenal, Liverpool, AC Milan, Juventus Turin, Benfica Lisbon, Paris Saint Germain and Bordeaux. Language Classes options available in France, Spain and England. Residential and Day Camp Sessions, Goalkeeper training sessions and girls sessions available. Cultural excursions in top European cities available for select camps. Register Online NOW
Nike Soccer Camps: www.ussportscamps.com/soccer
Get Better this summer at NIKE Soccer Camps! The Nike Soccer Camps provide youth soccer players the opportunity to improve their skills in a high-energy environment which includes morning and afternoon training sessions, small group offensive and defensive tactics and game play with top notch coaches. Offering coed, girls, and boys only programs at fantastic soccer venues with a safe, healthy and FUN learning environment for all ability levels for players of all levels and age ranges. Find soccer camps across the United States from the likes of Vogelsinger, Nike Soccer and the Soccer Academy! Register NOW
No. 1 Soccer Camps: www.no1soccercamps.com
The No.1 Soccer Camps are the leaders in soccer specialty camps for all ages and ability levels. Long recognized as the foremost training ground for goalkeepers and field players endeavoring to improve their soccer prowess, No.1 Soccer Camps will host locations throughout the United States with many new sites this year. In addition to our traditional Youth, Junior and Senior Academy, at select sites we are also offering our unique College Prep Performance Academy as well as our College ID Showcase Camps. Camps will be conducted in Arizona, Texas, Maryland, Ohio, Florida, Colorado, Massachusetts, Illinois, California, Georgia, Oregon, Virginia, Pennsylvania, New Hampshire, New York, South Carolina, Alabama, North Carolina, Michigan, Tennessee and Connecticut. Each campsite is organized into well balanced small groups of field players and goalkeepers with concentration of play on both sides of the ball in the 35 yards immediately in front of the goal, utilizing our unique Go to Goal curriculum. The Machnik Method is recognized as the industry standard. Many No.1 Soccer Camps present sold out situations so it is important to register early!
Register NOW
LA Galaxy Elite Youth Soccer Camps: www.lagalaxy.com
The LA Galaxy is proud and excited to offer a range of ELITE YOUTH PROGRAMS throughout the state of California. Explore your options below to find the programming that best fits your player!
Our specialized training sessions focus on technical and tactical development, activities that encourage creativity and match awareness, and discussions on game-related topics. We strive to identify and develop key players who could advance to play for the Galaxy Discovery Program, LA Galaxy Academy, LA Galaxy II or the LA Galaxy one day.
Register Online NOW
WHAT: Top specialized training sessions focus on technical and tactical development
AGES: 10-16 Years Old (Boys and Girls)
SKILL LEVEL: Intermediate, Competitive, Advanced, Elite (Examples: Flight 1, Silver Elite, ENCL, MLS Next or equivalent)
CAPACITY: To ensure the quality of our Programs, all Camps are limited to 15:1 (Camper to Coach) ratios and registration is first come, first serve.
International Development Academy: www.internationalda.com
IDA camps and player experiences are the new standard for international soccer camps. Designed for serious student-athletes, IDA's camps and player experiences combine elite training, player development, and competitive match-play against top competition. IDA Camps are offered year-round, with specific dates during the summer season. "The intensity of the training and schedule, the real games, the video footage for my highlight film – to name just a few. The whole experience was so different to what we are used to with summer camps and ID camps. Most camps these days are the same thing – show up, do some training, play some practice games with the same players. You can't really compare the two. If you want the real deal, IDA is your best bet."
Register Online NOW
North-East Residential Camp: www.newenglandsurf.com
The North-East Residential Camp is designed for like-minded Players (born in 2012-2011-2010-2008) who want to compete with the Best of the Best players in the North-East region and be coached by some of the best coaches at New England, New Jersey and Rhode Island Surf. 4 days of elite training, coaching, educational workshops, and internal competitions, at one of the best prep schools in New England. This is a fantastic opportunity for all the players to showcase their talents and get ready for the pre-season, and fall season with their clubs.
Register Online NOW
The Berkshire Soccer Academy for Girls: www.berkshiresocceracademy.com
Girls at the Academy receive elite training at top-quality facilities from our qualified and experienced coaching staff. One of the few specialty soccer camps set in a traditional camp environment, we focus on player improvement while deliberately infusing fun and friendship into the learning process. At the Academy, girls discover their greatness both on and off the field. The Academy is located in East Otis, Massachusetts, 10 miles north of the Connecticut border, and about 2 hours by car from Boston, and 2.5 hours from New York City.
All sessions run Sunday morning through Thursday afternoon. Those wishing to attend multiple sessions can attend a Bridge session from Thursday – Sunday (cost $495).
Camp Office Phone (all year): 800-326-9219
Learn more here: www.berkshiresocceracademy.com
One. Soccer Schools Residential Experience: www.onesoccerschools.com
The California Residential programs are designed for the serious, motivated player who has the passion, desire and aspirations to play at the highest level. Our 5, 10 & 15 Day Residential Programs offer a unique and specialized curriculum designed to maximize the individual player's growth and development, self-confidence and overall success during their stay. The residential program attracts talented players from across the United States. Players continue to return every year for the total soccer environment and family they become part of. Our staff are hand picked for their passion and experience within youth soccer! Our training methodology is simple, let the game be the teacher and the coach be the guide. The four 45-minute morning sessions are devoted to the players technical toolbox. The three 45-minute afternoon training sessions are devoted to the four moments of the game, transitions, offense and defense.
Our well thought out themed games look like soccer, and create a highly competitive, challenging, educational and enjoyable experience for the player! The two 45 minute evening sessions are all about competing in small sided games and 2v2 Footvolley. Sprinkle some Qualified Yoga Instruction, Inspirational learning modules on both Nutrition for recovery and health, and team culture and core values, creates an environment unlike no other! For more information on the camp or to see if this would be a good option for your child, contact our Resident Camp Director, Lloyd Biggs at lloyd@onesoccerschools.com and/or visit our website at www.onesoccerschools.com
---
Ohio Soccer Camps
Snow Goal Scoring Soccer Camp
www.snowsoccercamps.com
Snow Goal Scoring Camp gives players the opportunity to take more shots on goal than they could at any other camp and is applicable to players at all levels. By teaching the fundamentals of proper shooting form, stressing the ability to take quality shots with both the strong and the weak foot, and relentlessly drilling goal-scoring situations that commonly occur in games, we allow players to develop muscle memory so proper shooting technique becomes effortless and scoring goals becomes 2nd nature. This proven method of practice was instrumental in making Ken Snow one of the nation's best goal scorers and is guaranteed to take a player's shot to the next level. The camp is available for players ages 7-17. We offer camps in several locations in Indiana, Illinois, Michigan, and Ohio. Please visit our website www.snowsoccercamps.com for an up-to-date list of upcoming camp sessions, locations and prices.
Akron Men's Soccer Camp
(www.akronsoccercamp.com)
At Akron Soccer, we have heard from parents and coaches time and again, how players who attended the Akron Soccer Camp have come back with their skills improved, understanding of the game increased and enthusiasm for the game renewed. I am sure you will agree that, being exposed to the 'Akron Environment' of intensive training, technical and tactical skill development through challenging competition, delivered from some of the top college coaches and players in the country, it can and will improve your play. Attend one of Arkon's soccer camps in Ohio.
Jared Embick Head Coach
Ger Coppinger Assistant Coach
Michael Nanchoff Assistant Coach
Learn from some of the best soccer coaches in all of college soccer. Akron offers one of the best soccer camps in Ohio, if not all of the country.


Bearcats Elite Soccer Training
www.thebestsoccercamps.com
at University of Cincinnati
B.E.S.T. is entering its 4th year of camps and clinics at the University of Cincinnati. We have a wonderful reputation of creating a challenging and educational environment for a wide range of soccer players. We have two sets of camps: One is geared towards recruits and college transfer student—athletes looking to participate in a demanding ID clinic in front of current UC Players and Coaches while getting and opportunity to visit campus and interact with the support staff at UC. The other camp is a Day camp and is geared towards our younger campers who are looking to have a fun and relaxed experience where they can come to campus and ask questions, meet new people, and build confidence.
University of Cincinnati
Women's Soccer Office
Richard E. Lindner Center
2751 O'Varsity Way, Suite 763
Cincinnati, OH 45221-0021
bearcatselite@gmail.com
Beasley National Soccer School
(http://beasleynationalsoccerschool.com/)
DaMarcus and his staff provide young players the opportunity to receive professional, high-level soccer coaching from a team of qualified soccer trainers. Each camp is challenging, educational and fun! The curriculum designed by DaMarcus Beasley focuses on FUN-damentals, exercises and games that provide problem solving opportunities. The Beasley staff will educate, direct and encourage each participant throughout the week. With enrollment all fundamental, intermediate and academy participants will receive a FREE Camp T-Shirt and Camp ball.
Location: Wapakoneta, OH
Info: Trish Poursanidis
Phone: 260-469-3024
DaMarcus Beasley is a legend in U.S. soccer and the fact that Beasley runs soccer camps in Ohio is a great opportunity to learn from a true pro. Beasley just has a ton of experience playing pro soccer and what an opportunity it is to attend one of his camps.
Brad Friedel's Premier Soccer Academy
(www.premiersocceracademies.com)
Premier Soccer Academies will provide the highest quality soccer education, experience, training and enjoyment to talented soccer players without regard to economic or social condition. Attend one of Brad Friedel's soccer camps in Ohio and become an elite soccer player and or goalkeeper.
Bulldog Soccer Academy
(www.bulldogsoccer.com)
No boring drills, just fun soccer games. Kids are more enthusiastic about learning when they are having fun. Bulldog Soccer Challenge Games test players' technical soccer skills. Players get hundreds of touches each day to improve ball skills.
Soccer camps offer hours of physical activity which is good for building endurance. Low Ratio of players to coaches (usually 10 to 1) means your kids get more attention and touches on the ball.
Cincinnati Futbol Academy
(http://www.cfacademy.com/)
Cincinnati Futbol Academy has developed a club structure designed to produce the best soccer experience for all players. This structure is based firmly on the belief that each player's development is the key to any team or club success. The CFAcademy staff of licensed trainers and coaches is dedicated to helping each player develop to their maximum potential, and to compete at the highest-level possible.
Cincinnati Soccer Academy
(https://cincinnatisocceracademy.com)
College prep camp, residential advanced camp, team camp, day camp, mini camp, and goalkeeper training. Schedules and in-depth information available on website. Our camps provide an opportunity for prospective student-athletes to visit the University of Cincinnati while showcasing their talents in front of various college coaches including our UC Men's Soccer staff.
Cincinnati TOP Soccer
(http://www.cincytopsoccer.com/index.htm)
Cincinnati TOP Soccer is a soccer league whose sole purpose is to get children off the sidelines and into the game! We strive to accommodate any player who has a desire to play the world's greatest sport. By using the talents of dedicated coaches and volunteers, we provide the resources to allow each player, regardless of their abilities, to experience the joys that sports can offer. We have four different age groups, divided by age and abilities, so that every player can compete at the level best suited to them. It is our desire to see every child become the best player they possibly can.
Cleveland City Stars Summer Camp
(http://www.clevelandcitystars.com)
The Cleveland City Stars Summer Camp Program is designed to improve competitive players in every aspect of their game under the expert supervision and guidance of professional players, reserve players and the coaching staff of Cleveland's only professional soccer team.
Cleveland WhiteCaps Premier Soccer
(http://www.clevelandwhitecaps.com/)
All Star Soccer Camps, under the direction of Mike Sweeney, offers the very best in professional instruction right in your community. Our goal is to provide boys and girls, ages 5-12, with a challenging, competitive, fun environment in which to learn the game of soccer.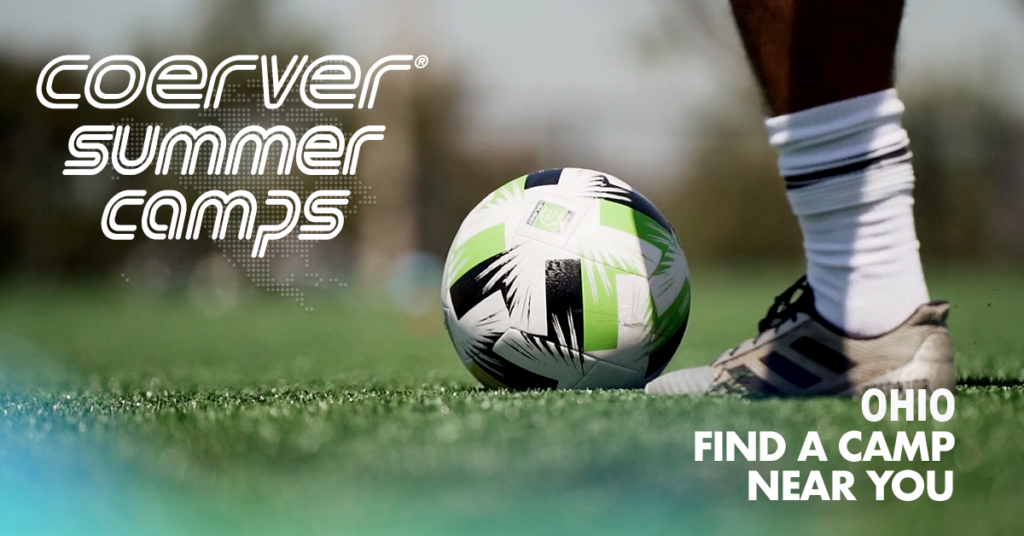 Coerver Coaching USA Soccer Camps – Ohio 2023
Coerver Coaching's mission is to provide the world's best youth soccer educational services and products at its Player Camps, Schools and Coaches' Clinics. Our aim is to make the benefits of Coerver® Coaching available as widely as possible through our network of Coerver Coaching licensees. Coerver has camps across the country including soccer camps in Ohio.
Click here for the Coerver Ohio 2023 Schedule
FREE Soccer Training Tips from Coerver Coaching: Enter your email address at this link to start your free soccer training tips: Six Steps to Soccer Success. Find Out Why Over 70,158 Coaches Love Coerver Coaching. Learn more about the The Coerver Coaching Method.
Columbus Crew Academy Camps
(www.crewscplayerdevelopment.com/Camps)
Columbus Crew SC Camps are committed to creating an unparalleled learning environment that will assist in a player's development, grow their connection with Crew SC and help instill a lifelong passion and connection to the game of soccer.
This fun and challenging environment is designed for kids from all ages and skill levels, from recreational to competitive. Each camp is specifically customized to challenge players in the four pillars of the game: technical, tactical, physical and psychological. Don't miss this opportunity to play with the only Major League Soccer team in the region and learn from the pros! Attend one of the Crew's soccer camps in Ohio this summer.

Defiance Soccer Camp
(http://www.defiancesoccer.org/hist.htm)
The philosophy of our camps is to teach fundamental techniques, soccer basics and sportsmanship. Our Association has been working hard to bring to town the best soccer coaches and instructors. In 1993-94 we invited Mel Mahler, Bowling Green State University Soccer Coach. In 1995-96, Joe Baum from Michigan State University.
And in 1997-99, the DSA was the only one in the Northwest Ohio hosting the Major League Soccer Camp, featuring the best licensed coaches from England. All campers received a written evaluation at the end of the camp along with a T-shirt and a ball another MLS gifts including tickets for the Columbus Crew games.
Dr. Jay Martin's Super Soccer Camp
(www.owusoccer.com)
In 31 years at the helm of perennial NCAA title contender Ohio Wesleyan, as well as with the National Soccer Coaches Association of America, Dr. Jay Martin has developed a unique perspective on coaching. The Super Soccer Camp blends key aspects of play in Brazil, Argentina, and Europe to offer youth of all skills levels an unparalleled instructional experience. All training is under the guidance of Dr. Martin and his highly experienced staff, and takes place at Roy Rike Field, one of the nation's finest collegiate facilities.
Dutch Masters Soccer Academy
(www.hollandsoccerstop.us)
The Soccer Stop is proud to be a part of the greater Holland community. We offer a state of the art facility where kids and adults can play a variety of sports thru-out the year. It is our goal to offer a community destination of the highest quality and professionalism to insure that our guests enjoy the experience. Not only is the Soccer Stop a great place to play sports, it is also a fun place to socialize in our full service café, Cantina de Hollanda.
FC Cincinnati Soccer Camps
https://www.fccincinnati.com
Beginning in March, FC Cincinnati will for the first time host official youth soccer camps led by long-time Cincinnati soccer coach Jack Hermans!
Designed for children ages 5–7, each FC Cincinnati Soccer Camp session will be directed by Coach Hermans and will feature FCC players as guest coaches! Hermans is a former professional soccer player and previously served as the head coach of Xavier University's men's soccer program as well as the Cincinnati and Dayton Dutch Lions of NPSL, and is a veteran of organized camps in the Cincinnati area.
Individual camp clinics will be offered twice per day on Saturdays from March to June, each lasting one hour with parents choosing between a 10-11 am session or 11am-12pm at three available locations: Summit Country Day School, Waldorf School, or Clark Montessori. Each clinic will provide your young kicker practice time on individual technical skills (Ex: dribbling), collective team ball control (Ex: passing and formations), a scrimmage and a 15-minute street soccer match! Participants will also get an FCC Camp t-shirt and an FCC camp cinch bag.
Heather Mitts Gold Medal Soccer Camp
(http://www.heathermitts.com/index.htm)
July 29-31 – West Chester, Ohio – Women's National Team Member Heather Mitts
Before 2004, Heather had played five times for the full National Team, one match each in 1999, 2001, 2002 and two in 2003 … Was called into training camp for the 2001 Nike U.S. Women's Cup and made the game roster of 18.
Kolping American Soccer Club
(http://kolpingsoccer.com/Camp.html)
Kolping Soccer Camp will be teaching kids that the game of soccer can be both educational and fun. Our ability to teach with enthusiasm and a positive attitude means that each participant will leave camp a better soccer player, teammate and individual. Attend one of Kolping's soccer camps in Ohio this summer.
Ohio State University Men's Soccer Camp
(www.ohiostatebuckeyes.com)
Residential Camp
July 13-17, 2008
Registration Fee – $495 (resident/overnight campers only)
Junior Buckeye Day Camp
Session I – June 9-13, 9 a.m.-noon
Session II – July 21-25, 9 a.m.-noon
Registration Fee – $135 (per session)
Senior Advanced Day Camp
June 8-12, 5:30-8:30 p.m.
Registration Fee – $160
On the Ball Soccer Camp
(http://otbsoccer.com/)
On The Ball Soccer Camp is committed to player development through demonstration and participation. We develop our campers' abilities by showing them how to play. Our coaches are strong players who have interscholastic or collegiate playing experience. We believe in making the game fun and putting players in an environment where they can reach their full potential.
1000 N. Main St.
Findlay, OH 45840
419-434-4801
smyth@findlay.edu
OSYSA Soccer Unlimited
(www.osysa.com/youthcamps.html)
The Ohio South Youth Soccer Association conducts two types of soccer camps: High School Team Camps and Individual Player Camps. Ohio South also conducts a unique Elite Players and Goalkeepers Training Center. These Elite camps are held in Columbus, Dayton and Cincinnati. Elite Camps are designed for Advanced Players ages 10-18.
The Elite Goalkeeper Soccer Academy is designed to provide top level training. It's geared towards goalkeepers, who aspire to play at the ODP, Regional, National, or Collegiate level. Here, soccer campers will work on the technical, tactical, physical, and psychological aspects of goalkeeping.
Schaeper Goalkeeping Camp
(www.schaepergoalkeeping.com)
The Schaeper Goalkeeping Camp is designed for players serious about improving their goalkeeping skills. The camp is intended to prepare players to compete at their highest possible ability level. The camp is for boys and girls 13 years of age through 18 years of age. The players will be taught the skills necessary to be a confident, courageous, and capable goalkeeper.
Each day players will be instructed on a specific set of goalkeeping skills and shown how to apply them to match settings. Good goalkeeping leads to confident teammates and a successful team. When a goalkeeper is confident making the expected save and courageous enough to accomplish the difficult save, success will surely follow.
Schaeper Goalkeeping Camp – July 9 – July 13 2018. Training Confident & Courageous Goalkeepers. Camp coaches: Brian Schaeper and Keith Schaeper. Location: 575 North Bend Road Cincinnati, Ohio 45224
TetraBrazil Soccer
(http://www.tetrabrazil.com/camp_schedule.htm)
TetraBrazil CAMPS feature professional, comprehensive, high quality soccer training with FIFA recognized "A" Licensed Brazilian Soccer Coaches. Register now for a quality Soccer Camp. Hosted in various states across the US. Check website for availability.
UPPER 90 FC Summer Skills Soccer Camp
(www.camp.upper90fctraining.com)
The UPPER 90 FC Summer Soccer Camp hosted at Buckeye Soccer Complex (Medina / Valley City Area, Ohio) is sure to be an enjoyable experience for U8 – U15 players of all skill levels, where your camper will learn, grow and have fun! Our Professional coaching staff will teach the campers their knowledge and passion of the game in a safe but fun learning environment. The camp will focus on technical exercise and games to develop their individual skills through foot skills drills, small sided games, and lots of soccer fun. There is no better way to polish your skills and get those all important touches than to train with coaches and players that share your passion for the game of soccer. Motivate, Activate and Energize your child by registering them to participate in the UPPER 90 FC Summer Camp by completing the online registration form and payment information below. Whether you play recreational, travel, club, or are just a beginner… this camp is for you. Players will be grouped by age and/or skill level.
Need More information
330.697-6938 or 440.225.6576
info@upper90futbolclub.com
Yellow Jackets Soccer Camp
(www.cedarville.edu)
Yellow Jacket Sports Camps include a solid program of instruction in the fundamentals of the respective sports. Individual attention and daily competition allow each camper to develop his/her skill. Time is set aside each day to present Christian principles and their application to daily living.
Boys and girls soccer, team camps, and day camps.