Whether you call it football or soccer, it's all about the Brazilian Ginga style of play. What is Ginga style? The Ginga style of soccer is all about spending time with the ball so you can master it. Ginga is about the joy that soccer / football brings to those who play it and those who watch it. Ginga is doing those soccer tricks and moves that nobody else can do.

Ginga is about dribbling, juggling and controlling the ball with all parts of your foot. Ginga is about doing that surprise move or trick. Ginga is about bending the ball around the defender or playing the ball with your heel to a cutting teammate. Ginga is about making a pass with your thigh or even your back. Nike Soccer presents Ginga, the soul of Brazilian football. Ginga is the art of soccer, where it's all about one's skill on the ball.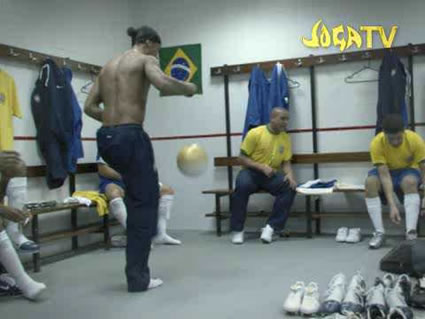 Beauty. Heart. Skill. Weapons to Live By. Ginga: The Movie
"Man, you can't just play football. You've got to have the sway" – Robinho
Nike Ginga Explained | Cast Of Characters | Fernando Meirelles
Wescley | Celso | Falcao | Robinho |Romarinho| Sergio | Paula Ceasar
Brazilian football (soccer) has always had a magical quality and a romance associated with it. As well as helping them win the World Cup a record five times, it is what makes Brazil everybody's favourite team after their own country. But what sets Brazil and its football apart from the rest?
One of the answers is Ginga – an almost indefinable, mystical quality of movement and attitude possessed only by Brazilians and evident in everything they do. The way they walk, talk, dance and approach everything in their lives.
Ginga is what gives Brazilian futbol players their fluidity and rhythm on the soccer pitch and enables them to 'Joga Bonito' (Play Beautiful).
Now a new film – entitled Ginga: The Soul of Brazilian Football – has been created to explore this influence on football and life in Brazil.
Produced by Fernando Mereilles (City of God, The Constant Gardener) and directed by three up-and-coming young filmmakers, Ginga is a dynamic documentary that explores Brazil through the country's favorite sport.
The concept of the film is rooted in the exploration of seven real-life characters, aged between the ages of 13 and 20, who come from different geographical regions and varying social and ethnic backgrounds.
The film captures an intimate portrait of their lives and provokes the questions: Is playing football for Brazilians more than just a pastime? Is it a way to achieve status and success? Is it an emotional escape from the troubles of their lives? Is it a sort of civic duty, a rite of passage of being Brazilian? Or is it simply done for the love of the game?
"Ginga" provides a glimpse into a land where the culture is so passionate, rich and vibrant and so rooted in movement that it can't help produce some of the world's greatest players and infect people with a love to play football.
One of those great players is Real Madrid's Ronaldo, and he said:
"I think it's in our blood, it's a gift given by God especially to Brazilians who play football and learn to dance from an early age. I think Brazilians are given ginga when they're born and continue to improve it through childhood."
His compatriot and La Liga rival, Barcelona's Ronaldinho, said: "Ginga flows with the rhythm. It comes into football with dribbles, with the change of movements so you go on developing a different ginga. Everybody's got a different way to dance and to move to the sound of music so this dancing ginga you develop with time."