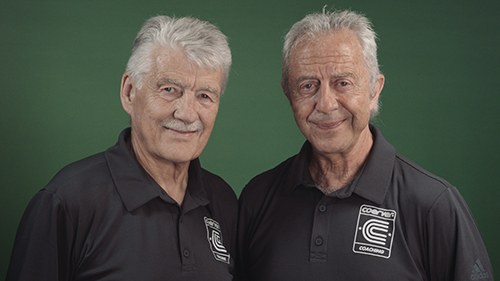 Coerver Training videos are used by players and coaches around the globe.  They are endorsed by some of the top professional club and national team federations, as well as thousand of local amateur clubs and coaches.
With a history of more than 4o years, the co-founders of Coerver Coaching, Charlie Cooke and Alfred Galustian, pictured above, have developed countless drills and games.  And recognized as some of the best instruction available on the web today.
Below are several reasons why Coerver online training videos can be an effective tool for teaching players:
High-quality instruction: Coerver training videos are produced by highly experienced coaches and trainers. They provide detailed and effective instruction that can help players improve their skills and techniques.
Visual learning: Many players learn better through visual demonstration, and Coerver training videos provide this in a clear and concise format. Players can see the techniques and skills being performed by expert coaches and players, making it easier for them to understand and replicate.
Flexible learning: Coerver training videos can be accessed at any time and from anywhere, making them a convenient and flexible way to learn. Players can watch the videos at their own pace and as many times as they need to fully understand the concepts.
Variety of content: Coerver training videos cover a wide range of topics, from basic skills and techniques to more advanced tactics and strategies. This variety of content allows players to focus on specific areas they want to improve, and to progress at their own pace.
Supplemental training: Coerver training videos can be used as a supplement to in-person training and coaching. They can provide additional guidance and support for players to continue their development even when they are not able to train with a coach in person.
Overall, Coerver training videos provide players with a high-quality and flexible tool to improve their skills and techniques. They can be an effective way to enhance player development and help players reach their full potential.
All Coerver training videos are available online with instant access by clicking here.