The Two Escobars: Sometimes it really is a matter of life and death.
The documentary The Two Escobars might just be the best film about soccer that's ever been made. Below is a video introduction to a new documentary from ESPN Films 30 for 30 on the relationship between drug barons and soccer in Columbia around the 1994 World Cup in the United States. Yes, The Two Escobars is perhaps the best documentary ever made, and not just talking about the world of soccer or sport, but all documentaries. It is a must see movie if there ever was one.
While rival drug cartels warred in the streets and the country's murder rate climbed to highest in the world, the Colombian national soccer team set out to blaze a new image for their country. What followed was a mysteriously rapid rise to glory, as the team catapulted out of decades of obscurity to become one of the best teams in the world. Central to this success were two men named Escobar: Andrés, the inspirational captain of the National Team, and Pablo, the infamous drug baron who pioneered the phenomenon known in the underworld as "Narco-soccer."
A favorite to win the 1994 World Cup, the Columbians never made it out of the first round. In the 35th minute of the team's game against the United States, Andres scored an own goal, costing his team a shot at the title and his nation's chance to transform its image on the international stage. Less than ten days later, he was shot 12 times, gunned down outside a bar in a suburb of Medellin.
An official selection at the Tribeca and Los Angeles Film Festivals, and an official selection at Cannes' Cinema de la Plage, award-winning directors Jeff Zimbalist and Michael Zimbalist examine the mysterious events surrounding Andres' tragic death with this intense thriller about the intersection of crime and sport.

The Two Escobars – Sometimes it really is a matter of life and death.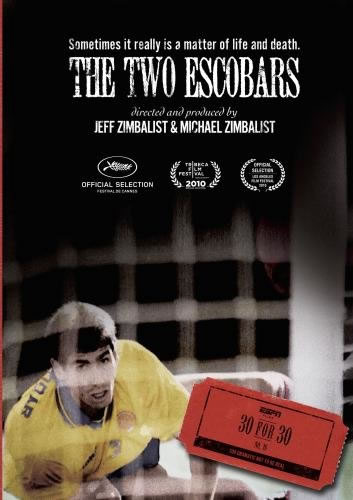 Make sure to also watch the new Diego Maradona documentary.