Los Angeles Galaxy visit the White House and are honored by President Obama. I have to say that Beckham's mustache and goatee are pretty amazing at this time. Pretty perfect. A lot of joy in this ceremony, laughs and jokes and just a good time it seems like had by all. Obama gets an LA Galaxy jersey and talks about the team and how they won the MLS Cup. Smiles all around. Good to see.

Image credit for above picture to the White House of course.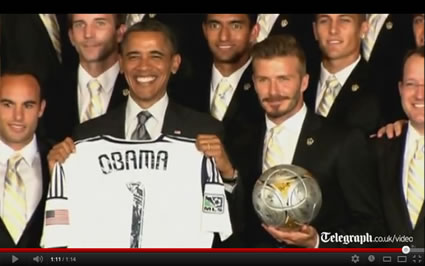 The Los Angeles Galaxy visited the White House where they were honored by President Obama who had some fun with David Beckham, giving him a hard time about being so old and his underwear line.
President Obama teasingly described David Beckham as a "rare man" who could balance a long football career with producing his own line in underwear. He also referred to Beckham as a "young up and comer" and then said "half his teammates could be his kids".
Full version of the Obama honoring the 2011 MLS champion LA Galaxy right this way: