---
2010 World Cup Concert
The big glasses look like they're going to be a theme for this World Cup. See them in the concert poster below, and then a lot of fans are wearing them.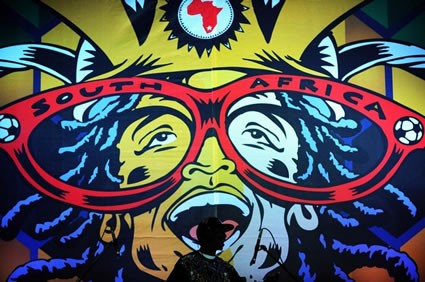 Archbishop Desmond Tutu, the South African cleric and Nobel Peace laureate, was the star of the opening concert, almost doing a Flavor Flav impression on stage but minus the clock.
Tutu gave thanks to Nelson Mandela for enabling the World Cup to come to South Africa, and added an energy and enthusiasm to the concert when he stepped on stage. He said, "I'm dreaming. Wake me up!" Decked out in a South African jersey and scarf he was thrilled that the tournament had come to his homeland. His joy was contagious.
"We welcome you all. For Africa is the cradle of humanity, so we welcome you home," he said.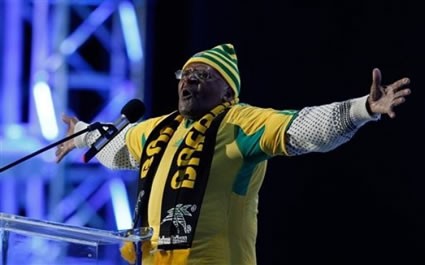 The concert was fantastic, surprisingly very good. Usually you expect an opening show to be sort of run of the mill, but this was different. This is the first time the World Cup as been played on the African continent. With a wide range of acts performing, with the African singers and artists seemed give that little bit extra. The African performers out did most of the other acts, with a certain soulfullness and authenticity.
Alicia Keys joined South African band for a Blk Jks song.
Shakira closed out the concert with the theme song for the tournament: "Waka Waka" (This Time for Africa).
Here's the full list of artists who performed at the concert:
Alicia Keys
Angelique Kidjo
Amadou & Mariam
Black Eyed Peas
Blk Jks
Freshlyground
Hugh Masekela
John Legend
Juanes
K'Naan
Mzansi Youth Choir
Shakira
Soweto Gospel Choir
The Parlotones
Tinariwen
Vieux Farka Toure
Vusi Mahlasela