---
The New Lionel Messi Soccer Shoe with a Computer Chip Inside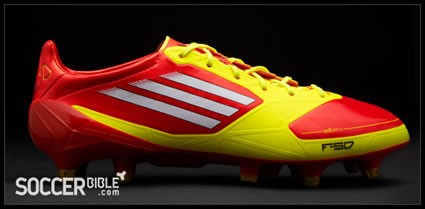 So what soccer boots does Lionel Messi wear? Well, adidas of course, but what's unique about them is there's a computer chip in side the show so you can track certain things like how much ground you cover on the soccer pitch and how fast you're moving.
No, the shoes don't enable you to play like Messi, but that might help you get better if you put them on often enough to practice with the soccer ball.
Adidas adiZero F50 miCoach
This is the new soccer shoe Lionel Messi will be wearing while playing for Barcelona. I wonder if opposing coaches, like one Joe Mourinho of Real Madrid, will try to hack into the stats of Messi to figure out some way to stop him. I'm sure he'll try.
It's potentially the most sensational boot launch of all time with the most revolutionary football boots to ever hit the pitch. The adidas F50 adizero miCoach isn't your ordinary football boot, that's why SoccerBible went to adidas Headquarters Germany, for the full unveiling, to meet the designer and to play test the world's first football boot with a brain…
Also some details from Engadget: The chip inside the soccer shoe records your speed, sprint times, distance, step and stride
rates, stores it for up to seven hours and pushes it over WiFi or USB to
the device of your choice. You'll be able to share your stats online
with friends via Facebook and compare them to pros like diminutive
pitchman Lionel Messi and Gareth Bale.
It is pretty amazing, a computer chip in your soccer shoe to measure how far you've run or how fast? Again, although wearing the same soccer boots as Lionel Messi won't make all of a sudden have the ability to dribble like Lionel Messi, it certainly can't hurt and it just might help your dribbling skills – give you some confidence at least. Take a look.