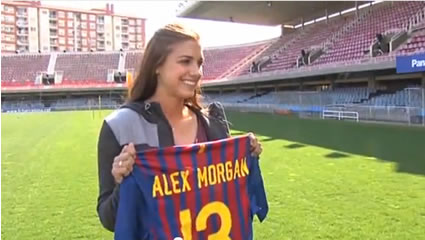 Image credit goes to FC Barcelona of course. Imagine the number of Morgan jerseys Barcelona would sell if she joined the club.
Has Alex Morgan just signed with Barcelona? Wow. American forward Alex Morgan visits her favorite football club, Barcelona. I wonder if she got to meet any of the football players or actually attend a game at the Camp Nou? I'm sure a few Barcelona players would like to meet her…especially if they saw her recent Sports Illustrated painted on swimsuit.
Surely Morgan will play for Barcelona one day before she retires.
No, but really, Barcelona players met Morgan after their game it looks like at the Camp Nou. The Barcelona women's team should definitely try to sign Morgan if they can. Morgan is an outstanding all around football player and goal scorer.
New Morgan tweet about Barcelona's women's team record attendance. At 32, Morgan is still young enough to score a number of goals for Barcelona if she signed with them.
🤩👏🏽👏🏽👏🏽 https://t.co/GVVwS9IKK7

— Alex Morgan (@alexmorgan13) March 30, 2022