This is just a great soccer story. Anton Peterlin first played for UC Santa Cruz and transferred to Cal Poly San Luis Obispo before his summer league coach, Graham Smith, of the Ventura County Fusion, arranged a tryout with Everton of the English Premier League:
Everton have completed a deal for American midfielder Anton Peterlin.

The 22-year-old has been on trial at Goodison Park and has done enough to earn a permanent deal with The Toffees.

Peterlin currently plies his trade for Californian-based Ventura County Fusion – who play in the fourth tier of American football.

Fusion are coached by Englishman Graham Smith and he recommended Peterlin to Everton boss David Moyes.

"I felt he had a chance," said Smith.

"He's a very intelligent young boy. He will go into medicine if he doesn't make it as a soccer player. He has the mental capacity as well as the physical capacity to succeed.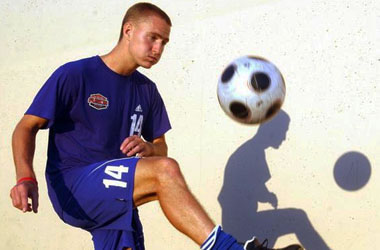 Here's another more in-depth story on Peterlin:
There were plenty of signs that Anton Peterlin had arrived at a Mecca of the game.

Like the soccer-mad taxi driver who gave him a tour of Liverpool, regaling him with stories of one of the greatest intracity rivalries in world sport.

Like the 40,000 singing supporters who piled into 117-year-old Goodison Park on Sunday afternoon for the F.A. Cup quarterfinal win over Middlesbrough. And then there was the parking lot at Finch Farm, Everton Football Club's sparkling new training facility, which was chocked full of Range Rovers, Bentleys and Audi R8s.

"All the nice cars," said Peterlin. "They're there. It's tough not to notice them."

Especially for a college senior on the spring break of a lifetime.

Peterlin, Cal Poly San Luis Obispo's senior captain, has been offered a contract by Everton of the English Premier League after spending 10 days in March on trial in Liverpool.