By Jeff Kassouf
February has almost arrived, and with the Super Bowl dominating the American media it is easy to forget about some major games and stories in the soccer world. In England, a clash of the two "big-four" teams has major title implications, but perhaps overshadows a matchup that should not be looked over so quickly. In Italy and Germany, two LA Galaxy players take action under a continuously growing amount of eyes and scheduling announcements state-side make the MLS and WPS season seem that much closer, all of which creates another interesting week around the world of soccer.
Chelsea manager Luiz Felipe Scolari has dubbed Sunday's bout with Liverpool to be a potential make-or-break game for the Blues title aspirations. Chelsea now sits second and Liverpool third thanks to goal differential. Both teams are on 48 points, making this fixture one for major jockeying position. Both Scolari and Reds boss Rafa Benitez have been under some criticism of late, and a loss for either will further upset already restless fans.
The edge has to go to the loud, packed house at Anfield, but anything could happen in this tight match-up. Chelsea has been starting off very slowly in games of late and may continue to do the same. This game has the potential for end-to-end, high-paced action and high entertainment value. Don't be surprised to see a low-scoring draw, though.
Should Chelsea or Liverpool get the full three points Sunday, they could find themselves in first place. Manchester United, currently atop the table on 50 points, has a tough home fixture against sixth-place Everton, who is coming off of two straight draws against Arsenal and Liverpool, two tough tasks in themselves. Will fatigue set in or will Everton be able to produce another quality result against a top team? One thing is for sure, you can expect American keeper Tim Howard to have a big game against his old club. This will be a one goal game that gets decided late, and United could be on the wrong end of the late drama this time.
In Italy, third-place AC Milan travels to the Stadio Olympico to take on Lazio, currently sitting in tenth. At 41 points, Milan has cut the gap on rival Inter to eight points. Of course, all the media hype still surrounds a certain David Beckham, who scored Milan's only goal in a 1-1 draw against Genoa Wednesday. While it was not quite the customary Beckham free kick, it still found its way into the net at the near post.
Speculation continues to build across the globe about the future of Beckham, and yet another highlight to his AC Milan career does not help the Galaxy's effort to keep him. AC Milan has made it no secret that the team would like to keep him on for a longer period of time, but that depends on what he and the Galaxy decide.
Current teammate (though it may not be that way for long) Landon Donovan could see his first league action for Bayern Munich Friday night against Hamburg. In five exhibition games, Donovan scored four goals – an impressive statistics, although the opponents were not high quality.
Donovan has been crystal clear that he wants to stay in Germany and make it work for this (third) time around. Though it seems like Donovan has been around for so long, he is still only 26-years-old and peaking, meaning that may be the best time for him to find success in Europe. It would be quite a stretch to expect him back in Los Angeles by March.
Should he return to LA, he would be looking at a very similar schedule to past years. There is the customary early-season SuperClasico with Chivas USA and the standard mid-July trip to New York, which has produced two classic games in the Beckham-era.
Of course, ESPN dropped MLS games from being confined to just Thursday nights, giving the league several weekend slots for more of a presence. The summer schedule is still heavy for all of the international competition taking place (Gold Cup, Confederations Cup and World Cup Qualifying), but that argument has been beat to death. View the full league schedule here.
Finally, there was also an interesting announcement from Women's Professional Soccer (WPS) recently, which unveiled a unique playoff system that heavily rewards the team who finishes first in the regular season. The regular-season champion gets an automatic birth in the final, with the third and fourth place finishers squaring off in the first round and then playing the second seed in the Super Semifinal.
The system is slightly complex, but is designed to help the league plan and market the final. The site of the final will be the number one seeds home stadium, which gives the team and league extra time to market the game. It also forces the third or fourth seeded teams to win three games for a title, a very daunting task.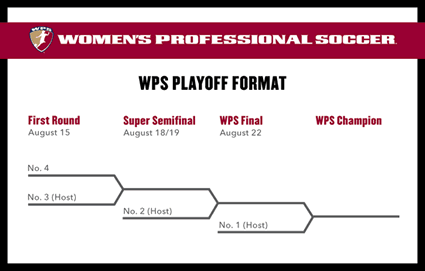 ---
Jeff Kassouf is a a freelance writer and can be reached at: jeffkassouf@yahoo.com