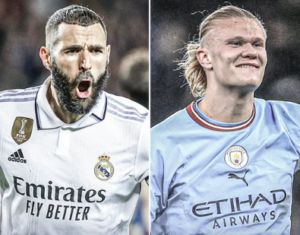 The Champions League semi final between Real Madrid and Manchester City is a star studded lineup by all measures.
Today we ask the question, Benzema or Haaland, who would you want right now?
Let's take a look at what Benzema brings to the table.
1. Scoring Ability: Benzema is a prolific goal scorer, having scored over 300 goals in his career so far. He consistently scores important goals for his team.
2. Technical Ability: Benzema has impressive technical ability on the ball. He dribbles with ease past defenders and has exceptional ball control.
3. Team Player: Benzema is a team player who often sets up his teammates for goals with his excellent passing and vision.
4. Experience: With over 15 years of experience at the highest level, Benzema has a wealth of experience that allows him to make the right decisions on the pitch.
5. Versatility: Benzema is a versatile player who can play in a variety of positions, including as a central striker, a second striker or as a winger.
6. Leadership Qualities: Benzema is a natural leader and is highly respected by his teammates. He leads by example on the pitch and is a positive influence in the dressing room.
Now let's consider Haaland and what makes him such an exceptional player.
1. Scoring Ability: Haaland is an extremely talented scorer, consistently finding the back of the net for both his club and national team. He has an exceptional goal-scoring record, having scored over 40 goals in a single season in the past.
2. Physicality: Haaland has a powerful physique which enables him to outmuscle defenders, hold up the ball and make runs in behind the defense. He stands at 6'4″ and is known for his lightning-quick speed.
3. Dribbling Skills: Haaland is an impressive dribbler who deftly maneuvers past defenders to create goal-scoring chances for himself and his teammates. He is also able to carry the ball at pace, making him a dangerous attacking threat.
4. Versatility: Haaland is a versatile player who can play in a variety of positions, including as a central striker or out wide on either flank. His ability to adapt and play in different roles makes him a key player for his team.
5. Strong Work Ethic: Haaland is known for his strong work ethic and professional mindset. He is dedicated to improving his game and is always looking for ways to become a better player.
6. Mental Toughness: Haaland has a strong mentality and is able to maintain his focus on the pitch, even when facing adversity. He is a cool and composed player, able to keep his composure in high-pressure situations and make rational decisions.
Overall, the game itself, is going to come down to all 22 players.  But if you had to choose one, who is your choice?