---
What Soccer Shoes Does Carlos Bocanegra Wear?
Carlos Bocanegra went from playing college soccer for the UCLA Bruins in sunny California, to the MLS and the Chicago Fire, on to the English Premier league and Fulham, and then on to France to play for Rennes and finally Saint Etienne, where he currently plays. All the while he's become one of the most consistent and key players for the United States national team. So it's no wonder people want to know what boots he laces up when he plays. I wonder if Bocanegra is picking up French?
Bocanegra is wearing the T90 Laser III Elite cleats in the green and black colorway with, it looks like, a new kind of transparent mold on the bottom. These appear to be a new line of shoes that aren't available to the public just yet.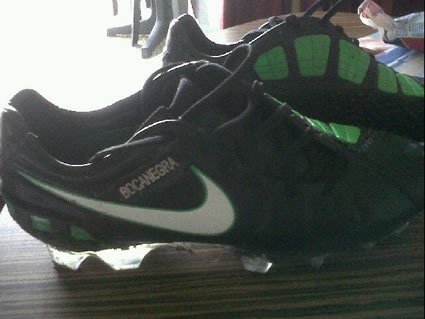 Image Source: Bocanegra's Twitter account.