---
Cristiano Ronaldo Is Not Impressed with Andres Iniesta Winning the UEFA Player of the Season
Ronaldo gives the old McKayla Maroney face as Andres Iniesta accepts the UEFA player of the season award. Messi on the other hand, looks pretty happy that his Barcelona teammates has won and that Ronaldo lost….I'm surprised Ronaldo didn't pull a Kanye West and grab the award for himself.
I guess this will only make those El Clasico matches that much more intense. It seems Iniesta's great play during the Euro 2012 tournament, helping Spain to win the trophy once again, put Iniesta over the top. How about Iniesta's puppet though, does he get any credit?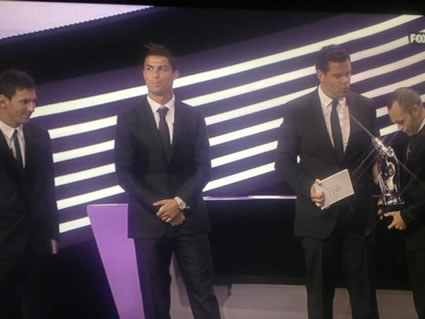 Hat tip to Grant Wahl for the image of Cristiano Ronaldo. Really, you can't blame Ronaldo for being mad, he just wanted to win. Still pretty funny though.
Here's Cristiano Ronaldo's twin, McKayla Maroney. I wonder if she'll be mad that Ronaldo stole her not impressed facial expression. I think she trademarked it.