Is this due to the rising unemployment rate in Spain? As people don't have jobs so they can come and see Cristiano. It is both insane and awesome to see so many people come out to just get a look at a player.

It was a world record crowd of 90,000. Exceeding the number of people who came out to see Diego Maradona when he signed for Napoli from Barcelona. Cristiano will wear the number 9 jersey for Real Madrid. Ronaldo said it was his childhood dream to play for Real Madrid and looked genuinely stunned at the size of the crowd and the reception he received.

One interesting thing that the Real Madrid doctor said was this. Not sure if he says this about every player Real Madrid signs though:
Ronaldo completed his medical earlier on Monday with Carlos Diez, Real's medical chief, told the club's official website: "(Ronaldo) is in perfect condition and very eager to start the season as soon as possible.

"He has an extraordinary cardiac and lung capacity. We have complemented everything that we already did in Portugal and done all the specific tests.
Cristiano Ronaldo Presentation at Real Madrid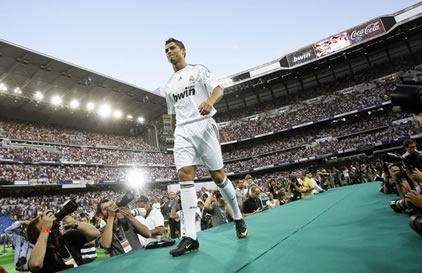 Image from DayLife