Arsene Wenger has come under fire for selling all his top football/soccer players, from Fabregas to Van Persie, but he's made a genius signing as well, as in getting Santi Cazorla to join Arsenal.
The Spaniard makes the game look easy, so it's no surprise young footballers want to model their game after him. And he makes the game look fun. Really, he makes you want to play the game of soccer. While you can't, not yet, download a soccer software program into your brain to learn his style of play, you can pickup some of Santi Cazorla's training and playing habits below.
First off, you'll need to pull your socks up to your shorts, so it looks like you're wearing a leotard. Yes, that's how he wears his socks. It's in the same fashion as Neymar, so you can't really go wrong.
Next up, always look to attack and play the ball forward. Cazorla is an expert at shielding the ball, despite his small size, and he often receives the ball on the half turn, so he can clip the ball down the line or play the ball into a forward's feet. The key though is to know what you want to do with the ball before you get it. Have a plan before you get the ball.
However, in order to accomplish your plan you have to do two things: control the ball out of your feet and keep your head up. So don't kill the ball right in front of you but control it out a few yards away from you so your next play can be a dribble or a pass. And keeping your head up enables you to know where the defenders are around you and to know when your teammates are making a run.
Pass the ball and move. If you watch Cazorla in a game you'll see he rarely stands still. He's always moving, especially after he receives a pass he's already giving it and going. This opens up space for other players to run into.
Play one and two touch soccer. Yes, Cazorla is another one of those Spanish players who loves to keep possession of the ball and hardly ever loses the ball. He's a perfect Arsenal player in this way.
While Cazorla likes to attack and play quick give and goes, he also knows that it's fine to play the ball back and start over. He's not one to force things if it's not on. He just lays it off when he's under pressure and then asks for he back when he's free. And Cazorla always wants the ball.
Watch Cazorla float to the outside to collect the ball if he's being tightly marked in the middle, which will become increasingly more common as teams realize how important Cazorla is to the Arsenal team. But Cazorla will move to where there's space to get the ball and then give it.
If there's space, attack the space on the dribble and draw a defender to you. Time and time again you'll see Cazorla get the ball and if there's space in front of him he'll dribble at it, draw in a defender, and then lay the ball off to a teammate.
And what's great about Cazorla is he plays a killer pass when he draws a defender to him. He charges into the space and slips the ball in behind the defender so a teammate can run on to the ball. This way the defender is cut out, his back turned away from the ball, leaving Cazorla's teammate in the clear to score or cross the ball.
The one knock against Cazorla might just be he seems to favor his right foot a bit. While he's comfortable playing the ball with his right or his left, and uses both perhaps more than most, whether that's bending the ball, driving the ball or a simple inside of the foot pass, he has a tendacy to play with the ball on his right peg when he wants to shoot or dribble at someone. That being said, he's already scored some goals for Arseanl with his left. As you can see here.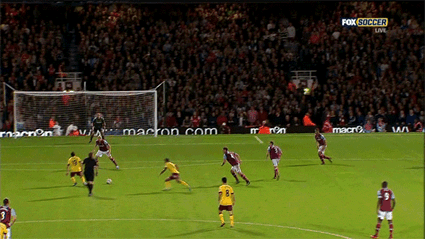 But Cazorla has a fantastic right foot. That is, he can strike the ball with power and he keeps the ball on frame, forcing the keeper to make a save. He's not one of those players who skys the ball up and over the goal. When he shoots he's dangerous. This again draws defenders to him and opens up more chances for those around him.
Lastly, Cazorla plays with a smile on his face. If you watch Cazorla play you can tell he's having fun and loves the game. Yes, there's now even talk that he's better than someone named Fabregas.
With Cazorla having only played a few games so far for Arsenal, he's already becoming a fan favorite. Here's the little maestro at work: