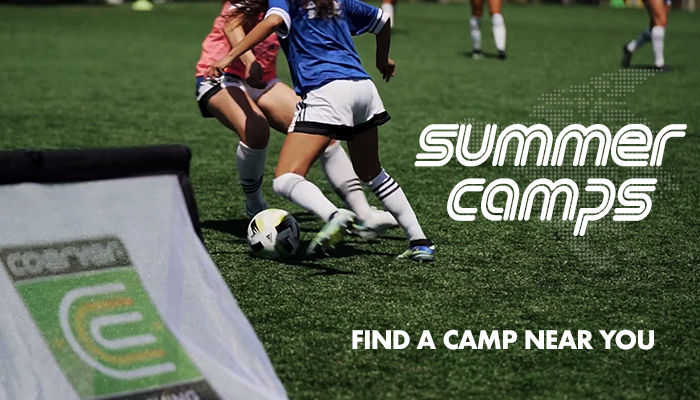 What are the best international soccer camps in the world to go to? Want to go to an international soccer camp in Europe at some of the best football clubs in the world? If you're looking to attend an international soccer camp in Europe or South America, then check out these high level international soccer camps below. Raise your game and skill level and also learn a new language while you're at it. Yes, soccer is the international language of the world but it does hurt to know and understand more than one language!
Many of these international soccer camps are actually like international soccer schools or academies, where you learn how to play in the style of big clubs like Paris Saint-Germain, Barcelona, Bayern Munich, Real Madrid and Manchester United. Learn the fundamentals of the beautiful game and the strategies and tactics of elite managers at this historic soccer clubs.
Soccer Camps International
www.soccercampsinternational.com  – The leader in online registrations for famous and Elite European Clubs Youth Summer Soccer Camps and Soccer Schools, offers players the opportunity to discover new ways of learning and developing soccer skills with players from all over the world in some of the world's best soccer countries including England, Spain, Italy, Portugal and France. Learn how to play the soccer style of Real Madrid, Barcelona, Manchester City, Chelsea, Arsenal, Liverpool, AC Milan, Juventus Turin, Benfica Lisbon, Paris Saint Germain and Bordeaux. Language Classes options available in France, Spain and England. Residential and Day Camp Sessions, Goalkeeper training sessions and girls sessions available. Cultural excursions in top European cities available for select camps. Register Online NOW
Full list of the best European soccer camps in the world coming up in 2021. If you're looking to attend an elite level international soccer camp this summer these are some of your top choices to play and learn from coaches in Europe.
FC Barcelona Girls Camp
FC Barcelona Women Camp for girls from 12 to 17 years old! You are about to discover a unique event for young female players, born between September 1999 and July 2005, who want to improve their skills and become superstars at the best soccer school in the world: the FC Barcelona Escola!
www.fcbarcelonagirlscamp.com
International Center of European Football
theicef.com
The International Center of European Football is Europe's official soccer institution implementing the excellence of the European methodology to international players. This summer prepare for your season like a professional player and spend one full week (or more) in a professional soccer center in Europe to boost your level and improve your soccer IQ through the fundamentals of professional European Football. All tactical-technical sessions, physical preparation, as well as video analysis sessions are supervised and provided by UEFA / FFF licensed experts in soccer player development.
Francesco Totti Academy
Where: Lazio Region and Umbria Region – Italy
Period: Each Summer. Location: Campus in "La Sapienza" University, "Selva dei Pini" – Pomezia (Roma), Roccaporena di Cascia, Centro Sportivo Elite. Who: Boys and Girls. Ages: from 7/15 -16/18
Activity: improvement of soccer techniques, soccer cleverness, speed and soccer skills, strength and power, Italian culture experience.
francescotottiacademy.com/italian-soccer-camp/
AC Milan Junior Camp
The Milan Junior Camp program is the official camp program of the Italian club, AC Milan, and the first stepping stone in a follow-up program for young talents that features the characteristics and values the club is seeking for in athletes. AC Milan offers one of the best international soccer camps to attend this summer.
milanjuniorcamp.us
FC Barcelona Soccer Camp
The FC Barcelona Soccer Camp is an exclusive opportunity to learn the methodologies of the unique Barça style. FC Barcelona Coaches will come all over the United States to conduct the training sessions and teach you the techniques of one of the most successful soccer academies in the world. FC Barcelona is now doing camps in many cities in the United States as well as in Spain.
camps.fcbarcelona.us/
SpainBCN – Summer Soccer Camp in Barcelona
In SpainBCN we provide professional high-level professional soccer training ( Spanish First Division) combined with quality Spanish language instruction and out doors activities in Barcelona, Spain. It's for boys and girls from 13 up to 17. Homestay
Website: spainbcn.com
Contact person: Marta Sanchez
Edu Kick International Soccer Camps
The language and cultural soccer experience of a lifetime. EduKick Inc., since its inception in 2001, has catered to youths and student athletes 10 to 17 and adults 18 to 24 years old, the world's top rated international academic year soccer boarding schools and residential international soccer academies and futbol camps located in Madrid, Spain; Perugia, and Italy.
www.edukick.com
Tahuichi Soccer Camps
The Tahuichi Way International Youth Soccer Camp is a great way to improve your game and become immersed in a total "soccer is life" culture. The Tahuichi Way program is for boys and young men aged 13 – 22, and girls and young women aged 15 – 22. Also, this program is ideal for college players who want to prepare for their college season.
http://www.tahuichi.com
Kickers Soccer Camps 
Residential, fully supervised football (soccer) camps taught in English and held in Barcelona, Spain in July/August 2007. Players aged 11-17 years old welcome from all over the world.
http://www.tourparty.com
Ascoli Soccer Academy
Attend one of the best international soccer camps in Italy this summer.
via Palmiro togliatti 73/A – 06073 Taverne di Corciano(PG) – Italy
Tel.: +39.0755179638 – Fax: +39.0755173014
The Soccer Camp is organized for individual players from school or club teams who are beginning their soccer career or looking to advance through high-quality soccer training in Italy.
www.ascolisocceracademy.it
FC Bayern Munich Summer Residential Camp
Bayern Munich has camps in the United States but also in Europe. Go to one of the best international soccer camps in the world.
The inaugural FC Bayern Munich Summer Residential Camp was held from June 28th-July 2nd 2015 in Biddeford, Maine at the University of New England in conjunction with North American Youth Partner, Global Premier Soccer (GPS).
The camp curriculum and philosophy mirrored the training methods used in the FC Bayern Academy in Germany and offered boys and girls, ages 10–17, the opportunity to experience specialized soccer training by FC Bayern Munich Academy coaches. The Residential Camp was be led by FC Bayern Munich U14 Coach Thomas Döellner, U14 Head Coach Harald Cerny and Head of Junior Teams Sebastian Dremmler.
http://www.globalpremiersoccer.net
Captains Soccer Camp by Jay deMerit
https://www.theriseandshinefoundation.com/sports-camps
Captains Camps are held at the Rise & Shine Retreat, in Pemberton, BC, Canada. Created by former World Cup soccer star Jay DeMerit, Rise & Shine: Captains Camps are more than just your typical soccer camp.
Unwavering self-belief, respect, work ethic, positivity and the importance of establishing a multifaceted skillset — both on and off the field are just a few of the pillars that this camp is built on. Every kid should have dreams and aspirations they can believe in, whether they are sport-focused or related to other passions; for arts, music, academic studies, health & wellness… the sky is the limit.
Clint Greenwood Soccer Academy
www.greenwoodsoccer.net
The Clint Greenwood Soccer Academy and The Greenwood Method has brought the highest standard in all level of player's technical development for over 25 years. Foreign players from England, Wales, Scotland, Mexico, Canada, Argentina, Guatemala, and the United States travel across the world to get The Greenwood Method. The philosophy and results that players have shown over the years provide a great testament of the class and standards CGSA and The Greenwood Method have established over the years. CGSA ongoing Soccer Continuum has produced 20 full internationals, over 60 signed professionals, and over 30 youth national team players all trained under the expertise and vision of The Clint Greenwood Soccer Academy Year Round Education System. Clint Greenwood Soccer Academy holds ½ Day Seasonal Training Camps, Residential Training Camps, Daily Soccer Classes, Private Lessons, and Team / Club Training Academy throughout Southern California, Nevada, Long Island, and Cardiff Wales U.K.
Through The Greenwood Method CGSA Programs focus on the 6 Steps To Success…
1. Individual Ball Familiarity (Is the foundation of top class players and the blueprint of CGSA overall player development.)
2. Passing & Receiving (Ball Striking)
Speed – Agility – Quickness (S.A.Q. all done with Soccer movements and put into great action with the ball)
3. Tactical sense (Soccer I.Q.)
4. Creativity and Innovative Skills (Thinking fast and making decisions quicker than others)
5. Building a Footballers Mentality (The Greenwood Mentality, An Elite Athletes Mindset)
Paris Saint-Germain Academy USA Camps
psgacademyusa.com
Paris Saint-Germain Academy is the largest soccer network in the world and the best choice for every soccer player looking to receive professional training and exposure for soccer opportunities. All coaches are Paris Saint-Germain certified and/or UEFA licensed (or US equivalent) and implement the official Paris Saint-Germain program designed to enhance players skills on specific topics including ball control, dribbling, passing, attacking, shooting, defense, coordination, and game-like situations (goalkeeper-specific program available). As far as international soccer camps, this is one of the best ones to attend if you're looking to make strides in your game.
Learn more about Paris Saint-Germain soccer camps at psgacademyusa.com and here.