Jason Kreis and David Beckham almost come to blows? Real Salt Lake coach Jason Kreis says something to the LA Galaxy's David Beckham after the game and things get a bit heated. I wonder what exactly Kreis said to Beckham? Real Salt Lake of course beat the LA Galaxy two years ago in the MLS final. Image credit goes to the MLS Soccer.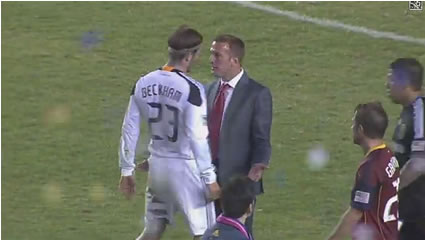 It looks like Beckham is just going around shaking all the players hands and then Kreis yells something at Beckham and they get right in one another's faces and other Galaxy and Real Salt Lake players have to separate them. Take a look. Really, you'd like to see more of this "intensity" more often in MLS games.
But the two seemed to have made peace now, as Jason Kreis is one of David Beckham's assistant coaches at the club he bought: Inter Miami. I'm sure Beckham appreciates Kreis's passion for the game and desire to win. Still funny though to see the two go at it almost after the game.