Terry praises Wondolowski: There are a lot of people who don't really think Chris Wondolowski deserves all of the attention he's getting these days. Chelsea's captain and center back disagrees. Terry thinks Wondo deserves more praise.
Sure, Wondolowski scored a ton of goal in the MLS, but he hasn't scored against tougher competition. And, he's not scoring Thierry Henry or Robbie Keane type goals. Wondo isn't a smooth soccer player like those two. Wondo's more of a pure in the box goalscorer. There's nothing wrong with that but…really, what make Wondolowski great is he's a tireless worker and wants to score goals.
Terry praises Wondolowski, specifically, his movement off the ball.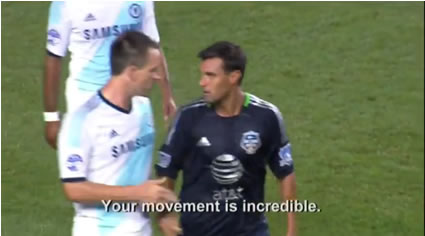 Wondolowski is maybe in the same category as a player like England's Gary Lineker, one of those classic goal poachers. But what Wondo doesn't get enough credit for is his movement off the ball and constant running. It's something John Terry witnessed first hand and complimented Wondolowski on when Chelsea faced off against the MLS All-Star team about a year ago:
Here's the video of Terry talking to Wondolowski – comes at about the 17:50 mark:
And Wondolowski had this to say about Terry's comments:
"It was a surreal moment, one of the greatest compliments I've ever gotten," Wondolowski said. "Because 1) it was John Terry, who's captained England national team, Chelsea and won the Champions League. He obviously knows the game. And 2) nothing brought it on. He went out of his way to tell me." (MLS)
Wondolowski is excellent at timing his runs too, and making those runs throughout the game. Moreover, he's tireless in his running and desire to get ahead of his defender just enough so he can score. It's almost as though that now that he's gotten a taste of what it feels like to score a goal game after game, he has to do it again, and again, and again. He's a goal scoring addict, which isn't a bad thing at all for the San Jose Earthquakes or maybe the United States national time.
The thing is though, for the U.S. national team, Wondolowski has only scored goals against teams like Belize and Cuba, not say Mexico or Costa Rica.
But maybe he should get a chance to score goals against better teams. His coach, Jurgen Klinsmann, wasn't such a bad forward in his day, so I'm guess he'll know if Wondolowski is the right man for the job. Simply stated though, if Wondo keeps making runs like he does he'll probably score against whoever he faces up with. He's a goal scoring addict.
And, John Terry of all people might have something to do with giving Wondo a surge in confidence.
And Wondo deserves credit for coming back from this miss in the World Cup too.