Supercharged boots designed to give footballers an edge and engineered for enhanced on-field visibility. Nike Launches 'Elite Series' Football Boots to be Worn by World's Best Footballers in South Africa.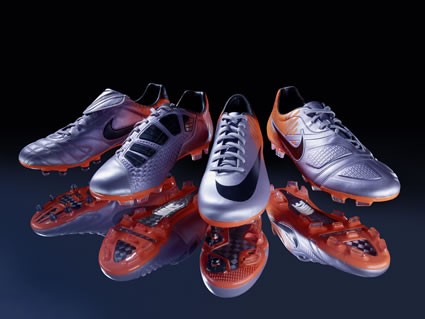 Orange) are engineered together for enhanced visibility. For a footballer this unique combination is designed to increase visual performance enabling them to quickly spot their teammates and execute a game-changing pass.
"At Nike, we have a relentless focus on product innovation to give athletes a real competitive edge and deliver the best products in the world," said Andrew Caine, Nike Design Director for Football Footwear. "The Nike Elite Series delivers lightweight and highly engineered boots for the leading players in the world to perform on the biggest stage this summer".
Lightweight performance and enhanced on-field visibility
Research shows that the average energy expenditure of an elite player is over 1,000 Kilo Calories per game for a 75kg player. Reducing the weight carried by players helps reduce the energy needed over the course of 90 minutes. By delivering lightweight supercharged performance to all four of Nike's statement level boots the goal is to give players an edge in the final stages of a game.
Super-strong, lightweight carbon fiber plates mean the Mercurial Vapor SuperFly II is 5% lighter. The CTR360 Maestri is 19% lighter. Both the Total90 Laser III and Tiempo Legend III are 16% lighter.
With nearly four years of game analysis, biomechanical studies and player testing the design team and Nike Sports Research Lab (NSRL) collaborated to understand how to deliver new product innovations including incorporating visual performance benefits into boot design.
An average person's vision is 99% peripheral. Under 1% is considered foveal, or focused vision. To spark increased focus of peripheral vision Nike designers analyzed the color spectrum to identify two, high-contrast colors, so that when a player is running with these boots the colors trigger a stimulus to rapidly tune peripheral vision. Mach Purple and Total Orange provided the perfect blend to create this effect and performance advantage.
The Elite Series is available to players at all levels and also incorporates Nike Football+ which features exclusive insider access to the world's best coaches, players and teams for total game improvement. Nike Football+ Master Series builds expertise in Control, Accuracy and Speed through elite insights and pro training. This includes a special Elite Series signature move from Atletico Madrid and Argentina star Sergio Aguero that will launch at the end of May.
All four Elite Series boots, the Nike Mercurial Vapor SuperFly II, Nike CTR360 Maestri, Nike Total90 Laser III and Nike Tiempo Legend III, are available at retail and at www.nikestore.com as of May 22, 2010.