By Jeff Kassouf

Overall Grade: 8.0/10.0

Location: Rochester, NY
Tenant: Rochester Rhinos (Men and Women)
Opened: June 2006
Capacity: 13,768

PAETEC Park provides hope, however slim, that a Major League Soccer franchise may one day come to what has historically been one of the best supported cities in the United Soccer Leagues. It is located in the heart of Rochester and has a high capacity for a USL stadium. Though debt problems with the old team owners slowed the progress of expansion, PAETEC Park is still one of the best facilities in the USL, and even tops some of the temporary facilities presently being used in MLS (see: Kansas City and San Jose). Overall, there are some basic improvements that could be made through expansion, but it is a solid facility.

Pros: As with almost every soccer specific stadium in the United States, there really is not a bad view in the house. The stands are right on top of the action, and the environment is surprisingly welcoming for a stadium that is just sort of plopped in the middle of the city. The atmosphere is typically good through a knowledgeable fan base that includes the Rochester Stampede supporter's group, and the Rhinos carry some of the most extensive history as a USL club. Also, many would point to the downtown location as a plus, as many MLS sides are looking to now head in that direction after the success of BMO field in Toronto.

Cons: My biggest problem with the stadium was the feeling that it was incomplete. This might be a bit obvious considering the stadium was built with plans for future expansion, but for the time being the one endline without stands behind it leaves a very empty feeling. With the stands currently in a "U" shape, an open corridor with a massive tent is all that sits behind one of the goals. The biggest concern with PAETEC Park is that there are not currently any permanent locker rooms.

On this open side of the stadium there are mobile trailers that sit behind the corridor and serve as the locker rooms. Not only does this take away from the professional atmosphere, it disrupts the flow of people inside the stadium when the teams go to enter the field, as the walkway is sealed off. This is certainly something that can be fixed in time, but is currently a large flaw in the design of the stadium. PAETEC Park also has the dreaded field turf surface, but maintaining a grass field in the snow belt of New York is understandably a tough task. Overall, it is another positive step for soccer in the United States.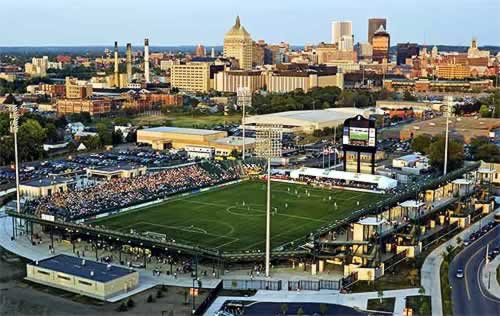 ---
Jeff Kassouf is a staff writer for The New Paltz Times and a freelance writer who covers soccer, and can be reached at: jeffkassouf@yahoo.com