Wayne Rooney's overhead kick: Do you call Rooney's goal against Manchester City a bicycle kick or an overhead kick? I don't think it really matters. What matters more is just how amazing it was and that it was a game winner. And how much this goal means to Manchester United's English Premier league title hopes.

If Rooney is scoring goals like this overhead kick it only means Manchester United are going to be very hard to beat in the coming months. What a tremendous finish best Rooney! This has to be the goal of the year and maybe one of the best goals scored by a Manchester United player ever. Just amazing athletic ability by Rooney to pull off a bicycle kick like this.
Wayne Rooney's Bicycle Kick Game Winner
Enjoy All The Angles of Wayne Rooney's classic bicycle kick against Manchester City. After Cristiano Ronaldo's stunning overhead kick in the Champions League this week, vote in our card poll to decide which was the better goal!
I guess Rooney earned his $400,550 per-week salary with that goal. Well, maybe.
Rooney had this to say about the goal: "That is my best goal. It was such an important game and to score the winning goal in that way was a great feeling – indescribable."
See the Manchester United bench go crazy after Rooney scores. Rooney overhead kick versus Manchester City.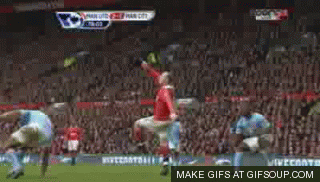 New: Whose overhead kick or bicycle kick was better? Wayne Rooney's or Cristiano Ronaldo's….while Ronaldo's took place in the Champions League Rooney's goal was against a rival in a cross town derby game.
Rooney jokingly said this after about the comparison: "I texted Rio Ferdinand and I think it's actually a harder technique to do it off your shins. So I'll go with my own."
But Cristiano Ronaldo's bicycle kick also took place in Italy, where the Juventus fans stood up to applaud his goal. Both amazing goals, hard to say which is better, really.