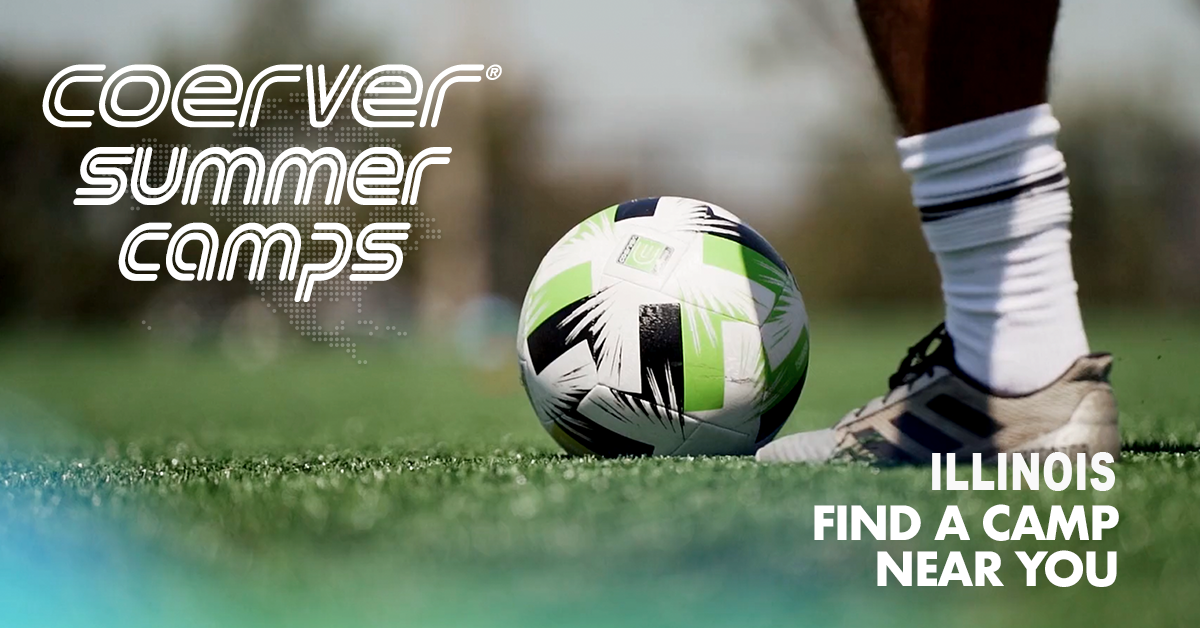 If you're looking for a soccer camp in Illinois, you've come to the right place. Below you will find the best soccer camps available in the state of Illinois. If you don't find the right soccer camp near where you live, it might be worth it to attend a quality soccer camp in a larger city or even another state nearby. Here are some of the best youth soccer camps in Illinois to attend this summer.
Featured Soccer Camps
Soccer Camps International
www.soccercampsinternational.com  – The leader in online registrations for famous and Elite European Clubs Youth Summer Soccer Camps and Soccer Schools, offers players the opportunity to discover new ways of learning and developing soccer skills with players from all over the world in some of the world's best soccer countries including England, Spain, Italy, Portugal and France. Learn how to play the soccer style of Real Madrid, Barcelona, Manchester City, Chelsea, Arsenal, Liverpool, AC Milan, Juventus Turin, Benfica Lisbon, Paris Saint Germain and Bordeaux. Language Classes options available in France, Spain and England. Residential and Day Camp Sessions, Goalkeeper training sessions and girls sessions available. Cultural excursions in top European cities available for select camps. Register Online NOW
Nike Soccer Camps: www.ussportscamps.com/soccer
Get Better this summer at NIKE Soccer Camps! The Nike Soccer Camps provide youth soccer players the opportunity to improve their skills in a high-energy environment which includes morning and afternoon training sessions, small group offensive and defensive tactics and game play with top notch coaches. Offering coed, girls, and boys only programs at fantastic soccer venues with a safe, healthy and FUN learning environment for all ability levels for players of all levels and age ranges. Find soccer camps across the United States from the likes of Vogelsinger, Nike Soccer and the Soccer Academy! Register NOW
No. 1 Soccer Camps: www.no1soccercamps.com
The No.1 Soccer Camps are the leaders in soccer specialty camps for all ages and ability levels. Long recognized as the foremost training ground for goalkeepers and field players endeavoring to improve their soccer prowess, No.1 Soccer Camps will host locations throughout the United States with many new sites this year. In addition to our traditional Youth, Junior and Senior Academy, at select sites we are also offering our unique College Prep Performance Academy as well as our College ID Showcase Camps. Camps will be conducted in Arizona, Texas, Maryland, Ohio, Florida, Colorado, Massachusetts, Illinois, California, Georgia, Oregon, Virginia, Pennsylvania, New Hampshire, New York, South Carolina, Alabama, North Carolina, Michigan, Tennessee and Connecticut. Each campsite is organized into well balanced small groups of field players and goalkeepers with concentration of play on both sides of the ball in the 35 yards immediately in front of the goal, utilizing our unique Go to Goal curriculum. The Machnik Method is recognized as the industry standard. Many No.1 Soccer Camps present sold out situations so it is important to register early!
Register NOW
International Development Academy: www.internationalda.com
IDA camps and player experiences are the new standard for international soccer camps. Designed for serious student-athletes, IDA's camps and player experiences combine elite training, player development, and competitive match-play against top competition. IDA Camps are offered year-round, with specific dates during the summer season. "The intensity of the training and schedule, the real games, the video footage for my highlight film – to name just a few. The whole experience was so different to what we are used to with summer camps and ID camps. Most camps these days are the same thing – show up, do some training, play some practice games with the same players. You can't really compare the two. If you want the real deal, IDA is your best bet."
Register Online NOW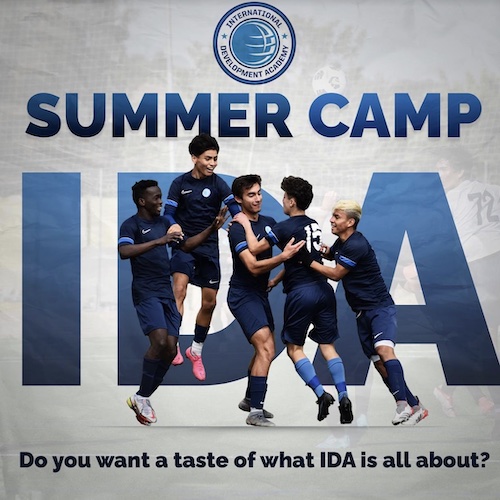 North-East Residential Camp: www.newenglandsurf.com
The North-East Residential Camp is designed for like-minded Players (born in 2012-2011-2010-2008) who want to compete with the Best of the Best players in the North-East region and be coached by some of the best coaches at New England, New Jersey and Rhode Island Surf. 4 days of elite training, coaching, educational workshops, and internal competitions, at one of the best prep schools in New England. This is a fantastic opportunity for all the players to showcase their talents and get ready for the pre-season, and fall season with their clubs.
Register Online NOW
LA Galaxy Elite Youth Soccer Camps: www.lagalaxy.com
The LA Galaxy is proud and excited to offer a range of ELITE YOUTH PROGRAMS throughout the state of California. Explore your options below to find the programming that best fits your player!
Our specialized training sessions focus on technical and tactical development, activities that encourage creativity and match awareness, and discussions on game-related topics. We strive to identify and develop key players who could advance to play for the Galaxy Discovery Program, LA Galaxy Academy, LA Galaxy II or the LA Galaxy one day.
Register Online NOW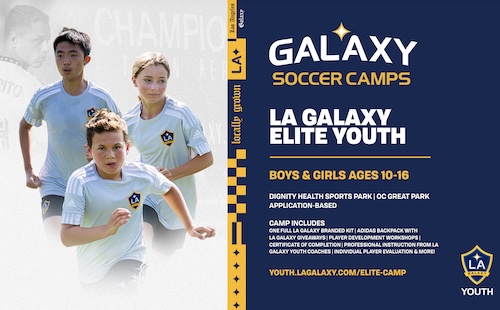 WHAT: Top specialized training sessions focus on technical and tactical development
AGES: 10-16 Years Old (Boys and Girls)
SKILL LEVEL: Intermediate, Competitive, Advanced, Elite (Examples: Flight 1, Silver Elite, ENCL, MLS Next or equivalent)
CAPACITY: To ensure the quality of our Programs, all Camps are limited to 15:1 (Camper to Coach) ratios and registration is first come, first serve
The Berkshire Soccer Academy for Girls: www.berkshiresocceracademy.com
Girls at the Academy receive elite training at top-quality facilities from our qualified and experienced coaching staff. One of the few specialty soccer camps set in a traditional camp environment, we focus on player improvement while deliberately infusing fun and friendship into the learning process. At the Academy, girls discover their greatness both on and off the field. The Academy is located in East Otis, Massachusetts, 10 miles north of the Connecticut border, and about 2 hours by car from Boston, and 2.5 hours from New York City.
All sessions run Sunday morning through Thursday afternoon. Those wishing to attend multiple sessions can attend a Bridge session from Thursday – Sunday (cost $495).
Camp Office Phone (all year): 800-326-9219
Learn more here: www.berkshiresocceracademy.com
One. Soccer Schools Residential Experience: www.onesoccerschools.com
The California Residential programs are designed for the serious, motivated player who has the passion, desire and aspirations to play at the highest level. Our 5, 10 & 15 Day Residential Programs offer a unique and specialized curriculum designed to maximize the individual player's growth and development, self-confidence and overall success during their stay. The residential program attracts talented players from across the United States. Players continue to return every year for the total soccer environment and family they become part of. Our staff are hand picked for their passion and experience within youth soccer! Our training methodology is simple, let the game be the teacher and the coach be the guide. The four 45-minute morning sessions are devoted to the players technical toolbox. The three 45-minute afternoon training sessions are devoted to the four moments of the game, transitions, offense and defense.
Our well thought out themed games look like soccer, and create a highly competitive, challenging, educational and enjoyable experience for the player! The two 45 minute evening sessions are all about competing in small sided games and 2v2 Footvolley. Sprinkle some Qualified Yoga Instruction, Inspirational learning modules on both Nutrition for recovery and health, and team culture and core values, creates an environment unlike no other! For more information on the camp or to see if this would be a good option for your child, contact our Resident Camp Director, Lloyd Biggs at lloyd@onesoccerschools.com and/or visit our website at www.onesoccerschools.com
---
Illinois Soccer Camps
Snow Goal Scoring Soccer Camp
www.snowsoccercamps.com
Snow Goal Scoring Camp gives players the opportunity to take more shots on goal than they could at any other camp and is applicable to players at all levels. By teaching the fundamentals of proper shooting form, stressing the ability to take quality shots with both the strong and the weak foot, and relentlessly drilling goal-scoring situations that commonly occur in games, we allow players to develop muscle memory so proper shooting technique becomes effortless and scoring goals becomes 2nd nature. This proven method of practice was instrumental in making Ken Snow one of the nation's best goal scorers and is guaranteed to take a player's shot to the next level. The camp is available for players ages 7-17. We offer camps in several locations in Indiana, Illinois, Michigan, and Ohio. Please visit our website www.snowsoccercamps.com for an up-to-date list of upcoming camp sessions, locations and prices.
Aleks Mihailovic Soccer Made in America Training Camps
(www.smia.com)
Welcome to Soccer Made In America Training Camp, a high quality soccer camp for players 4 – 17. The SMIA training program has been designed to provide the most complete soccer training for both individual players and teams of all levels and abilities. The SMIA Coaching Staff has been selected from throughout the world and United States. Each coach is qualified to teach players of all levels of the game. The SMIA clinicians are well recognized for providing personal attention to every participant. Join SMIA for one of our soccer camps in Illinois this summer.
P.O. Box 5345 Oak Brook, IL 60522
Phone: (630)-257-6900
Toll Free: 888-562-SIMA
Fax: (630)-257-9455
E-mail: smia@ix.netcom.com
Central Illinois Soccer Academy
(http://www.centralillinoissocceracademy.com/site3.aspx)
The program of the Central Illinois Soccer Academy (CISA) reflects our philosophy of learning through playing. Whether a beginner, intermediate or advanced player, the CISA staff will help improve your skill level and enhance your understanding of the game through a variety of fun training and playing methods. The CISA program will place special emphasis on the total development of its participants by incorporating individual, small-sided and full-sided training techniques throughout the week. The CISA staff will provide frequent feedback during training sessions and give players the opportunity to work on their game during daily, age-appropriate small-sided and full-sided matches.
Central Illinois Soccer Academy
1501 West Bradley Ave
Peoria, IL 61625
Phone: 309-677-CISA
Chicago Red Stars Soccer Camps
(https://www.chicagoredstars.com/camps-clinics)
Our Soccer Camps and Clinics are developed by women and for women. They are tailored specifically to aspiring female soccer players who want access to and insights from the best coaches and players in women's soccer. We offer a variety of world-class training programs, camps and clinics in and around the Chicagoland area and surrounding states for girls looking to take their game to the next level.
Perhaps you'll even have the opportunity to work with players like defender Sarah Gorden, featured in the image at the top of this page. Who yes, seems to have soccer legs like Cristiano Ronaldo. There's really nothing like working with actual pro soccer players and the Chicago Red Stars camp gives you that chance. Attend one of the best women's soccer camps in Illinois.
Chicago Fire FC Camps
(https://www.chicagofirefc.com/youth/programs)
Chicago Fire camps in Illinois help children safely return to the field of play, providing kids and parents alike a welcome source of enjoyment and activity throughout the year. Chicago Fire FC Camps offer structured camp experience, directed by our professional coaching staff and adhering to all "Return to Play" guidelines set out by the City of Chicago and the Illinois Department of Public Health. Players will interact with their coach through a small group structure each day as they guide each participant through football skills and challenges. Sessions are structured around daily themes that take a closer look at technical football skills and holistic football concepts.
As part of your program experience, you will also receive a complimentary BOGO ticket to a Chicago Fire FC match at Soldier Field during the 2021 MLS season! More information regarding game dates and times will be communicated at a later date. Go to the best men's soccer camps in Illinois.
Chicago Eagles Soccer Camps
(http://www.chicagoeagles.com/Camps.htm)
The Chicago Eagles' goal is to offer campers high quality soccer instruction in a fun, positive, Christian environment. Our coaches take their responsibility as role models seriously. They bring a high level of understanding of the game and will model a Christian lifestyle.
Chicago Eagles
P.O. Box 793
Wheaton, IL 60189
Phone: 630-462-9420
Fax: 630-462-9422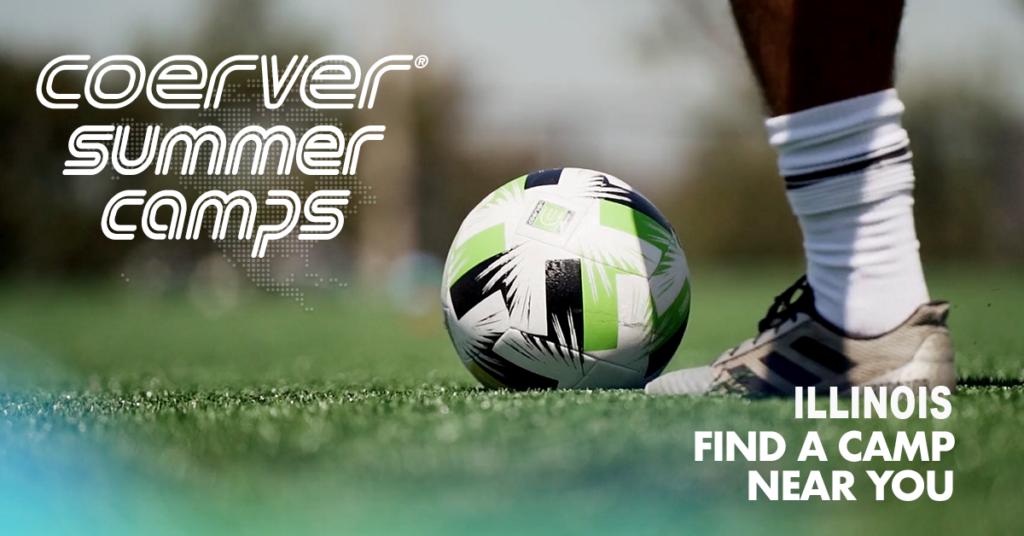 Coerver Residential & Day Camps In Illinois – 2023
The World's No 1 Soccer Skills Teaching Method, The Midwest's Best Soccer Camp Facilities. Welcome to Coerver, Illinois. We offer camps and clinics in the Chicago area. Please see our camp schedule below. We are now accepting on-line registration for all camps. If you would like additional information about camps in the Chicago area, please contact David Parker at: david@soccersuccess.com or Tim Dean at: coerver@soccersuccess.com
Coerver Coaching USA Soccer Camps – 2023
Coerver Coaching's mission is to provide the world's best youth soccer educational services and products at its Player Camps, Schools and Coaches' Clinics. Our aim is to make the benefits of Coerver® Coaching available as widely as possible through our network of Coerver Coaching licensees.
Coerver has soccer camps across the country including soccer camps in Illinois.
FREE Soccer Training Tips from Coerver Coaching: Enter your email address at this link to start your free soccer training tips: Six Steps to Soccer Success.
Find Out Why Over 70,158 Coaches Love Coerver Coaching. Learn more about the The Coerver Coaching Method.
Dutch Soccer School
(www.dutchsoccerschool.com)
Dutch Soccer School is designed for players and coaches looking for camps and clinics with guaranteed top-level instruction in a fun-learning environment. To guarantee the Dutch way of coaching we fly in our coaches from the Netherlands. At its foundation stands Rinus Michels, the man who 'invented' Total Soccer in the '70's. His ideas are the basis of all the Dutch Soccer School programs, founded on the premise that the player's ball control and tactical development always receive top priority in training. Join us at one of our soccer camps in Illinois this summer had improve your soccer skills.
Contact:
Dutch Soccer School
5973 Charles Crossing, Ellicott City, MD 21043
Phone: 410-978-8220
Email: info@dutchsoccerschool.com
Dynamo Soccer Association
(http://www.dynamosoccer.org/index.html)
The Dynamo Soccer Association located in Bourbonnais Illinois served 965 children ages five to fourteen. Children in Kankakee, Iroquois and Will Counties are eligible to play. If you're looking for soccer camps in Illinois this is the place to find them in your area.
Eastern Illinois Co-Ed Youth Soccer Camp
(http://www.eiupanthers.com/sidebar.asp?id=612&path=)
Camp objective: to develop your technical and tactical skills by utilizing the latest and most modern methods of teaching and coaching. Each camper will receive individual and group instruction designed to meet their specific needs and capabilities. These camps are designed for those who are really serious about learning and becoming a better soccer player.
EuroTech Soccer-America's 1# Camp & Tour Company
(www.eurotechsoccer.com)
One of the only integrated nationally recognized field player and goalkeeper programs in the country designed for competitive individual players as well as club and high school teams. Eurotech® Soccer Performance Center programs are located nationwide and combine challenging instruction, excellent competition, first class facilities and the finest national, collegiate and international coaching staff to create the most exciting camp experience in North America for boys and girls ages 7-18! Our mix of technical and tactical instruction, actual game situations and problem solving combined with tournament style matches will develop creative, versatile and confident soccer players.
Evan Fiffles Soccer Academy
(http://lewisflyers.collegesports.com/)
Camp features: top quality instruction, fun learning environment, camp T-shirt, special tactical training for older players, films, special Awards Ceremony, certified Athletic Trainer on site, gymnasium for Indoor instruction if necessary, pool facility, lunch provided through cafeteria line.
Daily schedule:
8-9 a.m. Registration (July 7 only)
9-9:30 a.m. Roll Call and warm up
9:30-11:30 a.m. Training session–Technique
11:30-Noon Lunch
Noon-1 p.m. Soccer films
1-2 p.m. Training session II–Tactics
2-3 p.m. Games (Small-sided/Full Scale)
3-4 p.m. Pool activities
Illinois College Premier Soccer Camp
(http://www.ic.edu/athletics/teams/soccercamp.asp)
The Illinois College Premier Soccer Camp has been created to develop individual skill and confidence, facilitate game knowledge, and enhance team play. Campers are given the opportunity to take part in a week of fun and informational instruction led by quality instructors who understand the needs of youth players. We use demonstration and age specific instruction to teach the tactical and technical aspects of soccer that are needed for an aspiring young player.
Shane Taylor, Men's Soccer Coach
Illinois College
1101 W. College Ave
Jacksonville, IL 62650
Office phone: 217-245-3337
Cell phone: 217-491-3599
E-mail: staylor@ic.edu
Illinois State Soccer Camp
(www.redbirds.org)
ISU coach Drew Roff and his staff of experienced coaches and collegiate players are dedicated to creating a fun and challenging environment. In just four days, campers of all ages and skill levels will gain valuable soccer knowledge and self-confidence while having a blast!
Julie Ertz Soccer Camps in Illinois
(www.procamps.com/julieertz)
Learn from and interact with Chicago Midfielder and U.S. Women's National Team Star Julie Johnston Ertz!
Throughout her one-day camp, Julie Ertz and our coaches will offer tips and hands-on instruction, including lectures, fundamental soccer skills stations, contests, and games in a high-energy, fun, and positive environment. Campers will be placed in small groups by age to ensure that each child gets maximum instruction. The camp will be staffed by some the area's top high school and college coaches.
The comprehensive camp experience is great for athletes of all skill levels, whether they are new to the game or have been playing for years. Individual and team awards will be given in each age group. We are committed to providing your child with the experience of a lifetime at an affordable price.
Milan Junior Camp Chicago
(http://www.milanjuniorcamp.us)
AC Milan is bringing its official Milan Junior Camp soccer training program to Chicago area. The program will be hosted by Park Ridge Soccer Club and will be open to boys and girls of all skill levels between the ages of 6 and 17. Each session will be hosted by two or more AC Milan coaches from Milan, Italy.
The program is designed to improve players' skills and their understanding of the game in various aspects. It also allows AC Milan coaches to identify highly qualified young talent and follow them during their development as athletes and individuals.
Coaches will work to develop technical skills as well as mentor the players to prepare their minds and bodies for the game of soccer, which will include nutrition awareness, decision-making skills, confidence and mental competitive preparedness for difficult training and competitive situations. The program curriculum has been specially designed for each age group by AC Milan's expert coaches and doctors. Players will be taught technical and tactical skills in the morning and apply these skills in afternoon scrimmage games. Get a chance to learn from AC Milan coaches at one of their soccer camps in Illinois.
Northern Illinois Soccer Academy
(http://niuhuskies.cstv.com/camps/niu-camps.html)
NIU offers several types of camps and clinics to choose from, including: coaches clinic, spring college prospect academy, junior day camp, college prospect academy, advanced academies, developmental academies, and more.
Northwestern Boys Soccer Camp
(www.nusoccercamps.com)
Northwestern Boys Soccer Academy's low camper to staff ratio allow us to provide each camper personalized technical and tactical instruction. We utilize individual, small group, and team settings to help each athlete improve their skill level and fully participate in Innovative and challenging training sessions.
Northwestern Boys Soccer Camps
P.O. Box 1822
Evanston, IL 60204-1822
Phone: 847-491-9998
E-mail: t-lenahan@northwestern.edu
Professional Soccer Academy
(www.professionalsocceracademy.com)
Is an organization that conducts soccer camps and clinics for youth soccer players all over the Chicagoland area. PSA conducts soccer camps and clinics year round, indoors and outdoors. Camp is run by: Justin Breckan & Michael Richardson
545 S. Consumers Avenue
Pataline, Illinois 60074
(847) 394-9860
Real Madrid Soccer Clinics & Camps
(http://rmfclinicsusa.com/clinics)
The Real Madrid Foundation Clinic is a comprehensive program that aims to motivate and develop the skills of young soccer players through a unique training and education methodology supervised by a professional team of Real Madrid Foundation coaches and staff hailing from the famed Real Madrid City in Spain. Real Madrid Foundation coaches (selected by Real Madrid C.F. Academy Director) conduct all training. Our coaches have experience with the Real Madrid Academy youth teams, using the same methodology.
Robert Kettle Soccer School
(http://www.robertkettlesoccer.com/)
Campers are divided into small groups by age and ability in order to be appropriately challenged. Each
group is assigned a professional coach for intense soccer training and instruction. At the end of camp, each player receives a written evaluation of their skills and performance.
Campers attend 3 soccer sessions a day, where all components of soccer (technique, tactics and fitness) are covered. We use the "Games Approach To Teaching" as recommended by the United States Soccer Federation and the English Football Association. Match-Related and Match-Condition small-sided games require that campers learn to make correct decisions and perform under pressure.
P.O. Box 4226
Wheaton, IL 60189
Phone: 281-437-1922
info@robertkettlesoccer.com
Skill Twins Soccer
(http://skilltwinscamp.eventbrite.com/)
Youtube Soccer sensations Josef and Jakob also known as the SkillTwins will be conducting a footwork Summer Camp August 3-21 in a 3 week program built to train your soccer superstar with the best. On their first United States tor ever Jakob and Josef will be teaching you the tricks of the trade. Open to ages 7 to 18 (High School Senior level Max) Each age group will be divided by age and skill.
Each above session is at the rate of 285.oo plus 8.12 transaction fee. There are 9 sessions to choose from and each time frame and space is limited to players. All purchases are based on a first come first serve basis. Sale ends SOON!
www.AddisonYouthSoccer.com will allow you to navigate the site for any upcoming event's, tournament's or League's year around for our Addison IL soccer teams find us on www.facebook.com/AddisonSoccer
Contact: Joanne D
SkillTwins Camp Coordinator
630 362 1359
Www.AddisonYouthSoccer.com
AddisonSoccer@gmail.com
St. Louis Scott Gallagher Soccer Camps (Collinsville, IL)
(www.slsgsoccer.com/camps/illinois)
SLSG IL Summer Camps are week-long programs designed to help players from ages 8-14 develop in competitive soccer. All programs will focus on individual ball skills, developing proper technique, and gaining exposure to SLSG curriculum and staff. Our mission is to build the best soccer club in the country.  A club that positively impacts the development of our players on and off the field and positively impacts our community.
Camp director: Jon Burko
Soccer Plus Camps – Goalkeeper School & Field Player Academy
(www.soccerplus.org)
SoccerPlus was founded in 1982 by Tony DiCicco as SoccerPlus Goalkeeper School. In the 30 years since he first started training goalkeepers, SoccerPlus has expanded its entities and has educated thousands of players and coaches utilizing The DiCicco Method. In 2011, Tony DiCicco and SoccerPlus announced a partnership with the largest soccer coaching company in North America; Challenger Sports. This wealth of knowledge will provide young players with multiple opportunities and expertise as they progress through their development.
CONTACT
1.800.KEEPER1 (1.800.533.7371)
INFO@SOCCERPLUS.ORG
Soccer Trainers of America
(www.stasoccer.com)
Soccer Trainers of America was founded in the summer of 1998 as a small group of elite, licensed soccer coaches dedicated to providing STA-only training programs. STA was met with tremendous success and opportunities, but recognized the importance for players to experience different types and levels of training from different coaches. It was then that STA embraced its competition with open arms and established a way for all soccer organizations and soccer coaches across the United States to participate with us and offer our services together. Diverse experience is the best way for a player to experience the beautiful game, and all the different personal and training experiences it offers, at its very best.
University of Illinois Fighting Illini Soccer Camps
(www.fightingillini.com)
Director:
Janet Rayfield, Head Soccer Coach
Eligibility:
Co-ed Resident Camp: Boys & Girls Ages 10-18
Co-ed Day Camp I & II: Boys & Girls Ages 6-14 (not enrolled in high school)
Elite Camp (Girls Only): Girls age 13-18