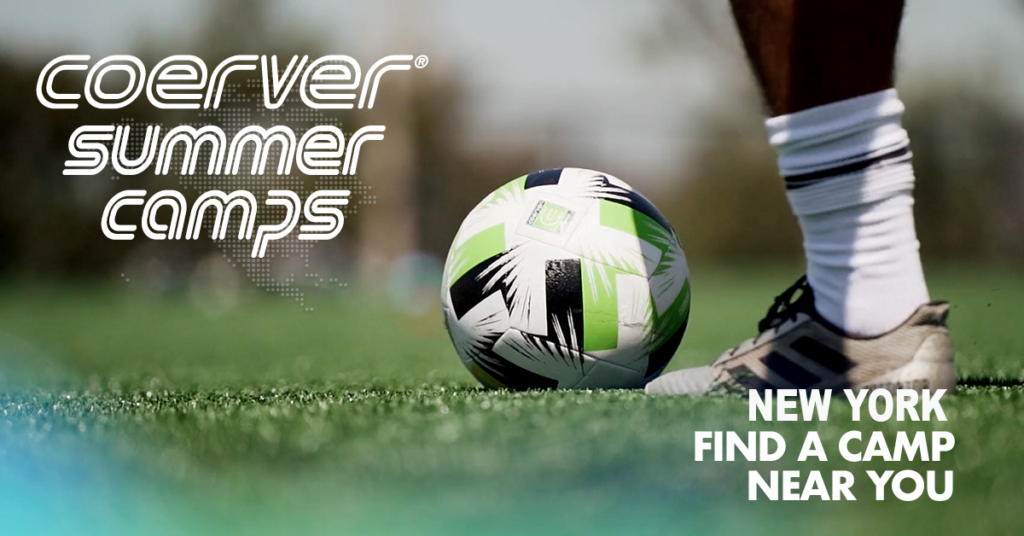 If you're looking for a soccer camp in New York, you've come to the right place. Below you will find the best soccer camps available in the state of New York. If you don't find the right soccer camp near where you live, it might be worth it to attend a quality soccer camp in a larger city or even another state nearby. Here are some of the best youth soccer camps in New York to attend this summer.
Featured Soccer Camps
Soccer Camps International
www.soccercampsinternational.com  – The leader in online registrations for famous and Elite European Clubs Youth Summer Soccer Camps and Soccer Schools, offers players the opportunity to discover new ways of learning and developing soccer skills with players from all over the world in some of the world's best soccer countries including England, Spain, Italy, Portugal and France. Learn how to play the soccer style of Real Madrid, Barcelona, Manchester City, Chelsea, Arsenal, Liverpool, AC Milan, Juventus Turin, Benfica Lisbon, Paris Saint Germain and Bordeaux. Language Classes options available in France, Spain and England. Residential and Day Camp Sessions, Goalkeeper training sessions and girls sessions available. Cultural excursions in top European cities available for select camps. Register Online NOW
Nike Soccer Camps: www.ussportscamps.com/soccer
Get Better this summer at NIKE Soccer Camps! The Nike Soccer Camps provide youth soccer players the opportunity to improve their skills in a high-energy environment which includes morning and afternoon training sessions, small group offensive and defensive tactics and game play with top notch coaches. Offering coed, girls, and boys only programs at fantastic soccer venues with a safe, healthy and FUN learning environment for all ability levels for players of all levels and age ranges. Find soccer camps across the United States from the likes of Vogelsinger, Nike Soccer and the Soccer Academy! Register NOW
Arsenal Football Development Camps: www.arsenalcampsus.com
Arsenal Football Development camps are an exclusive opportunity for boys and girls ages 8 – 16 to experience the methodology of one of the world's most successful clubs. Official Arsenal coaches conduct training sessions that come directly from the famed Arsenal academy at Hale End. Players enjoy insider access to the proven methods Arsenal use to develop its own youth talent for the complete soccer experience. Our camps are club neutral and designed to supplement and complement existing training experience. Summer 2022 Arsenal camps will be held exclusively in New York City, Greenwich and Baltimore. An Official Technical Director together with UEFA Coaches and Football Development coaches lead all of the daily sessions throughout the camp to assure the same level of quality, professionalism and authenticity that is received in London. Register Online NOW
No. 1 Soccer Camps: www.no1soccercamps.com
The No.1 Soccer Camps are the leaders in soccer specialty camps for all ages and ability levels. Long recognized as the foremost training ground for goalkeepers and field players endeavoring to improve their soccer prowess, No.1 Soccer Camps will host locations throughout the United States with many new sites this year. In addition to our traditional Youth, Junior and Senior Academy, at select sites we are also offering our unique College Prep Performance Academy as well as our College ID Showcase Camps. Camps will be conducted in Arizona, Texas, Maryland, Ohio, Florida, Colorado, Massachusetts, Illinois, California, Georgia, Oregon, Virginia, Pennsylvania, New Hampshire, New York, South Carolina, Alabama, North Carolina, Michigan, Tennessee and Connecticut. Each campsite is organized into well balanced small groups of field players and goalkeepers with concentration of play on both sides of the ball in the 35 yards immediately in front of the goal, utilizing our unique Go to Goal curriculum. The Machnik Method is recognized as the industry standard. Many No.1 Soccer Camps present sold out situations so it is important to register early!
Register NOW
International Development Academy: www.internationalda.com
IDA camps and player experiences are the new standard for international soccer camps. Designed for serious student-athletes, IDA's camps and player experiences combine elite training, player development, and competitive match-play against top competition. IDA Camps are offered year-round, with specific dates during the summer season. "The intensity of the training and schedule, the real games, the video footage for my highlight film – to name just a few. The whole experience was so different to what we are used to with summer camps and ID camps. Most camps these days are the same thing – show up, do some training, play some practice games with the same players. You can't really compare the two. If you want the real deal, IDA is your best bet."
Register Online NOW
North-East Residential Camp: www.newenglandsurf.com
The North-East Residential Camp is designed for like-minded Players (born in 2012-2011-2010-2008) who want to compete with the Best of the Best players in the North-East region and be coached by some of the best coaches at New England, New Jersey and Rhode Island Surf. 4 days of elite training, coaching, educational workshops, and internal competitions, at one of the best prep schools in New England. This is a fantastic opportunity for all the players to showcase their talents and get ready for the pre-season, and fall season with their clubs.
Register Online NOW
LA Galaxy Elite Youth Soccer Camps: www.lagalaxy.com
The LA Galaxy is proud and excited to offer a range of ELITE YOUTH PROGRAMS throughout the state of California. Explore your options below to find the programming that best fits your player!
Our specialized training sessions focus on technical and tactical development, activities that encourage creativity and match awareness, and discussions on game-related topics. We strive to identify and develop key players who could advance to play for the Galaxy Discovery Program, LA Galaxy Academy, LA Galaxy II or the LA Galaxy one day.
Register Online NOW
WHAT: Top specialized training sessions focus on technical and tactical development
AGES: 10-16 Years Old (Boys and Girls)
SKILL LEVEL: Intermediate, Competitive, Advanced, Elite (Examples: Flight 1, Silver Elite, ENCL, MLS Next or equivalent)
CAPACITY: To ensure the quality of our Programs, all Camps are limited to 15:1 (Camper to Coach) ratios and registration is first come, first serve
The Berkshire Soccer Academy for Girls: www.berkshiresocceracademy.com
Girls at the Academy receive elite training at top-quality facilities from our qualified and experienced coaching staff. One of the few specialty soccer camps set in a traditional camp environment, we focus on player improvement while deliberately infusing fun and friendship into the learning process. At the Academy, girls discover their greatness both on and off the field. The Academy is located in East Otis, Massachusetts, 10 miles north of the Connecticut border, and about 2 hours by car from Boston, and 2.5 hours from New York City.
All sessions run Sunday morning through Thursday afternoon. Those wishing to attend multiple sessions can attend a Bridge session from Thursday – Sunday (cost $495).
Camp Office Phone (all year): 800-326-9219
Learn more here: www.berkshiresocceracademy.com
One. Soccer Schools Residential Experience: www.onesoccerschools.com
The California Residential programs are designed for the serious, motivated player who has the passion, desire and aspirations to play at the highest level. Our 5, 10 & 15 Day Residential Programs offer a unique and specialized curriculum designed to maximize the individual player's growth and development, self-confidence and overall success during their stay. The residential program attracts talented players from across the United States. Players continue to return every year for the total soccer environment and family they become part of. Our staff are hand picked for their passion and experience within youth soccer! Our training methodology is simple, let the game be the teacher and the coach be the guide. The four 45-minute morning sessions are devoted to the players technical toolbox. The three 45-minute afternoon training sessions are devoted to the four moments of the game, transitions, offense and defense.
Our well thought out themed games look like soccer, and create a highly competitive, challenging, educational and enjoyable experience for the player! The two 45 minute evening sessions are all about competing in small sided games and 2v2 Footvolley. Sprinkle some Qualified Yoga Instruction, Inspirational learning modules on both Nutrition for recovery and health, and team culture and core values, creates an environment unlike no other! For more information on the camp or to see if this would be a good option for your child, contact our Resident Camp Director, Lloyd Biggs at lloyd@onesoccerschools.com and/or visit our website at www.onesoccerschools.com
---
New York Soccer Camps
Adirondack Adult Soccer Camp
(www.lakeplacidsoccer.com/Adirondack/forms/onlineform1.html)
July 19-24 Soccer Camp
St. Lawrence University, Canton, N.Y.
Individual soccer skills development, competitive games, tactical and
fitness training, at one of the finest soccer facilities anywhere
Coordinated with long-established kids' sleep-away soccer camp
$625 includes everything including best training table you'll ever see
On-line registration at
Info: Field Horne, (518) 587-4962
Canisius Soccer Camps
(http://www.totalcamps.com/CANISIUSMENSSOCCER)
The Canisius soccer camp in New York is designed to give aspiring soccer players an insight of what it is like to train and play at a Division 1 level.  Each camper will be exposed to our top quality athletic facilities and our fabulous Campus.
We strive to create a competitive training environment that will be enjoyable for each camper.  The training sessions will focus on the technical, tactical and fitness dimensions required to play at the collegiate level.  Games played in the evening will allow you to put what you have learned during the day into a competitive game.
Our staff is comprised of top notch D1 & D3 college coaches and we will also invite many of the area coaches to attend the evening games in an effort to give you even more exposure to college coaches.
Camp director: Dermot McGrane Location: Buffalo, New York
Chelsea Piers Elite Soccer Camps
chelseapiers.com/summer-camp/2020/elite-soccer-camp/
Elite Soccer Camps in New York
Age: 9-14  Time: 8:45am – 3:30pm  Location: Field House
Elite Soccer Camp is designed for soccer players looking to take their game and fitness training to the next level. Expert instructors work with each athlete to improve individual skills and tactical awareness through small-sided activities and drills.
Elite Soccer campers improve their soccer skills through skill sessions, small-sided games and full-field scrimmages. Coaches work with players to develop acceleration, core stabilization, and plyometric and strength training.Camp facilities include the indoor turf fields and basketball courts at the Field House and the outdoor grass field in Hudson River Park (just steps away). Join us at one of the top soccer camps in New York and improve your skills this summer.
Ron Restrepo
Director of Elite Soccer
City Starz Soccer Camps
https://www.citystarzsoccer.com
The technical directors, coaches and volunteers behind City Starz are all driven by a love of the game and a commitment to youth soccer in NYC. To say they're passionate about soccer is an understatement. But they're equally passionate about working with young athletes.
CSS families can rest assured that their young soccer players are in good hands, with stable, experienced, qualified coaches who focus on individual player development in a positive environment. Our coaching staff focuses on the four main areas of athletic development.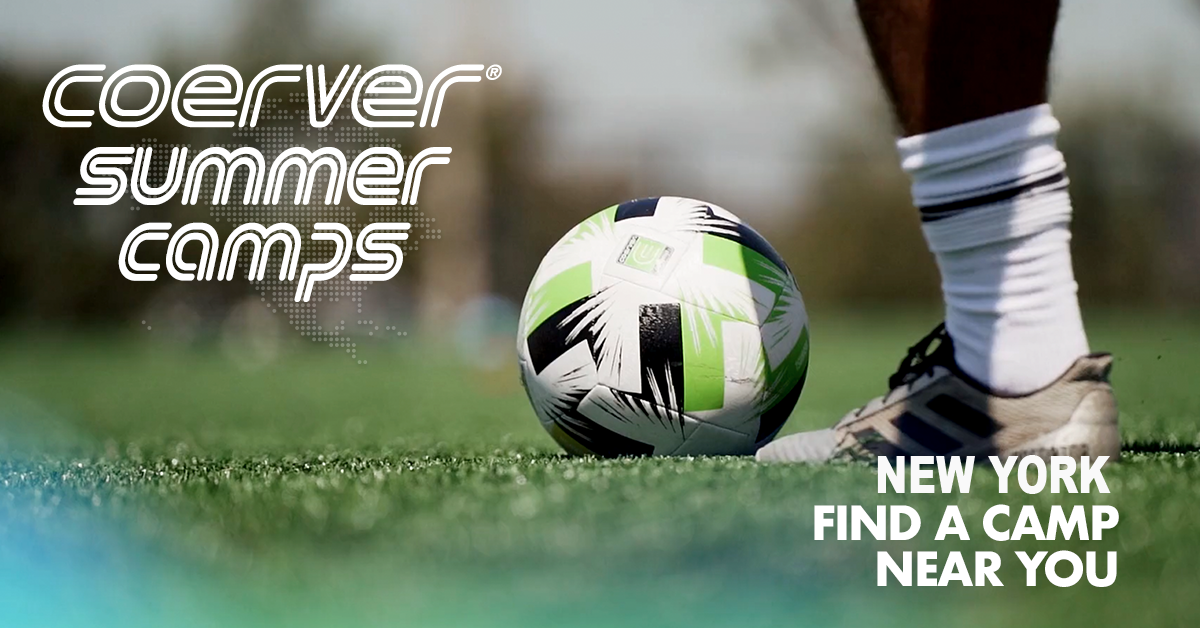 Coerver Coaching USA Soccer Camps – New York
Click here to see the 2023 Schedule
Do you want your child to learn soccer through a proven teaching method?
Do you want them to get excited about going to practice?
If you answered yes to any or all, then you're in the right place!
The Coerver Method is a global program that has been a market leader since 1984.
It develops confident young players with excellent techniques and game smarts. Bring your child to our program and we guarantee they will benefit.
We make learning soccer fun, with lots of age appropriate skills, drills, and games. Your child will have a blast and become excited about the game again.
Coerver Coaching's mission is to provide the world's best youth soccer educational services and products at its Player Camps, Schools and Coaches' Clinics. Our aim is to make the benefits of Coerver® Coaching available as widely as possible through our network of Coerver Coaching licensees. Coerver has soccer camps in New York this summer.
Click here to see the 2023 Schedule
FREE Soccer Training Tips from Coerver Coaching: Enter your email address at this link to start your free soccer training tips: Six Steps to Soccer Success. Find Out Why Over 70,158 Coaches Love Coerver Coaching. Learn more about the The Coerver Coaching Method.
Cornell Sports School
(www.athletics.cornell.edu/camps)
Camp staff features college coaches from Cornell and guest coaches from other Universities. Some camps feature professional players and Olympic level athletes. Many summer sports camps feature Cornell athletes as counselors.
Most summer camps are resident overnight camps and typically start on Sunday and end on Thursday. These camps also offer the commuter option for those campers who live near Cornell. Several sports offer day camps which run from Monday through Friday.
Europa Soccer Camps in New York
(https://europasoccercamp.com)
Our soccer coaches bring their training methods to our soccer camps in California, Massachusetts, New York, Maryland + New Jersey. Review: Thank you for the amazing soccer camp in New York. Our son James loved your camp. He has attended other soccer camps in the past and told us when he arrived home that nothing compared to your camp. He felt that Europa Soccer Camp has by far the best program structure and had the best coaches.
Eastern Soccer Academy
(www.easternsoccer.com)
Eastern Soccer Academy, founded in 1977, has been providing a personalized and professional soccer education for years. Our reputation has been built by our high quality coaching staff and success attained by those who sought our elite training.
Our innovative programs develop player and team skills and tactics to a maximum. As the demands of players, clubs, and parents are now focusing on year round programs, Eastern is here to customize a program that is perfect for your individual, club, and team needs.
Eurostar Soccer Camps
http://eurostarsoccercamps.com/Camp_Directors.html
Location: MINEOLA HIGH SCHOOL VOTED "BEST OF NORTH SHORE"
Session 1: June 25-June 29, 2018
Session 2: August 7-11, 2018
Rising Stars Ages 8-14
9:00am-1:00pm
Little Stars Ages 4-7
9:00am-11:00am
Camp Director – Paul Pereira
P.O. Box 371
Mineola, NY 11501
(516) 857-3722
First Class Soccer Academy
(http://www.cmiregistration.com/user/splash.jxp?org=445)
Through research based training within the framework of the NSCAA and US Soccer, our curriculum develops the overall player. Technical training is at the core of our camp, developing increased confidence on and off the ball. Players will receive supplemental training as well to increase soccer performance including but not limited to; video analysis and speed/agility training. All players will receive an individualized reports at the end of the week.
FMCC Raider Soccer Camp
(http://fmcc.suny.edu/athletics/sports_camps.cfm)
The daily schedule consists of station drills, individual skill development, two games per day, skill contests, team offense and defense concepts. Participants are asked to bring a bag lunch, full water bottle ( drinks will also be provided), and a clean T-shirt for the afternoon. Each camper will receive a T-shirt at the conclusion of camp.
Focus Soccer Camps in New York
(https://www.focus.soccer/newyork)
Focus Soccer are unique in our training methods in the way that we use a combination of futsal and outdoor training to develop our young soccer players. We use combinations of futsal to develop children's decision making and technique in small areas whilst using outdoor training to help develop our children's physical capabilities and tactical understanding in match specific areas.
Location: Brooklyn, New York (Soccer Roof, Sunset Park)
Dates: Monday 16th – 20th July, 9.00am – 4.00pm
Price: $650
Ages: Boys and Girls 6-16
Camp coach and director: Sean Daly
Future Stars Soccer Camps
(http://www.futurestarsdaycamps.com/)
Future Stars has been providing families in Westchester, Manhattan and Long Island with the finest specialty camp programs. In the summer, we will once again be operating day camp and overnight programs in Tennis, Soccer, Multi-Sports, Lacrosse, Basketball, Circus Arts, Baseball, Swimming, Magic and Illusion Camp and Drama Camp and our NEW programs include Diving and Cheerleading.
Houghton College Soccer Camps
(http://www.summeroncampus.com/main/ProgramDetail.asp?ID=291)
Houghton College is committed to providing quality educational experiences within a wholesome and safe environment. The camp provides technical and tactical training for beginners through advanced players.
Kapp's Professional Soccer Camps Inc.
(www.kappsoccer.com)
Professional Soccer Camps, Inc., under the direction of Erhardt Kapp and Boris Bandov, has been instrumental in the development of the soccer skills of its campers. Over the years we have established a reputation of being the leading soccer camp in Westchester with many of our campers going on to receive numerous awards and scholarships. They have advanced to play on travel teams and are making major contributions to their teams. Some have even reached the state level -ODP programs.
Lake Placid Soccer Centre
(www.Lakeplacidsoccer.com)
We would like to welcome you to the Lake Placid Soccer Centre. As one of North America's leading soccer education and promotion companies, we offer many unique soccer experiences for enthusiasts of any age. Founded in 1976, Lake Placid Soccer Centre has years of experience to draw upon. Our weekly sessions provide the perfect balance of intense, on-field training with a quality social experience.
Long Island Soccer School
(http://www.isasoccer.com/)
International Soccer Academy offers a unique, individualized cross-training program. Designed according to skill, ability and talent, each child is offered specialized training to promote the well-rounded athlete and ideal soccer player. Our experienced coaches and trainers are licensed, former professional soccer players. Their goal is to help develop your child's skills and talents in a positive, focused atmosphere.
Megan Rapinoe Soccer Camps
www.rapinoe.us/rapinoe-sc/
Sport is the intersect between people and our mission. We use our ongoing fitness programs and nationwide performance training clinics to instill our philosophies of working hard, having fun, and dreaming big to individuals of all ages and backgrounds. We believe there is endless amounts of untapped potential in everyone. So we want to help you reach your full potential in years to come, by embodying our call to action of Being Your Best You. Join Rapinoe at one of her soccer camps in New York this summer.
Performance Training Clinic
Albany, New York and Westchester, New York
October, 2017
Premier Soccer Camps
www.soccercampbytheocean.com
Contact: Dennis Lukens – 866-449-9237 Dennis@soccercampbytheocean.com
"The Premier Soccer Camp Training System" was designed and developed by Olympic Soccer Coach, US National Champion Youth Coach and current European Head Coach, our National Director Dennis Lukens. We guarantee that you will dramatically improve your technique, your tactical understanding and your physical fitness after attending one week with Premier Soccer Camps. Our Coaches are National Team Players or MLS/Professional/College Players. All are Elite High Level Players who have the ability to demonstrate to you the simplest or most advanced soccer skills at our soccer camps. Our Elite Staff have coached Olympic, College & Professional Soccer Teams and are United State Soccer Federation and UEFA We have some of the best soccer camp locations in America with sites in MA, PA, CA, NY, NJ, MD.
NOGA Soccer
(www.nogasoccer.com)
For over 30 years, NOGA has been providing and unparalleled camp experience and specialist coaching to thousands of boys and girls. Whether you are looking for a high level soccer academy or a soccer camp experience in your community, NOGA has the expertise to provide your child with the ultimate soccer experience.
New York City FC's Soccer Camps
nycfc.com/content/camps-and-clinics
NYCFC youth soccer clinics provide the opportunity for our youngest fans to learn from our coaches, interact with our players and receive some great prizes! Our camps emphasize the fundamentals of soccer while also teaching the importance of living a healthy and active lifestyle through the beautiful game. Check back for upcoming clinic dates in your area!
NYCFC Youth Programs offer week long Summer Soccer Camps, NYCFC Clinics, season long opportunities to youth teams, supplementary training opportunities, special events, and much more. NYCFC provides all the support and resources needed to help develop players and inspire them to reach their highest potential.
NYCFC Youth Programs staff are highly qualified with many years of experience in local youth soccer. Our staff can help provide support and resources to enhance the experience of players, coaches and members of your club.
Paul Riley Soccer School
(www.paulrileysoccer.com)
All age groups welcome — U6 – U18
Each player will receive free t-shirt and soccer ball
Premiere coaches and a world-class soccer training curriculum
Queen City Football Club
(http://www.queencityfc.com/index.asp)
Queen City FC is leader both in soccer and in the communities in which it operates. As the city's highest level soccer team, Queen City FC provides volunteers, in-kind donations and cash contributions to support organizations, initiatives and programs around The City of Buffalo and its surrounding area, with a focus on promoting healthy lifestyle, civic engagement, sportsmanship, education and fun.
RCC Soccer Camp (Rockland Community College)
(www.rccsoccercamp.com)
RCC Summer Camp's mission, for over 40 years, has been to provide campers with a safe, fun and engaging soccer camp environment. Our affordable summer camp, is based in Rockland County, NY on the beautiful soccer fields.
New York FC's very own Tommy McNamara was a guest at RCC Soccer Camp.
Location:
145 College Road
Suffern, NY 10901
Telephone: (914)584-8111
Camp Directors: Danny Samimi and Loren Green
SBU Soccer Camp
(http://goseawolves.cstv.com/camps/ston-camps.html)
Camps will be held on the campus of Stony Brook University. Markovic Academy will have access to the Soccer Training Grounds, LaValle Stadium, Indoor Gymnasium, Video Room, Swimming Pool, Dining Hall and Dormitories.
For more information visit, call (631) 632-7203, or E-mail us at markovicacademy@aol.com
Shrub Oak Athletic Club
(http://shruboakac.org/)
The SOAC soccer program has in-house programs for boys and girls from 4 to 14. Our in-house program begins at 4 years old and serves over 450 players each Saturday morning in a fun-filled environment where having a good time and learning about soccer is much more important than the score. The SOAC in-house season begins each September until November, and begins again each April.
Syracuse University Boys Soccer Camp
(www.suathletics.com)
Syracuse University Boys Soccer Camp Features:
• Exposure to excellent coaches (college, ODP, high school)
• Exposure to some of the nation's best collegiate and professional players
• Comfortable Syracuse University residence halls
• First –class natural grass and FieldTurf fields
• Specialized goalkeeper training
• Excellent training room facility and staff
• Swimming pool
• Camp Store
TetraBrazil Soccer
(tetrabrazil.com/camp_schedule.htm)
TetraBrazil CAMPS feature professional, comprehensive, high quality soccer training with FIFA recognized "A" Licensed Brazilian Soccer Coaches. Register now for a quality Soccer Camp. Hosted in various states across the US. Check website for availability.
Ultimate Soccer Camps
http://ultimatesoccercamp.com
"The Ultimate Soccer Camp Training System" was designed and developed by Olympic Soccer Coach, US National Champion Youth Coach and European Professional Head Coach. We guarantee that you will dramatically improve your technique, your tactical understanding and your physical fitness after attending one week with Ultimate Soccer Camps in CA, NJ, NY or MA.
UK Elite Soccer Camps in New York
(http://www.ukelite.com/)
200 Established Team Training Locations in 15 States – Day or Evening Summer Soccer Camps! Intense, challenging and great value for money – simply choose the best location for your team in New Jersey, Pennsylvania, Maryland, Connecticut, Delaware, New York, Massachusetts, Rhode Island, Ohio, Kentucky, Indiana, Tennessee, Virginia, Colorado and Washington State.
Union College Soccer School
(www.union.edu)
Day and evening sessions available, as well as a Spring Break Academy. The college provides insurance for all attendees. Medical charges that exceed personal coverage will be covered by the college.
For further information and an application, contact either men's head coach Jeff Guinn at (518) 388-6287 // e-mail guinnj@union.edu, or women's head coach Brian Speck at (518) 388-6191 // e-mail speckb@union.edu
Soccer camp with emphasis on skills.
United Soccer Academy
(www.unitedsocceracademy.com)
United Soccer Academy is the complete soccer education provider offering Community Soccer Camps, Team Training, High School Camps & Soccer Squirts all delivered by our full time professional soccer coaching staff. USA is currently operating in NJ, NY, PA, MD, DE, CT & VA.
University of Rochester Soccer Camp
(www.rochester.edu/athletics)
Soccer School
Boys Residential Elite Camp: Ages 12-18
Girls Residential Elite Camp: Ages 14-18
Girls Residential Elite Camp: Ages 14-18
World Class Soccer Camp
www.worldclasssoccer.com
NJ & NY's PREMIER CAMP
Our camp's objective is to help players achieve a higher level of technical proficiency and ball-handling creativity. The camp's goal is to move every player from their current skill level to the next level of competitive soccer while building confidence and enjoyment for the game.
Camp location:
Orangeburg, NY
Paramus, NJ
Oakland, NJ
Teaneck, NJ
Oradell, NJ
Montvale, NJ
Dates: Camps run from June through August
Here are some coaches and former players who've attended or coached at the camp:
Yael Averbuch
Tanya Kalivas
Jason Hernandez
Reno Matarazzo
Alecko Eskandarian
Esmeralda Negron
Danny Szetela
Abraham Garcia
Manfred Schellsheidt
Phone:
201. 261. 3771
Email:
info@worldclasssoccer.com