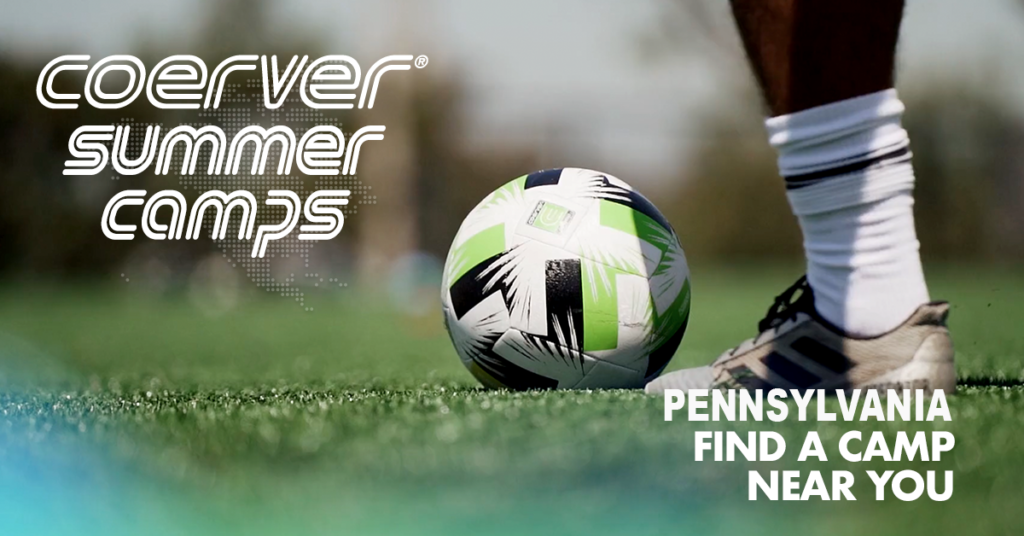 If you're looking for a soccer camp in Pennsylvania, you've come to the right place. Below you will find the best soccer camps available in the state of Pennsylvania. If you don't find the right soccer camp near where you live, it might be worth it to attend a quality soccer camp in a larger city or even another state nearby. Here are some of the best youth soccer camps in Pennsylvania to attend this summer.
The above image is credit to Coerver Coaching, the leader in soccer education globally since 1984.
Featured Soccer Camps
Soccer Camps International
www.soccercampsinternational.com  – The leader in online registrations for famous and Elite European Clubs Youth Summer Soccer Camps and Soccer Schools, offers players the opportunity to discover new ways of learning and developing soccer skills with players from all over the world in some of the world's best soccer countries including England, Spain, Italy, Portugal and France. Learn how to play the soccer style of Real Madrid, Barcelona, Manchester City, Chelsea, Arsenal, Liverpool, AC Milan, Juventus Turin, Benfica Lisbon, Paris Saint Germain and Bordeaux. Language Classes options available in France, Spain and England. Residential and Day Camp Sessions, Goalkeeper training sessions and girls sessions available. Cultural excursions in top European cities available for select camps. Register Online NOW
Nike Soccer Camps: www.ussportscamps.com/soccer
Get Better this summer at NIKE Soccer Camps! The Nike Soccer Camps provide youth soccer players the opportunity to improve their skills in a high-energy environment which includes morning and afternoon training sessions, small group offensive and defensive tactics and game play with top notch coaches. Offering coed, girls, and boys only programs at fantastic soccer venues with a safe, healthy and FUN learning environment for all ability levels for players of all levels and age ranges. Find soccer camps across the United States from the likes of Vogelsinger, Nike Soccer and the Soccer Academy! Register NOW
No. 1 Soccer Camps: www.no1soccercamps.com
The No.1 Soccer Camps are the leaders in soccer specialty camps for all ages and ability levels. Long recognized as the foremost training ground for goalkeepers and field players endeavoring to improve their soccer prowess, No.1 Soccer Camps will host locations throughout the United States with many new sites this year. In addition to our traditional Youth, Junior and Senior Academy, at select sites we are also offering our unique College Prep Performance Academy as well as our College ID Showcase Camps. Camps will be conducted in Arizona, Texas, Maryland, Ohio, Florida, Colorado, Massachusetts, Illinois, California, Georgia, Oregon, Virginia, Pennsylvania, New Hampshire, New York, South Carolina, Alabama, North Carolina, Michigan, Tennessee and Connecticut. Each campsite is organized into well balanced small groups of field players and goalkeepers with concentration of play on both sides of the ball in the 35 yards immediately in front of the goal, utilizing our unique Go to Goal curriculum. The Machnik Method is recognized as the industry standard. Many No.1 Soccer Camps present sold out situations so it is important to register early!
Register NOW
International Development Academy: www.internationalda.com
IDA camps and player experiences are the new standard for international soccer camps. Designed for serious student-athletes, IDA's camps and player experiences combine elite training, player development, and competitive match-play against top competition. IDA Camps are offered year-round, with specific dates during the summer season. "The intensity of the training and schedule, the real games, the video footage for my highlight film – to name just a few. The whole experience was so different to what we are used to with summer camps and ID camps. Most camps these days are the same thing – show up, do some training, play some practice games with the same players. You can't really compare the two. If you want the real deal, IDA is your best bet."
Register Online NOW
North-East Residential Camp: www.newenglandsurf.com
The North-East Residential Camp is designed for like-minded Players (born in 2012-2011-2010-2008) who want to compete with the Best of the Best players in the North-East region and be coached by some of the best coaches at New England, New Jersey and Rhode Island Surf. 4 days of elite training, coaching, educational workshops, and internal competitions, at one of the best prep schools in New England. This is a fantastic opportunity for all the players to showcase their talents and get ready for the pre-season, and fall season with their clubs.
Register Online NOW
LA Galaxy Elite Youth Soccer Camps: www.lagalaxy.com
The LA Galaxy is proud and excited to offer a range of ELITE YOUTH PROGRAMS throughout the state of California. Explore your options below to find the programming that best fits your player!
Our specialized training sessions focus on technical and tactical development, activities that encourage creativity and match awareness, and discussions on game-related topics. We strive to identify and develop key players who could advance to play for the Galaxy Discovery Program, LA Galaxy Academy, LA Galaxy II or the LA Galaxy one day.
Register Online NOW
WHAT: Top specialized training sessions focus on technical and tactical development
AGES: 10-16 Years Old (Boys and Girls)
SKILL LEVEL: Intermediate, Competitive, Advanced, Elite (Examples: Flight 1, Silver Elite, ENCL, MLS Next or equivalent)
CAPACITY: To ensure the quality of our Programs, all Camps are limited to 15:1 (Camper to Coach) ratios and registration is first come, first serve
The Berkshire Soccer Academy for Girls: www.berkshiresocceracademy.com
Girls at the Academy receive elite training at top-quality facilities from our qualified and experienced coaching staff. One of the few specialty soccer camps set in a traditional camp environment, we focus on player improvement while deliberately infusing fun and friendship into the learning process. At the Academy, girls discover their greatness both on and off the field. The Academy is located in East Otis, Massachusetts, 10 miles north of the Connecticut border, and about 2 hours by car from Boston, and 2.5 hours from New York City.
All sessions run Sunday morning through Thursday afternoon. Those wishing to attend multiple sessions can attend a Bridge session from Thursday – Sunday (cost $495).
Camp Office Phone (all year): 800-326-9219
Learn more here: www.berkshiresocceracademy.com
One. Soccer Schools Residential Experience: www.onesoccerschools.com
The California Residential programs are designed for the serious, motivated player who has the passion, desire and aspirations to play at the highest level. Our 5, 10 & 15 Day Residential Programs offer a unique and specialized curriculum designed to maximize the individual player's growth and development, self-confidence and overall success during their stay. The residential program attracts talented players from across the United States. Players continue to return every year for the total soccer environment and family they become part of. Our staff are hand picked for their passion and experience within youth soccer! Our training methodology is simple, let the game be the teacher and the coach be the guide. The four 45-minute morning sessions are devoted to the players technical toolbox. The three 45-minute afternoon training sessions are devoted to the four moments of the game, transitions, offense and defense.
Our well thought out themed games look like soccer, and create a highly competitive, challenging, educational and enjoyable experience for the player! The two 45 minute evening sessions are all about competing in small sided games and 2v2 Footvolley. Sprinkle some Qualified Yoga Instruction, Inspirational learning modules on both Nutrition for recovery and health, and team culture and core values, creates an environment unlike no other! For more information on the camp or to see if this would be a good option for your child, contact our Resident Camp Director, Lloyd Biggs at lloyd@onesoccerschools.com and/or visit our website at www.onesoccerschools.com
---
Pennsylvania Soccer Camps
adidas Future 500 ID Camps
(www.future500idcamp.com)
Future 500 ID Camps, powered by Adidas, provide an unparalleled soccer recruiting opportunity, with over 75 top NCAA Division 1, 2 and 3 universities in attendance. Future 500's innovative blend of on-field matches and off-field educational seminars provide an exceptional opportunity to Get Recruited while Getting Educated. Be a part of the top rated College ID Camps in the USA.
Boys Week 1: June 25-28, 2017 – Suburban Philadelphia, PA
Girls Week: June 30 – July 3, 2017 – Suburban Philadelphia, PA
Boys Week 2: July 5-8, 2017 – Suburban Philadelphia, PA
There are both a residential and a commuter option and team discounts for the camps. Over 75 college coaches attend each camp.
Please contact Future 500 ID Camps with any comments or questions.
Linda Wagner
Future 500, Customer Support
610-325-7883
linda@T3Soccer.com
Adeptico Legends Soccer Camp
Open to soccer players aged 11-17 years, this camp will prepare players for the fall season like never before! The focus is tactical understanding, field awareness, decision making, and how to use technical skills effectively. Detailed feedback will also help players to continue to improve long after the camp ends.
At our unique week-long camps, players receive extensive tactical and game intelligence training from our team of highly experienced coaches. We focus on tactical understanding, spatial awareness, thinking ahead, reading the game, and anticipation. Camps are offered to players attending either as individuals or as a team. The curriculum for team tactical camps is tailored to the requests of the coaching staff. All players complete a series of technical, tactical, and fitness performance tests and receive a detailed portfolio of results following the camp.
Join us June 27 – July 1st for the Adeptico Legends Soccer Camp to have fun, work hard, player smarter, and learn more about the game of soccer then you ever thought possible!
Location: North Branch Park, Chalfont, PA June 27th- July 1st
Cost: $239/player: early bird-special: register Before 5/15 for $199
Contact dave.koba@adeptico.com, call 1.973.670.3432 or visit us at http://adeptico.com for more details.
Bison Soccer Camps
(www.bisonsoccercamps.com)
The Bison women's soccer team is coming off a second straight Patriot League championship and NCAA Tournament appearance this past fall. The Bucknell men are annual title contenders who finished third in the Patriot League this season and won the championship as recently as 2014.
Located at Bucknell University in Lewisburg, PA. There are overnight camps and day soccer camps all in July.
Staff: Brendan Nash-Bucknell University Head Coach/Bison Soccer Camps Director. Ross Liberati assistant soccer coach and camp director. Contact Bison Soccer Camps 570-577-3083
Coach "O" Sports
(www.coachosports.com)
Coach "O" Soccer Camps Youth Camps are the foundation of what we do in youth soccer training. Over 2,400 young soccer players got their first exposure to the beautiful game at our summer day camps. This season Coach "O" Soccer continues its emphasis on the young soccer player through our calendar of local and regional camps that welcome players age 4 to 17, both boys and girls.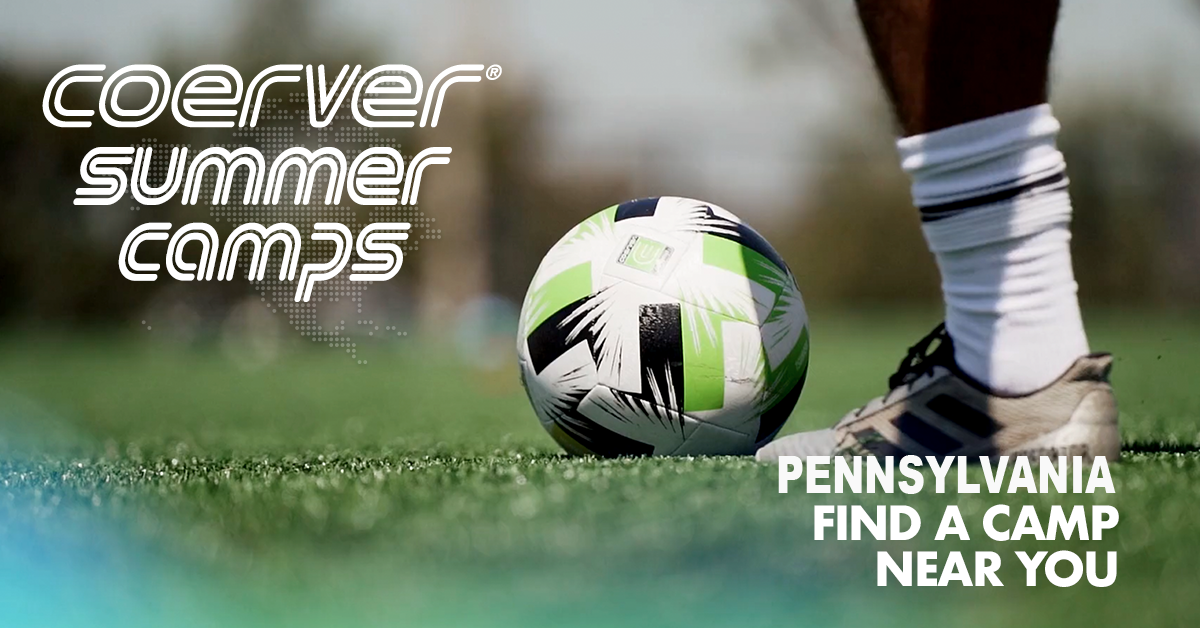 Coerver Coaching USA Soccer Camps – Pennsylvania
Click here to see the 2023 Schedule
We built our program to ensure our kids are learning the right skills at the right time. After years of growing talent at each age group, we developed 3 unique levels that grow the player, building on top of what will become foundational skills from year to year.
Our approach fortifies players with confidence and the ability to apply what they learned continuously on the field. Come grow with us during your off-season.
Coerver Coaching's mission is to provide the world's best youth soccer educational services and products at its Player Camps, Schools and Coaches' Clinics. Our aim is to make the benefits of Coerver® Coaching available as widely as possible through our network of Coerver Coaching licensees. Attend one of Coerver's soccer camps in Pennsylvania this summer.
Click here to see the 2023 Schedule
FREE Soccer Training Tips from Coerver Coaching: Enter your email address at this link to start your free soccer training tips: Six Steps to Soccer Success. Find Out Why Over 70,158 Coaches Love Coerver Coaching. Learn more about the The Coerver Coaching Method.
Defender Soccer Camp
(www.bbc.edu/campus_events.asp)
Defender Soccer Camp is an intense week of individual and team training that will develop your skills and make you a better soccer player. With individualized instruction for field players and keepers, as well as an emphasis on character and spiritual growth, you'll discover the tools to improve your game–and your life.
East Pennsylvania Soccer Camps
(http://www.epysa.org/programs_camps/schedulelocations/)
Each summer, Eastern Pennsylvania Youth Soccer runs day camps at locations throughout the state association to offer supplemental training to young soccer players. We'll be at five different locations this summer, with 12 sessions to choose from. Click "Register" and then choose your preferred session at the sign-up screen. Contact camps@epysa.org with any questions.
Elite 300 Soccer Academy
(http://www.elite300.com/elite300/)
Elite 300 Soccer Academy is one of America's premier national training camps for boys. Elite 300 is for teams or individuals looking to be challenged in a highly competitive soccer environment, while being seen by top college coaches.
Gettysburg College Soccer Camps
(http://www.gettysburg.edu/)
Youth camps for kids, ages 5-12. Elite camps for boys and girls. The objective for the Elite Camps is expose potential collegiate student-athletes to the demands of the college game.
Hare Goalkeeper Academy
(www.haregoalkeeperacademy.com )
The Hare Soccer Camps was founded to provide young players the opportunity to learn and prepare for a higher level of goalkeeping and competitive soccer. The Academy Session curriculum is designed for players who are ready to make the transition from recreational to competitive soccer, and the Elite/College Prep sessions are for the elite club, ODP, high school player and incoming college freshman, who wants to play collegiate soccer.
The philosophy of Hare Soccer Camps is simple yet demanding. Our staff is challenged to develop the technical and tactical skills of their students through dynamic, fun, and demanding training sessions. Players are grouped according to gender, age and ability to further create a challenging and positive training environment. We feel the Hare Goalkeeper Academy Camps experience should be one where coach and player can share the rewards of improvement through a well-disciplined, educational work ethic.
(412) 486-8284
Email: jerry@haregoalkeeperacademy.com
Lebanon Valley College
(www.lvc.edu/athletics)
The three camp sessions last summer saw more than 500 soccer players learning and competing on our quality athletic fields at Lebanon Valley College. We must credit our outstanding staff and the excellent campus facilities for making the soccer camps so successful. With the recent growth and success of our camps, we are excited for this upcoming soccer camp this summer. Call us with any questions you might have about this summer's sessions. With three weeks from which you can choose, we hope to see you this summer.
Lehigh Soccer Academy
(www.lehighsports.com)
Each summer, Lehigh University Athletics offers over 40 different summer camps in over 15 different sports. Year after year, campers return to our highly rated camps all located right in the heart of the Lehigh Valley.
Boys camps, girls camps, and even coed camps available. Detailed information available on the website.
LHU Girls' Soccer Camp
(www.lhup.edu/sports)
Lock Haven University Summer Camps offer an array of activities to children and adults at all skill levels. Participants will work with the area's top level professionals while using some of the finest equipment and facilities in the Northeast. All of the academic, artistic and athletic programs at LHU employ sound fundamentals, techniques and values that Lock Haven University places on its students and its athletes.
Camp Lohikan Soccer Camp
www.lohikan.com/soccer.htm
If you love soccer this is the camp for you! We play fun recreational games, run great drills and instructional classes and also play exciting inter-camp games!
Top-notch soccer instruction is provided by an experienced staff composed of a high school coach and college players. Instructional classes are grouped by gender and ability. Our objective is to increase each camper's playing skills and knowledge of the game and also provide opportunities to experience success and build confidence. But most of all… our objective is to have FUN!
Camp Lohikan is located in the Pocono Mountains of northeast Pennsylvania just outside the village of Lake Como in Wayne County. We're about 130 miles northwest of New York City (2.5 hour drive) and 160 miles north of Philadelphia (3.25 hour drive).
Middle States Soccer Camp
(http://www.middlestatessoccercamp.com/)
Middle States Soccer Camps are in Pennsylvania or Delaware, convenient to New Jersey and Maryland. Boys and girls ages 8-18 enjoy our goal scoring, goalkeeping and teams sessions near Philadelphia, Wilmington, southern New Jersey and northern Maryland. See below for our Westtown, PA, Middletown, DE and St. David's, PA camp sessions!
Millersville University Soccer Camps
(http://www.millersville.edu/)
Go to one of Millersville's soccer camps in Pennsylvania this summer.
June 23 – 27 – Boys and Girls Day Camp (ages 5-14)
July 7-11 – Boys and Girls Day Camp (ages 5-14)
July 20-23 – Boys overnight camp (grades 6-12)
July 24- 26 – Boys Striker and GK Camp.
July 27-30 – Girls overnight camp (grades 6-12)
July 31- Aug. 2 – Girls Striker and GK Camp.
Norwin Soccer Club
(http://www.norwinsoccer.org/index.html)
The Norwin Soccer Club is proud to have developed into one of the largest soccer programs in Western Pennsylvania providing an opportunity for nearly 1,000 kids to play the sport they love. The primary goal of The Club is to instill a love and knowledge of soccer. We strive to create a fun environment where our children have the opportunity to develop skills, learn sportsmanship and engage in healthful competition. It is an organization led and managed by parent volunteers according to the NSC Constitution, PA-West Youth Play Laws, current FIFA Laws of the Game, and US Youth Soccer rules. NSC is a member of the PA West Soccer Association
One on One Soccer Camps in Pennsylvania
(http://www.oneononesoccer.com/)
We strive to create a truly professional training curriculum in every sense of the word. It is ALL about player development in our programs and doing the simple things VERY well!  Not every player wants to be pushed this hard…Are you searching for this type of pressure type of environment?  If so, we welcome you to our family!  We specialize in goalkeeping and that is where we got our start…But now we bring that same energy, discipline and methodology to the outfield players too!
Todd Hoffard
National Director Call us at (717)380-4301.
Our soccer skills camps are offered at various locations throughout Pennsylvania as well as across the country on a as scheduled basis.  We have offered these types of camps in PA, NJ, SC, CA, AK, TN, MA, CT, NY, NJ, NM and numerous other states too.
Penn Soccer Academy
(www.pennathletics.com)
Welcome to another exciting summer with the Penn Soccer Academy. Over the past seven years I have thoroughly enjoyed our summers working with soccer players who are striving to get to the next level of competition. Our curriculum is designed to push each player to reach their maximum potential. We offer several camps that cater to all levels of player development, from the college bound athlete to the recreational player and strive every year to make each session better. I believe our campers deserve that from us and our staff.
Penn State Abington Soccer Camp (http://www.abington.psu.edu/psasite/ce/youth-and-teen.html
Each day, your child will receive instruction in the basic skills of soccer, as well as game tactics, small game and full field play, all delivered by David Castellanos, Head Men's and Women's Soccer Coach at Penn State Abington, and his staff. Coach Castellanos played for the two time NCAA national champion University of Connecticut Huskies and now plays for the Philadelphia Kixx.
Pitt Soccer Camps in Pennsylvania
(http://www.pittsoccer.com/)
Girls Elite 100 Camp
The Girls Elite 100 camp is designed to teach soccer players technical skills and game tactics using advanced training techniques. The camp is designed for advanced players. We only have space for 100 elite campers so sign up today!!
Lil' Panthers Soccer Camp
The Lil' Panthers Day Camp is an all day camp for boys and girls ages 5-11. Mini Panthers is a half day camp for boys and girls ages 4-6. All campers will learn ball skills, game rules and team play.
Goalkeeper School
Our goalkeeper school is offered at the Girls Elite 100 Camp. Goalkeepers will learn fundamental techniques of handling, footwork, distribution in an advanced setting. They will also work on fitness and agility, angle play and decision making.
Pittsburgh Riverhounds Soccer Camps
(http://www.riverhounds.com/)
The Riverhounds Summer Soccer Camps featuring instruction by experienced coaches and current Riverhounds professional players who will implement the methodology of the Everton Way Curriculum. For more information, contact Scott Gibson – Director of Academy Operations at the Riverhounds' headquarters at the Greentree Sportsplex at 412 539-1191.
Pocono Cup Soccer Camp
(http://www.poconocupsoccercamps.org/)
The Pocono Cup Soccer Camp is for the serious soccer player. Players are grouped by age and ability. The training methods and teaching philosophies utilized have proven successful. Campers show improvement and many have gone on to receive high school All-State and All-American national team honors. Our staff is dedicated, hardworking, and expects the same from our campers in return. Since this is a serious soccer camp, all campers should come to camp fit and ready to play.
Premier Soccer Camps
www.soccercampbytheocean.com
Contact: Dennis Lukens – 866-449-9237 Dennis@soccercampbytheocean.com
The Premier Soccer Camp Training System" was designed and developed by Olympic Soccer Coach, US National Champion Youth Coach and current European Head Coach, our National Director Dennis Lukens. We guarantee that you will dramatically improve your technique, your tactical understanding and your physical fitness after attending one week with Premier Soccer Camps. Our Coaches are National Team Players or MLS/Professional/College Players. All are Elite High Level Players who have the ability to demonstrate to you the simplest or most advanced soccer skills at our soccer camps. Our Elite Staff have coached Olympic, College & Professional Soccer Teams and are United State Soccer Federation and UEFA We have some of the best soccer camp locations in America with sites in MA, PA, CA, NY, NJ, MD.
Pro Olympic Soccer Camp
(http://www.proolympic88.com/)
Pro Olympic offers technical training in passing, trapping, dribbling, juggling, shooting, heading, slide tackling, bicycle kicks, and vision. We also offer team tactics such as dead ball play, support, positional play, and match play. We will be running our camp at the Hanover Township Community Center Fields (HTCC) at 3630 Jacksonville Road in Bethlehem, PA.
Pro Soccer Academy
(www.prosocceracademy.org/1,html)
What sets us apart from other camps is the quality of the Academy coaches. We feel we have some of the best teachers of the game, comprised of licensed coaches, high school coaches, college coaches and players, as well as professional players who have played the game at a high level.
Each camper receives:
* A week of fun-filled instructions
* Academy t-shirt and soccer ball
* Low camper-staff ratio
* Camp store available
* Team training available
Real Madrid Soccer Clinics & Camps
(http://rmfclinicsusa.com/clinics)
The Real Madrid Foundation Clinic is a comprehensive program that aims to motivate and develop the skills of young soccer players through a unique training and education methodology supervised by a professional team of Real Madrid Foundation coaches and staff hailing from the famed Real Madrid City in Spain. Real Madrid Foundation coaches (selected by Real Madrid C.F. Academy Director) conduct all training. Our coaches have experience with the Real Madrid Academy youth teams, using the same methodology.
Penn Legacy Soccer Fields
1695 State Street
East Petersburg, Pennsylvania 17520
USA
Penn Legacy Football Club
Lancaster, PA
June 26-30, 2017
Rising Star Soccer
(http://www.risingstar.org/)
Leadership, teamwork, preparation and maximized effort are key principals. Rising Star Soccer Camp will focus on developing your child's fundamental soccer skills through progressive individual techniques and group tactics. The week will culminate in a personalized evaluation on key skill areas to help identify your child's progress and needs. Throughout the entire week the kids will be learning and improving in a fun environment!
Riverfront Sports Soccer Camps
http://riverfrontsports.com/soccer/summer-soccer-camps/
If your child loves soccer, he needs to be at our Summer Soccer Camps. We hold our camps in a variety of locations throughout Northeast Pennsylvania.  Coach Dany O'Rourke directs all camps with a high level of energy.  Kids get to learn and play the game of soccer and it's great fun!
Please Note:  All camps are open to everyone.  They are not exclusive to the community in which they are held.  Please sign up for the camp closest or most convenient to you. If you have any questions concerning our camps, contact Coach Dany for more information at dany@riverfrontsports.com or 570.677-7796
Shoot to Score Soccer Academy
(www.shoot2score.net)
Shoot to Score Soccer Academy Programs are designed to meet the needs of children of various ages and ability levels who are interested in learning more about the sport of soccer. Our primary objectives are for players to experience personal success, improve their soccer performance, get plenty of exercise, and enjoy themselves in the process.
For more information, contact: jluxbacher@athletics.pitt.edu
Shore Soccer Camps
(www.shoresoccercamp.com)
The soccer program for boys and girls, ages 6 to 14, is structured to teach individual technique and small group tactics. A coaches demonstration will be followed by a warm-up, specific drills, and exercises designed to reinforce daily teaching themes. Small group instruction will be run as well as small sided league games.
Smart Soccer International Inc.
(www.smartsoccer.com)
Smart Soccer International Inc. was founded in the fall of 1987 with the intention of becoming a corporation that would serve as a professional soccer resource for youth soccer programs in Pennsylvania and New Jersey. The corporation was founded by Neil M. Smart, who settled in Eastern Pennsylvania with his wife Bonnie, in June of 1987. Neil was moving permanently to the area from his hometown of Barrow-in-Furness in the scenic North West of England.
TetraBrazil Soccer
(http://www.tetrabrazil.com/camp_schedule.htm)
TetraBrazil CAMPS feature professional, comprehensive, high quality soccer training with FIFA recognized "A" Licensed Brazilian Soccer Coaches. Register now for a quality Soccer Camp. Hosted in various states across the US. Check website for availability.
Tim Howard Goalkeeper Academy (Game Face Management LLC)
(http://www.bigkicksoccer.com/timhoward.htm)
This is not a camp where the headliner shows up to sign autographs for an hour. This is an academy where you will be exposed to the latest techniques required to succeed, by Tim Howard himself! You will spend hours with him. You will talk to him, walk with him, learn from him, and get to know him. You will see him demonstrate his amazing world class goal keeping skills every day. He will help you become the best goalkeeper possible. Learn how to play keeper from the best this summer at one of Howard's soccer camps in Pennsylvania.
Two Rivers Soccer Camp
(http://www.tworiverssoccer.com/)
Two Rivers Soccer Camp cordially invites you to come to camp this summer! Learn new soccer skills, enjoy the outdoors, experience personal growth and make new friends. Two Rivers offers a truly unique experience for the soccer enthusiast. Our camp, featuring European and American soccer coaches, creates an authentic soccer atmosphere. The camp, located in Graeagle, California is nestled in the majestic Sierra with two rushing streams bordering the 40-acre site.
Villanova Soccer Camps
(https://www.vusoccer.com/nikeshowcase/)
Head Coach Tom Carlin & Villanova Soccer Camps have been serving high school aged players for the last 20 years. Over the years, one thing is constant: Coach loves players who enjoy competing to be the best academically, athletically, socially and spiritually. Coach Carlin's ALWAYS COMPETE motto is at the forefront of our camps.
Vision Training Soccer Camps
(http://www.seeingthefield.com/)
Players who attend our soccer camps and learn the Vision Trainings System, ease into a creative and self-confident mode when handling the soccer ball.
The world's best players, such as Pele, Beckenbauer, Cruyff, Maradona, Platini, Zidane, and Claudio Reyna use their VISION and their skills to consistently create opportunities out of nowhere! We have proven that even players with average dexterity skills, dramatically improve their effectiveness when they See The Field.
UK Elite Soccer Camps in Pennsylvania
(http://www.ukelite.com/)
200 Established Team Training Locations in 15 States – Day or Evening Summer Soccer Camps! Intense, challenging and great value for money – simply choose the best location for your team in New Jersey, Pennsylvania, Maryland, Connecticut, Delaware, New York, Massachusetts, Rhode Island, Ohio, Kentucky, Indiana, Tennessee, Virginia, Colorado and Washington State.
United Soccer Academy
(www.unitedsocceracademy.com)
United Soccer Academy is the complete soccer education provider offering Community Soccer Camps, Team Training, High School Camps & Soccer Squirts all delivered by our full time professional soccer coaching staff. USA is currently operating in NJ, NY, PA, MD, DE, CT & VA.
United Sports Training Center Summer Soccer Camp
(www.go2ustc.com)
Our World Cup, Strike Force and Academy camps will include 1 day of Futsal specific training in the Field House. The slightly smaller and heavier ball gives young players an opportunity to experiment with tight ball control skills since the bounce of the ball is limited and ability to drive the ball a great distance is minimized.