If you're looking for a soccer camp in Washington, you've come to the right place. Below you will find the best soccer camps available in the state of Washington. If you don't find the right soccer camp near where you live, it might be worth it to attend a quality soccer camp in a larger city or even another state nearby. Here are some of the best youth soccer camps in Washington to attend this summer.
Credit for the above image goes to Coerver Coaching, a leader in summer camps since 1984.
Featured Soccer Camps
Soccer Camps International
www.soccercampsinternational.com  – The leader in online registrations for famous and Elite European Clubs Youth Summer Soccer Camps and Soccer Schools, offers players the opportunity to discover new ways of learning and developing soccer skills with players from all over the world in some of the world's best soccer countries including England, Spain, Italy, Portugal and France. Learn how to play the soccer style of Real Madrid, Barcelona, Manchester City, Chelsea, Arsenal, Liverpool, AC Milan, Juventus Turin, Benfica Lisbon, Paris Saint Germain and Bordeaux. Language Classes options available in France, Spain and England. Residential and Day Camp Sessions, Goalkeeper training sessions and girls sessions available. Cultural excursions in top European cities available for select camps. Register Online NOW
Nike Soccer Camps: www.ussportscamps.com/soccer
Get Better this summer at NIKE Soccer Camps! The Nike Soccer Camps provide youth soccer players the opportunity to improve their skills in a high-energy environment which includes morning and afternoon training sessions, small group offensive and defensive tactics and game play with top notch coaches. Offering coed, girls, and boys only programs at fantastic soccer venues with a safe, healthy and FUN learning environment for all ability levels for players of all levels and age ranges. Find soccer camps across the United States from the likes of Vogelsinger, Nike Soccer and the Soccer Academy! Register NOW
No. 1 Soccer Camps: www.no1soccercamps.com
The No.1 Soccer Camps are the leaders in soccer specialty camps for all ages and ability levels. Long recognized as the foremost training ground for goalkeepers and field players endeavoring to improve their soccer prowess, No.1 Soccer Camps will host locations throughout the United States with many new sites this year. In addition to our traditional Youth, Junior and Senior Academy, at select sites we are also offering our unique College Prep Performance Academy as well as our College ID Showcase Camps. Camps will be conducted in Arizona, Texas, Maryland, Ohio, Florida, Colorado, Massachusetts, Illinois, California, Georgia, Oregon, Virginia, Pennsylvania, New Hampshire, New York, South Carolina, Alabama, North Carolina, Michigan, Tennessee and Connecticut. Each campsite is organized into well balanced small groups of field players and goalkeepers with concentration of play on both sides of the ball in the 35 yards immediately in front of the goal, utilizing our unique Go to Goal curriculum. The Machnik Method is recognized as the industry standard. Many No.1 Soccer Camps present sold out situations so it is important to register early!
Register NOW
International Development Academy: www.internationalda.com
IDA camps and player experiences are the new standard for international soccer camps. Designed for serious student-athletes, IDA's camps and player experiences combine elite training, player development, and competitive match-play against top competition. IDA Camps are offered year-round, with specific dates during the summer season. "The intensity of the training and schedule, the real games, the video footage for my highlight film – to name just a few. The whole experience was so different to what we are used to with summer camps and ID camps. Most camps these days are the same thing – show up, do some training, play some practice games with the same players. You can't really compare the two. If you want the real deal, IDA is your best bet."
Register Online NOW
North-East Residential Camp: www.newenglandsurf.com
The North-East Residential Camp is designed for like-minded Players (born in 2012-2011-2010-2008) who want to compete with the Best of the Best players in the North-East region and be coached by some of the best coaches at New England, New Jersey and Rhode Island Surf. 4 days of elite training, coaching, educational workshops, and internal competitions, at one of the best prep schools in New England. This is a fantastic opportunity for all the players to showcase their talents and get ready for the pre-season, and fall season with their clubs.
Register Online NOW
The Berkshire Soccer Academy for Girls: www.berkshiresocceracademy.com
Girls at the Academy receive elite training at top-quality facilities from our qualified and experienced coaching staff. One of the few specialty soccer camps set in a traditional camp environment, we focus on player improvement while deliberately infusing fun and friendship into the learning process. At the Academy, girls discover their greatness both on and off the field. The Academy is located in East Otis, Massachusetts, 10 miles north of the Connecticut border, and about 2 hours by car from Boston, and 2.5 hours from New York City.
Summer 2022 Sessions (June 20 – August 12)
Sessions 1 with TeamFirst (Mia Hamm, Kristine Lilly & Tisha Hoch) – Tuition $1,795
Session 2 – Tuition $1,495
Sessions 3 with Visiting Pro – Tuition $1,495
Session 4 – Tuition $1,695
Session 5 with a Visiting Pro – Tuition $1,795
Session 6 – Tuition $1,695
Session 7: Berkshire Invitational – Tuition $1,695
Session 8: Varsity – Tuition $1,595
All sessions run Sunday morning through Thursday afternoon. Those wishing to attend multiple sessions can attend a Bridge session from Thursday – Sunday (cost $495).
Camp Office Phone (all year): 800-326-9219
Learn more here: www.berkshiresocceracademy.com
LA Galaxy Elite Youth Soccer Camps: www.lagalaxy.com
The LA Galaxy is proud and excited to offer a range of ELITE YOUTH PROGRAMS throughout the state of California. Explore your options below to find the programming that best fits your player!
Our specialized training sessions focus on technical and tactical development, activities that encourage creativity and match awareness, and discussions on game-related topics. We strive to identify and develop key players who could advance to play for the Galaxy Discovery Program, LA Galaxy Academy, LA Galaxy II or the LA Galaxy one day.
Register Online NOW
WHAT: Top specialized training sessions focus on technical and tactical development
AGES: 10-16 Years Old (Boys and Girls)
SKILL LEVEL: Intermediate, Competitive, Advanced, Elite (Examples: Flight 1, Silver Elite, ENCL, MLS Next or equivalent)
CAPACITY: To ensure the quality of our Programs, all Camps are limited to 15:1 (Camper to Coach) ratios and registration is first come, first serve
One. Soccer Schools Residential Experience: www.onesoccerschools.com
The California Residential programs are designed for the serious, motivated player who has the passion, desire and aspirations to play at the highest level. Our 5, 10 & 15 Day Residential Programs offer a unique and specialized curriculum designed to maximize the individual player's growth and development, self-confidence and overall success during their stay. The residential program attracts talented players from across the United States. Players continue to return every year for the total soccer environment and family they become part of. Our staff are hand picked for their passion and experience within youth soccer! Our training methodology is simple, let the game be the teacher and the coach be the guide. The four 45-minute morning sessions are devoted to the players technical toolbox. The three 45-minute afternoon training sessions are devoted to the four moments of the game, transitions, offense and defense.
Our well thought out themed games look like soccer, and create a highly competitive, challenging, educational and enjoyable experience for the player! The two 45 minute evening sessions are all about competing in small sided games and 2v2 Footvolley. Sprinkle some Qualified Yoga Instruction, Inspirational learning modules on both Nutrition for recovery and health, and team culture and core values, creates an environment unlike no other! For more information on the camp or to see if this would be a good option for your child, contact our Resident Camp Director, Lloyd Biggs at lloyd@onesoccerschools.com and/or visit our website at www.onesoccerschools.com
---
Washington Soccer Camps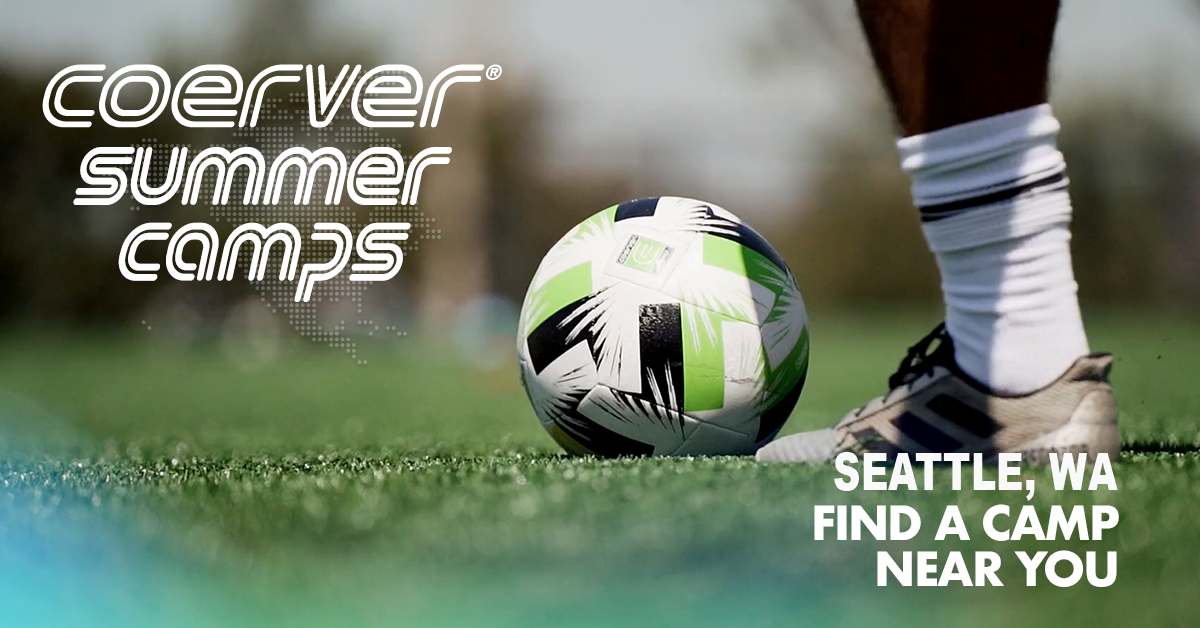 Coerver Coaching Washington Camps
Click here to see the 2023 Schedule
Coerver Academy. For soccer players of all levels and abilities ages 8-16; a 16 week course designed to increase soccer ball skills, speed with and without the ball, passing and receiving skills, individual defending, finishing and shooting skills, and small group play.
Coerver Coaching USA Soccer Camps
Click here to see all the Locations
Coerver Coaching's mission is to provide the world's best youth soccer educational services and products at its Player Camps, Schools and Coaches' Clinics. Our aim is to make the benefits of Coerver® Coaching available as widely as possible through our network of Coerver Coaching licensees. Coerver has soccer camps across the country and has been leading the industry since 1984.
FREE Soccer Training Tips from Coerver Coaching: Enter your email address at this link to start your free soccer training tips: Six Steps to Soccer Success. Find Out Why Over 70,158 Coaches Love Coerver Coaching. Learn more about the The Coerver Coaching Method.
Cougar Soccer Camp
(http://www.cougarsoccercamp.com/)
The Cougar Soccer Camp is designed to create a positive environment with high energy for young players to improve their skills and knowledge of the world's favorite game. The camp will offer the international passion for soccer that is evident throughout the globe. Our locally based staff brings professional and collegiate playing experience as well as extensive coaching experience. We pride ourselves on having a personalized touch and meeting the needs of each individual camper.
Soccer players of all playing abilities will benefit from the individualized instruction and demonstration to develop and improve ball control and technique. Join us at one of our Cougar soccer camps in Washington this summer.
Julie Woodward Redhawk Soccer Camp
(http://www.goseattleu.com)
The Seattle University women's soccer program will put on the Julie Woodward Redhawk Soccer Camp this July 5-8. The four-day camp run by current SU head coach Woodward, her coaching staff and current Redhawk players at Championship Field on the Seattle U campus.
The summer camp is open to both boys and girls ages 5-14 and of all skill levels. Campers will learn new skills, including dribbling, passing, turning and ball control techniques, in addition to experiencing different drills that the current Redhawk team does.
Northwest Soccer Camp at Bastyr University
(http://www.nwsoccer.org)
NSC is all about people! Founded by former SPU coach Cliff McCrath. Soccer brings the Northwest "family" together, but our love for kids keeps us united for life. Our Mission Statement is: "Northwest Soccer Camp trains developing players in the joy and skills of the game through coaching excellence in a beautiful, safe environment and by positive programs that build a life long passion for the world's greatest sport!" "Kids may forget what you say and even what you do, but they will never forget how you made them feel!"
Northwest Soccer resident and day camps are held at beautiful Bastyr University in Kenmore, Washington.
World Class Goalkeeping & Finishing School (With form Seattle Sounder and English Premier keeper Marcus Hahnemann)
Elite Camp
Field Players & Goalkeepers Camps
Future Stars Camps
Learn more at http://nwsoccer.org/camps/camp-descriptions/
European Soccer Academy
(http://www.europeansocceracademy.org/)
Our mission is to provide the best youth soccer educational program. We share vision, values and passion to inspire, lift and give the tools for success and growth of the soccer players on and off the field.
We will facilitate natural principles of growth, the process of releasing potential and developing talents with the accompanying need for essentials such as patience, nurturing, and encouragement.
FC Seattle Soccer Academy & Camps
(www.fcseattle.com)
FC Seattle is directed by Stuart Lee, with many years of playing and coaching experience, both in England and the USA. The organization runs a Spring Academy, and Summer Soccer Camps. Also available is our highest professional-quality training for groups and individual teams.
Steadily grown into one of Seattle's leading soccer training programs. We are a locally based organization, owned and operated within the Greater Seattle area, and take great pride in being able to handle all our camp program on a personal basis. We have developed a very successful formula for the Summer Soccer Programs; not only do we cater for the youngest members of the community, but the FC Seattle Academy program has a proven success at the older age levels.
Megan Rapinoe Soccer Camps
rapinoe.us/rapinoe-sc/
Sport is the intersect between people and our mission. We use our ongoing fitness programs and nationwide performance training clinics to instill our philosophies of working hard, having fun, and dreaming big to individuals of all ages and backgrounds. We believe there is endless amounts of untapped potential in everyone. So we want to help you reach your full potential in years to come, by embodying our call to action of Being Your Best You.
Performance Training Clinic
Seattle, WA
July 16, 2017
Northwest Soccer Camps
www.nwsoccer.org
Celebrating 47 Years of Soccer Instruction. Thousands of area youth have gained their start – or perfected their skills – at NORTHWEST SOCCER CAMPS. In addition, scores of the world's best players – including Michelle Akers, Shannon Higgins, Kasey Keller, and Marcus Hahnemann – spent their formative years at Northwest Soccer Camp. NORTHWEST SOCCER CAMPS offers 5 weeks of training in the summer for Boys and Girls, Goalkeepers and Field players, Youth and High School.  Located near Seattle Washington, Northwest Soccer Camp has been developing players in the joy and skills of the game through coaching excellence in a beautiful safe environment, with positive programs that build a lifelong passions for the world's greatest game. No matter what your level, your ambitions or your goals, come spend some time with us this summer. For more information contact us at: info@nwsoccer.org. One of the best soccer camps in Washington you can go to this summer.

NBC Soccer Camps
(http://www.nbccamps.com/camps/soccer/soccer_camp.htm)
After many requests for NBC to expand its unique camp experience to the sport of soccer, NBC Camps began soccer camp in 1985. NBC Camps' focus on training the complete athlete, physically, mentally and spiritually, creates a life-changing camp experience. Intensity, skill mastery, life-skills training, and amazing coaches all help create a camp that could be the highlight of your summer.
Elite soccer coach and former college athlete, Matt Leonard, provides the soccer curriculum and recruits great soccer athletes and coaches to help give the best soccer instruction available. This summer, NBC Camps has moved NBC Soccer to a new facility in Walla Walla, Washington that has nice amenities and three great on-campus fields. Come experience Intensity Station, tournament play, skill training, great evening programs and much more this summer at NBC Soccer Camp!
Pacific Coast Soccer Camp
(http://www.pacificcoastsoccercamps.com/)
We offer three programs for your convenience, two of which are available year-round. Our summer day camps, team training, and individual training are sure to provide the flexibility you desire to further help develop your child or your team. Please visit each page for complete information on the program of your choice.
Peter Fewing Soccer Camp
(http://www.peterfewingsoccercamp.com)
Head Coach for Seattle University Men's Soccer
Peter Fewing Soccer Camps have been teaching kids that the game of soccer can be both educational and fun. Our ability to teach with enthusiasm and a positive attitude, enhanced by our playing backgrounds, means that each participant will leave camp a better soccer player, teammate and individual. We believe camp should be both educational and fun! Go to one of Fewing's soccer camps in Washington this summer.
Premier Soccer Camps
http://www.soccercampbytheocean.com/
Contact: Dennis Lukens – 866-449-9237 – Dennis@soccercampbytheocean.com
The Premier Soccer Camp Training System" was designed and developed by Olympic Soccer Coach, US National Champion Youth Coach and current European Head Coach, our National Director Dennis Lukens. We guarantee that you will dramatically improve your technique, your tactical understanding and your physical fitness after attending one week with Premier Soccer Camps. Our Coaches are National Team Players or MLS/Professional/College Players. All are Elite High Level Players who have the ability to demonstrate to you the simplest or most advanced soccer skills at our soccer camps. Our Elite Staff have coached Olympic, College & Professional Soccer Teams and are United State Soccer Federation and UEFA We have some of the best soccer camp locations in America with sites in CA, FL, TX, PA, MD, NY, NJ, AZ, WA and NV.
Real Madrid Soccer Clinics & Camps
(http://rmfclinicsusa.com/clinics)
The Real Madrid Foundation Clinic is a comprehensive program that aims to motivate and develop the skills of young soccer players through a unique training and education methodology supervised by a professional team of Real Madrid Foundation coaches and staff hailing from the famed Real Madrid City in Spain. Real Madrid Foundation coaches (selected by Real Madrid C.F. Academy Director) conduct all training. Our coaches have experience with the Real Madrid Academy youth teams, using the same methodology. Go to one of Real Madrid's soccer camps in Washington this summer.
Seattle United (Ages 8-12) – 2017 Real Madrid Foundation Clinic
Monday, August 14, 2017 – Friday, August 18
10:00 AM – 12:30 PM
Ingraham High School
1819 N 135th
Seattle, Washington 98133
Seattle Sounders Soccer Camps
(https://www.soundersfc.com/camps)
Seattle Sounders Soccer Camps offer the best coaching in the Northwest. Many of our coaches are current and former professional players, Sounders Women´s team players and top college players. All of the men and women are highly trained in teaching the skills of the game while making your kids laugh and enjoy their time at camp.
Sounders FC offers camps and programs for players of all ages and skill levels designed to develop playing ability, build a love for the game, and interact with the first team. Now enrolling! Yes, join us, attend one of the Sounders' soccer camps in Washington this summer and raise your game to another level.
Soccer Plus Camps – Goalkeeper School & Field Player Academy
(www.soccerplus.org)
SoccerPlus was founded in 1982 by Tony DiCicco as SoccerPlus Goalkeeper School. In the 30 years since he first started training goalkeepers, SoccerPlus has expanded its entities and has educated thousands of players and coaches utilizing The DiCicco Method. In 2011, Tony DiCicco and SoccerPlus announced a partnership with the largest soccer coaching company in North America; Challenger Sports. This wealth of knowledge will provide young players with multiple opportunities and expertise as they progress through their development.
CONTACT
1.800.KEEPER1 (1.800.533.7371)
INFO@SOCCERPLUS.ORG
UK Elite Soccer Camps in Washington
(http://www.ukelite.com/)
200 Established Team Training Locations in 15 States – Day or Evening Summer Soccer Camps! Intense, challenging and great value for money – simply choose the best location for your team in New Jersey, Pennsylvania, Maryland, Connecticut, Delaware, New York, Massachusetts, Rhode Island, Ohio, Kentucky, Indiana, Tennessee, Virginia, Colorado and Washington State.
UK International Soccer Camps
(http://www.uksocca.com/)
Camp programs are available year round, however the majority are held during the Summer from June to September, at Easter during Spring break or around Xmas vacation. Locations include: California, Arizona, Nevada, New Mexico, Oregon, Washington, Utah and Hawaii.
Washington State University of Soccer Camp
(www.wsucougars.collegesports.com)
Welcome to Washington State University Summer Camps! Our goal at camp is to create a positive learning environment where each camper will learn more about the game of soccer through the development of their technical skills and tactical awareness of the game. Our camp curriculum will utilize various training techniques and styles to help each camper reach the next level of play. We aim to reach the highest level of performance for each individual through a positive and challenging atmosphere.
Our soccer coaching staff is comprised of knowledgeable and energetic coaches, who have various soccer backgrounds from collegiate coaching, club level coaching, and current and former collegiate players.
Washington Soccer School Camps
(https://www.washsocceracademy.com/)
We would like to extend an invitation to you to participate in the Washington Soccer School. Our summer soccer school has been serving the greater Seattle community for the last 16 years. We offer two weeks of CO-ED day camps and our prestigious Boy's HS Residential Camp.
All camps are held at the beautiful athletic facilities located on the University of Washington campus. Our game-based curriculum and group rotation format will focus on the key technical and tactical aspects needed to excel in today's game. We also strive to put each camper in a fun, competitive environment that fosters their passion for the world's #1 sport! Washington Soccer School features the University of Washington men's coaching staff and players, along with a combination of top men's and women's collegiate, club, and high school coaches. Coaches and staff are selected on the basis of their expertise, personality and teaching capabilities.
Washington Girls Soccer Camp and Goalkeeping Academy
(http://www.wgsoccercamp.com/springbreaksoccer.htm)
Three Day Camp is designed to make sure you stay on top of your soccer skills. Each player is ensured an environment where working hard and having fun is a key part of a successful soccer player. Each camper will learn the tools to learn new skills and improve on old techniques. Each day will cover a specific skill, followed by small-sided games designed to work on the skill in a game-like environment.