Watch and Learn: Soccer Videos & Highlight Clips
So you want to watch some of the best soccer videos around? You've come to the right soccer website. Check out the latest soccer videos and highlight clips from around the globe. We've tried to narrow down some of the best soccer highlight clips you have to watch.
You may not be able to go and see every soccer game in the world live, but thanks to the Internet, you can still see the pros in action. An added benefit is that you can replay video footage as many times as you want, analyzing the moves of the best players and the coaching strategies of the top managers, so you can copy and imitate the best of the best.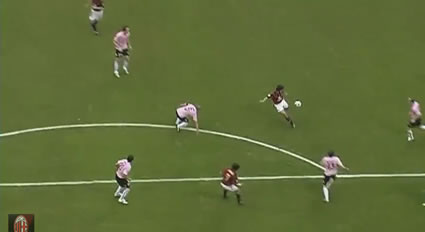 Want to master the Cristiano Ronaldo free kick? Just follow the steps in this video.
Featured Soccer Video: Zidane Volley
Zinedine Zidane's game winning volley in the Champions League Final in 2002 versus Bayer Leverkusen.  Is this perhaps the greatest soccer goal of all time? Yes, I think so.
[yotuwp type="videos" id="E3BLrgvgHnE" ]
Watch soccer videos of soccer tricks, goals, passes, and more from the range of categories below. If there's an amazing soccer video that we're missing, please send it our way. Take a look at some of these clips and see how the game is played at the highest level.
Featured Soccer Video – Eric Cantona's Top Ten Goals
If there's one soccer player from the past you need to watch play the game it's Eric Cantona. In his relatively short time at Manchester United he did some amazing things on the soccer field. He's a player who not as well known as he should be. He played the game with a certain style and even arrogance. Another one of those soccer players who makes the game look easy.
[yotuwp type="videos" id="qr–6BejqAY" ]
See soccer videos of the top soccer stars playing today and from the past. Soccer highlight clips from the likes of Beckham, Henry, Ronaldinho, Cantona, and Maradona. Then see videos of the new Maradona, a young soccer player called Messi. Who is now known as the best soccer player in the world. Well, a few people might say Cristiano Ronaldo is the best.
Celebrate along side Robbie Keane or master Beckham's free kicks or mimic the great skills of Cristiano Ronaldo. And don't forget about Maxi Rodriguez's great goal against Mexico or Clint Dempsey's clinical finish in the World Cup.
If there's an amazing soccer video we're missing, please let us know, and we'll add it to this soccer videos page.
Zlatan Ibrahimovic's Bicycle Kick
If you haven't seen it, you must watch Zlatan Ibrahimovic's bicycle kick versus England. Check out how far out he is from the goal. England's goalkeeper Joe Hart comes out to head the ball away but doesn't get enough on it and Ibrahimovic turns and bikes the ball into the open net. Just an amazing goal – up there with one of the greatest goals ever scored
[yotuwp type="videos" id="weViOPghw1w" ]