Foam rollers soccer: What's a secret recovery method a lot of top professional soccer players use: the foam roller. Todd Dunivant of the LA Galaxy uses the foam roller to aide in recovery. The foam roll doesn't get enough credit for how much it can help soccer players who are tight after a strenuous practice or game.
Foam rollers help release tension and knots in muscles and help prevent injuries. It's like getting a massage. This is something you can do on your own everyday after training. You'll see results with consistent use – less muscle tightness and less injuries.
Just about every part of your body can get the foam roller treatment, from your calfs to the highs and hip area. Even just lying with your back over the roller will open up your chest area and help you breath better – it's sort of like doing a Yoga pose on the roller. So get out there and start doing some foam rolling after a hard training session – your body will thank you.
Credit for image below to the LA Galaxy of course. Dunivant using a foam roller when he played for the LA Galaxy.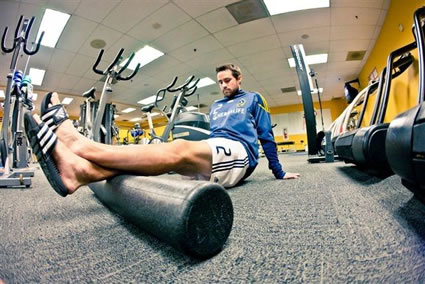 Ryan Giggs & Roy Keane: Yoga and Soccer
Most gyms will have a foam roller you can use or you can get them at any sports equipment store. Hat tip to Ben Yauss, LA Galaxy Strength and Conditioning Coach, for the image.
Massage out tight spots and prepare the muscles for maximal performance! If you are a soccer player, learning how to foam roll is a must. Again, foam rolling is a great way to prevent injuries and improve flexibility which is important for all soccer players who are playing a number of intense games throughout the season.
You've seen foam rollers at the gym, but do you really know how to use them? Check out this video below on the foam roller soccer related uses:
From how to stretch to what to eat, Reading FC's lead academy sports scientist Ollie Harrington and Science in Sport nutritionist Ted Munson show you how to speed up your recovery. Towards the end of the video the players use a foam roller. It's become more common to see a foam roller used in soccer for recovery.