Cristiano Ronaldo, perhaps the greatest soccer player in the world right now, and the most expensive, likes to wear a few different colors of soccer shoes. Over the years, with the help of Nike Soccer, Cristiano Ronaldo has gone from red to blue to green to even gold.
The evolution of Cristiano Ronaldo's football boots/soccer cleats from 2002/03 season to 2018/19 season – From Sporting Lisbon, Manchester United, Real Madrid to Juventus & Portugal national team. All the football boots he has worn including new Nike Mercurial Superfly VII Chapter 7, Nike Mercurial Cristiano Ronaldo 2019…Which is your favorite football boots?
We are missing a picture of Cristiano wearing the pink/berry Nike shoes. If anyone has a picture of him wearing those shoes, please send it to us. We're also looking for pictures of what shoes Cristiano Ronaldo was wearing when he was playing for Sporting in Portugal in 1997-2001.
These soccer shoes are all different versions and colorways of the Nike Mercurial Vapor Superfly shoes. Ronaldo in the latest and greatest from Nike, the new Nike Mercurial Vapor Superfly IIs. Here he's got the lavender colorway shoes on.
In the picture below, when he suited up for Real Madrid, Cristiano decided to go with black shoes and the large Nike swoosh on one side.
And Cristiano Ronaldo's black Nike shoes are personalized with his initials: CR. These soccer shoes have a more yellow Nike swoosh whereas the other ones are in white. At least that's how it looks from the photos of the shoes. I'd say these black one might just be the coolest cleats. All black always like sharp.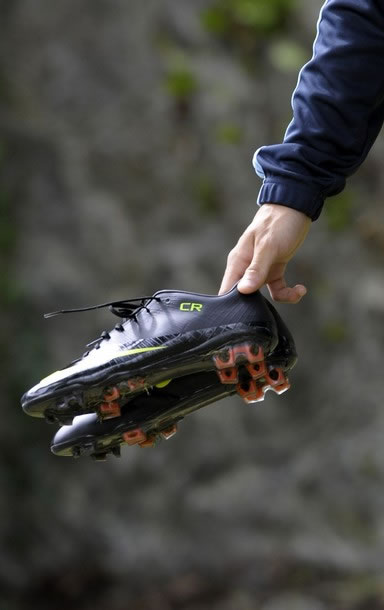 And then there are the blue cleats. I wonder if he has a favorite color shoe? We'll have to find out. I'd say he might just want to wear the same color or same shoe every game but due to his deal with Nike soccer he probably has to change up his shoes all the time.
And when he signed with Real Madrid, he become the richest player in the world, earning $270,540 a week. With that salary I think he could even afford some gold soccer shoes if he wanted.
But these golden boots are from when he was the English Premier Leagues top scorer while playing for Manchester United. Ronaldo's scored 31 Premier League and won the European Golden Shoe. Are these shoes Nikes?
In the past, when he was a few years younger, he wore actually wore a gold colored pair of Nike shoes while playing for Portugal.
And the new lavender Nike Mercurial Vapor Superfly II shoes that just came out – see first image above when he wears them for Real Madrid for the first time.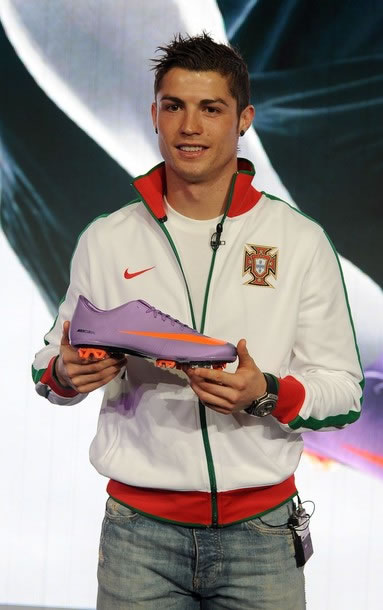 And the lime green soccer shoes, don't think he wore those too often when he was at Man United. And the red Vapor boots that have his initials and his number 7 on them. He wears these shoes quite a bit.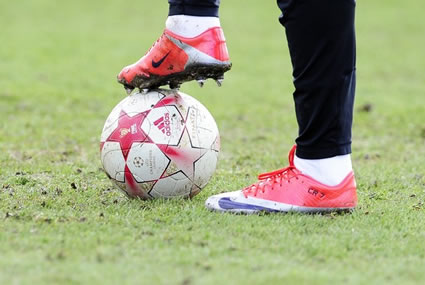 Sometimes he trains in tennis shoes, which are Nike's too, of course.
And some classic white Nike shoes while he played for Manchester United in the early days. When, believe it or not, the crowd and Old Trafford faithful would give him a hard time if he dribbled too much or did too many tricks. He learned though, and now just beats players and scores goals, no matter what shoes he's wearing. And then finally the yellow cleats, as he cuts the ball back. We'll have more Cristiano Ronaldo images as he laces up new pairs of shoes. What colors does have left to wear? Not too many.