The rule for dimensions is very basic for a soccer pitch, just that the length of the touch line (sideline) be longer than the length of the goal line.  The length can be between 90 and 120 meters, and the width can be between 45 and 60 meters. (Soccer field dimensions)
The soccer pitch is often viewed as a battlefield, in that both sides have a half as safe territory, and both sides must somehow penetrate the opposition's half.  In that sense, the soccer pitch provides us a sense of competition.
Estadio Centenario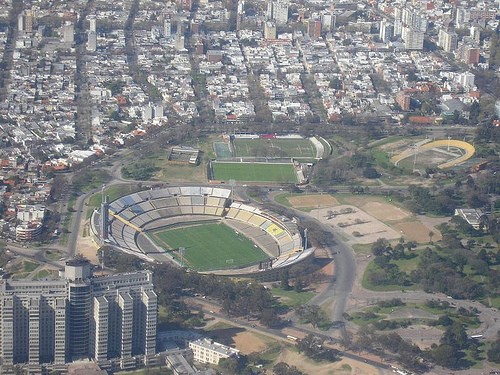 There are certain mystical qualities surrounding various famous pitches throughout the world, such as the site of the first world cup, the Estadio Centenario in Uruguay. There is much legend surrounding certain soccer stadiums, as great games that were played at the stadium carry on in the memories of the fans and the soccer players.
And don't forget that many times people died building these amazing stadiums – many times because they were rushed to finish them in time for a World Cup – as is the case with the World Cup coming up in Brazil. These soccer stadiums and soccer pitches are therefore sacred fields.
Physically, the soccer pitch provides a place for us to play the game we love. The grass provides traction for our cleats, in order for us to better move around playing the game.
And yes, all game should be played on natural grass and not turf!
Perhaps one of the most famous soccer stadiums today is the Camp Nou in Barcelona. It's where the greatest player to ever play the game makes his home, Lionel Messi. For ever game it's packed to the roof tops. Over 90,000 fans come to see the little wizard play the game.
See more soccer stadiums – click here.
Read more about the beautiful game at the pages below: