Soccer snood: Should soccer players be allowed to wear the snood when they play if it's really cold outside? Actually, what in fact is a snood?  The snood seems like some kind of character out of a Dr. Seuss story rather than a neck warmer. But that's exactly what it is: a band of cloth that you wear around your neck when it's cold. Here's Arsenal's Ozil wearing the snood as he heads out to football training. The snood nearly covers his eyes.
Credit to Bleacher Report for the above image to of course. Can you name all the soccer players in the image wearing a snood?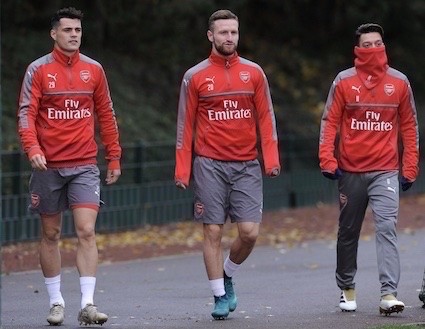 Credit to Arsenal for the above image.
During a cold snap, you might be forgiven for wanting to wrap up warm. For top-flight footballers though, the chilly weather's given them a chance to try out a new fashion accessory. Chris Skudder's been to see if the SNOOD is really in keeping with the Premier League's image.
And sometimes it's not even that cold, really, but soccer players from South America or warmer climates than say, England, are apt to wear gloves and a snood during the winter months in the English Premier League. Some players have even wore snoods during a game. However, there's talk that the snood will be banned from being worn in games in the future.
Can you really blame them though? It's cold out in parts of Europe during the winter!
Definition of a snood: a tubular neck scarf or neck warmer
The snood is really more for skiers, not soccer players. But when you're from Argentina, like Carlos Tevez, and used to playing in warmer weather, when the temperature starts to drop down close to freezing on those cold English nights, you might want to wear a snood when you're running around on the soccer pitch.
Carlos Tevez is the symbol of the snood and, maybe, the first wearer of the snood in the English Premier League. Tevez has become a bit snooty too, as he's repeatedly saying he's unhappy now at Manchester City and not getting along with members of the management. Tevez might just being wearing the snood out of spite, just because managers and other players are saying he shouldn't wear it.
It's really a shame that the snoody wearing Tevez has gotten into trouble with managers while playing in England since he's such a fantastic player who gives his all when he plays the game. He just wants to feel welcome and wanted, or at least that's what he said when he was at Manchester United.
And Alex Ferguson has jumped into the snood fray along with his former hard man Roy Keane and current center back, Rio Ferdinand. The Manchester United gum chewing manager said his players won't wear the snood.
Even Lionel Messi wears the snood, although just during warm ups.
Alex Ferguson: "Real men don't wear things like that," Ferguson told The Sun, and added that he had banned the use of the trendy neck-warmer.
Roy Keane said this about the snood wearing in the EPL: "Don't get me started. I don't know how they do it. It's very strange. Gloves, scarves, I think somebody came on a few weeks ago for [Manchester] City who had a hat on. I don't know how they do it and focus on the game, it's weird. That's the way the game's gone."
Rio Ferdinand, the United defender, backed up that claim by posting on his Twitter account: "I'm telling u peeps, U won't see a Man Utd player wearing a SNOOD."
There are those that defend the snood, one being Arsenal manager Arsene Wenger, who said they serve a medical purpose when players have neck problems in the cold weather.
Arsene Wenger: "I get advice from the medical team – that's why we let them wear them," the Arsenal boss told the club's website.
Here's Barcelona's Neymar wearing a snood that he's pulled up to cover almost his entire head. And Messi again wearing the snood.
This seems quite a stretch but you have to like how Wenger stands up for his players. Perhaps Wenger will go out and sign Carlos Tevez – that would be something. I just want to see Wenger wearing a snood during a game at some point. Or maybe a player getting his snood ripped off his neck, nah, that's too much. I don't care either way what soccer players wear as long as they're playing well. It's the old white shoes or bright colored shoes thing, you can wear them if you are really all the time good. You can wear a snood or even a cape if you score goals like Lionel Messi.
The game of soccer has changed in a way, as the English Premier league has had a surge in internationals coming to play on the cold parks of England over the past ten years. Players who aren't used to the cold rain and sometimes snow, who want to wear gloves, long sleeve jerseys, and even tights – and a snood.
Will the snood take over in other parts of the world? I'm sure players are wearing the snood over in the Serie A, since in Italy fashion is almost as big as soccer. How about Spain? Does it get cold even over there? Well, it gets cold enough for the Real Madrid players and Cristiano Ronaldo to wear snoods: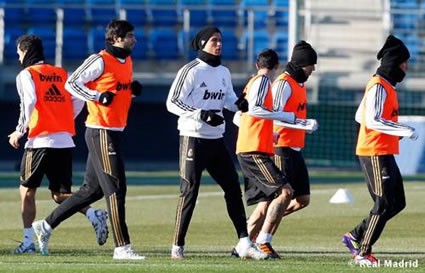 Above image credit goes to Real Madrid of course.
What about soccer fans, are they buying up the snood? If the best soccer players in the world are wearing the snood they maybe you should too.
I'm guessing they are, as Manchester City have their initials emblazoned on the snood that Carlos Tevez is wearing. That would be a sight though, 50,000 fans wearing the snood in support of their talisman, Carlos Tevez. Long live the snood.
One last snood picture of Barcelona's Neymar. Yes, that's the Brazilian Neymar hidden underneath a snood and a hat and gloves. It's cold out there for someone who's used to playing on the beaches of Brazil.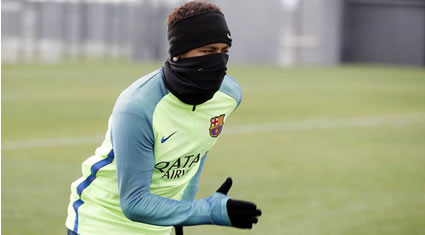 Image credit to FC Barcelona of course.