Is wearing a camouflage goalkeeper jersey legal in the EPL? Or, should it be allowed? I wonder if the English Premier League will ban these camouflage keeper jerseys? Everton's keep Tim Howard came up with a huge penalty kick save today versus Liverpool wearing a camouflage goalkeeper jersey. What with the green grass and Howard's camouflage jersey he might have been hard to see!
The best and worst camouflage kits: Some should really never be seenhttps://t.co/LITefbDwxo pic.twitter.com/fZCM1LDzW7

— Naija Reports (@naija_reports) November 22, 2020
However, it was tough for Dirk Kuyt to even see where exactly Howard was in the goal, since his camouflage jersey made him invisible – or at least that's the way it looked what with the green grass and all. I think they might start outlawing camouflage jerseys in the Premier League after this. Certainly when Everton face Manchester United I bet Alex Ferguson says Howard can't wear that camouflage jersey.
Camouflage kits: Some should never be seen, but others stand out for the right reasons.
In the picture below you can see Tim Howard celebrating after the full stretch save in his camouflage jersey. But further down below is a picture of how Howard really looked to Dirk Kuyt when he stepped up to take the penalty. Is it fair for a keeper to have on a camouflage jersey…? It's hard for attacking players to see where he is in the goal!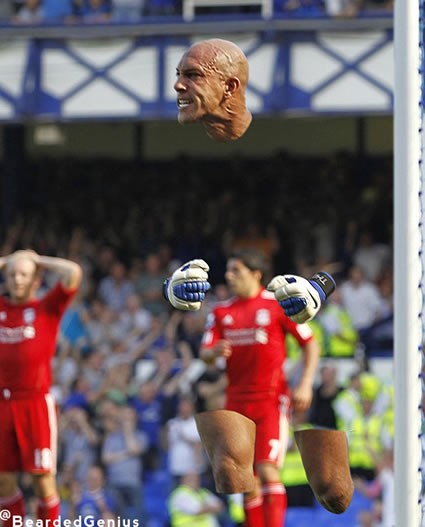 Hat tip to Bearded Genius for the image via his Twitter account.
Here's a video of the penalty kick save. Actually, maybe it was the shadows that threw off Dirk Kuyt before he took the kick. In truth, it was just another amazing save by the American goalkeeper.