What's the MiCoach speed cell? Barcelona's Lionel Messi help develop the shoe and the miCoach, but a number of English Premier League players are also set to wear the shoe, like Luis Suarez, David Silva, Samir Nasri , Ashley Young, Emmanuel Adebayor, Stewart Downing and Gareth Bale. The speed cell is a tool for tracking a bunch of key performance metrics on soccer players:
Key performance metrics are captured every second
On-board memory stores all measurements during your workout or game
Capture time, distance, speed, speed zones, and number of sprints
Wireless for easy use; Syncs to your iPhone or iPod so you can see your data instantly
Collects top speed, burst speed and total distance,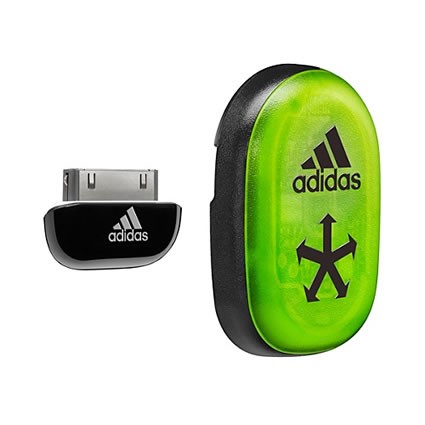 Compete on the pitch and measure your speed. Then share your stats online and compare with other players. Think you're fast on the soccer field? Leave zero doubt with adiZero F50 powered by miCoach. Adidas introduces an innovative way to track the physical stats of MLS players during the run of play.
New: Now through 9/14, adidas.com is offering 20% off all full priced running shoes for men and women. Whether you're getting a new pair of shoes to get in shape for the holidays or starting your shopping early for your friends and family, be sure to take advantage of this fantastic sale!
For men, the new Adizero Feather 2.0 shoes are only 7.3 oz and are only $68 with the 20% discount! For all the ladies, the Adipure Gazelle will make you feel like you are comfortably running barefoot through the streets or on the treadmill! And the cherry on top, free shipping on all orders over $49! The promo code for your new pair of shoes is: 20RUNNING. Don't wait! This offer is only good until 9/14/12. Happy shopping!
Check out these beautiful Adizero Feather 2.0 running shoes, which would be perfect for when you're doing some endurance or long distance training.