How high up should you wear your soccer socks? It's all personal preference of course but these days a lot of top soccer players are wearing their socks over their knees. See Alex Morgan's soccer socks for example. And now Morgan's teammate Rose Lavelle is wearing her socks up high like Neymar too.
HAHAHA alex morgan wears her socks like that too !! 🙅🙅🙅🙅 pic.twitter.com/CABymBwftr

— Salm (@salmafrancoo) August 14, 2014
Yes, soccer players these days like to wear their socks up and over their knees. Take Barcelona and Brazilian star Neymar, he wears his socks so high they're almost connected with his shorts.
And Alex Morgan is following Neymar's look and wearing her socks well up over her knees, too. Take a look at the picture below. If Alex Morgan and Neymar are wearing their socks that high up then maybe there's something to it…again though, it's all about what feels right to you as a player.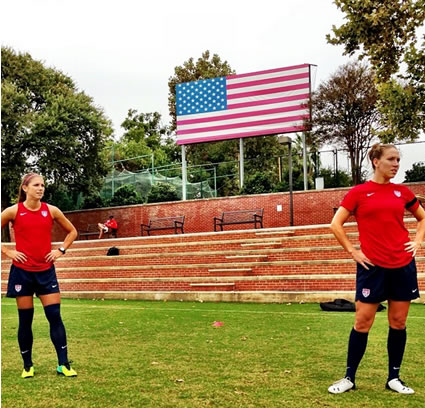 New: Alex Morgan Shooting Drills and Alex Morgan's workout routine.