Alex Morgan is changing women's soccer. She's becoming bigger than just soccer famous. And that will draw in not only more women's soccer fans but young girls who want to play soccer.
Carrasco is the Winner
Alex Morgan has a boyfriend everyone. That's the news that's racing across the Internet after the women's 2011 World Cup in Germany. The lucky guy is Seattle Sounder and former Cal Berkely soccer player Servando Carrasco. He and Morgan met at University of California and have been dating for four years.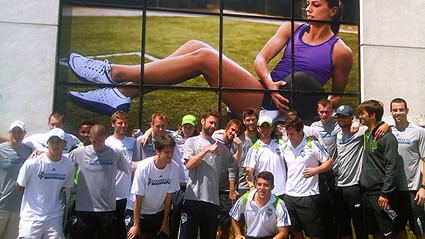 Image credit to the Seattle Sounders.
The Sounder team of course gets a dig in about Servando Carrasco's and Alex Morgan while down in Los Angeles, grabbing a team photo in front of a Nike ad for Morgan. Can't quite make it out but that looks like Carrasco kneeling down in the center in the picture above. That's quite a Nike ad too, taking up the whole side of a building as Morgan does a medicine ball ab workout.
New: Alex Morgan Shooting Drills and Alex Morgan's workout routine.
Morgan knew that Carrasco couldn't attend her championship game against Japan in Germany over the weekend, but was still wishing: "I was even hoping up until the last day!"

But, she added, "To be honest, I think he feels the same way as I do when it comes to our team. We have to put our personal lives on hold for our careers right now."

And that photo above? That's when the Sounders were in Los Angeles and saw Morgan's photo outside a Sports Authority.

"That photo is so funny, but I really feel bad for him," Alex Morgan said. "All his teammates were making fun of him."
In the end though Carrasco gets the last laugh. He's the one who's actually going out with the speedy and attractive forward.
I wonder if Sigi Schmid will give Servando Carrasco a run on the soccer pitch if Alex Morgan comes up to Seattle to catch one of his games?
Stuart Holden Trying to Move In
Perhaps one of the funniest things about the whole Alex Morgan story is Stuart Holden being called out for tweeting her after the tournament. Was Holden trying to move in on Carrasco's girl?
Charlie Davies catches Holden tweeting to just Morgan and saying she had a great tournament. Davies tells Holden there are other women's national team members with Twitter handles he could congratulate. You can't blame Holden for trying.
Morgan's Facebook & Twitter Accounts Explode
Holden is not the only one though trying to draw some attention from Morgan. Her Facebook fan page is has soared with 169,229 people liking the page. And the messages they're leaving, just requests for marriage is all. (Now Morgan has 3,273,578 likes on her Facebook page)
And then her Twitter account as exploded too, as she now has 173,634 followers. I wonder how many of these are men. (Morgan is now up to nearly 3.5 million followers)
Last but not least there are plenty of YouTube marriage proposals for Alex Morgan. This has to work. I'm sure Morgan will want to marry a random stranger…
The truth is, Alex Morgan is a soccer star who scored some very big goals in the World Cup and was a force when she entered the match. There's no doubt her fame is only going to grow as she continues to evolve as a player. She's just 22 years old and has plenty more World Cups to play in.
Bright Lights Big City
Finally, with the bright lights shining, Alex Morgan might just get swept away and scooped up by the likes of a cast member of HBO's Entourage. Morgan and Hope Solo went to the Entourage premiere. I wonder if they'll get on an episode. That would be awesome!
After their tough loss in the World Cup final against the Japanese I caught up with US goalkeeper Hope Solo and striker Alex Morgan at the Entourage Premiere in New York City.