Argentina counter attack in four passes led to a Di Maria goal to make it 2-0. The greatest counter attack goal in the history of the World Cup. Surely it was.
Argentina was up for the game from the start. Always on the front foot and ready to attack. Di Maria on the wing the epitome of this.
Everyone talked about Kylian Mbappé and Antoine Griezmann before the game but not enough people were talking about Angel Di Maria. Di Maria took the perfect pass from Alexis Mac Allister at the 36th minute and double the lead for Argentina.
What an incredible sequence of passes though. The most important pass is perhaps is the first time ball by Nahuel Molina to Mac Allister. Not easy to first time the ball right away. He could have settled it and slowed the game down. And then the clipping of the ball into Messi by Mac Allister and the genius flick out wide by Messi to Julián Álvarez. Who then plays a soft pass back to Mac Allister – who smartly had kept on running.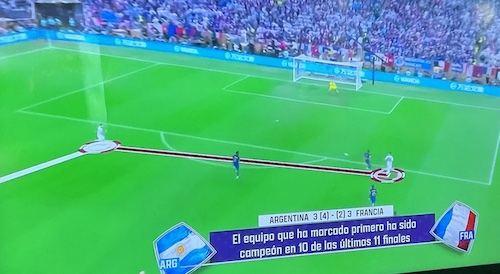 Just how many people did Di Maria nutmeg before he was taken off? Four or five at least suffered the trickery of DiMaria and saw the soccer ball go through their legs. The French defenders had to repeatedly foul him in order to stop him. Unfortunately he had to go off early due to coming back from an injury to his thigh.
At one point Di Maria controlled a hard pass at the top of his own box and turned and nutmegged the French defender closing him down. It was just a game like that for Argentina. Wanting the ball all the time and ready when they received it. France not so much.
The French team would not give up though. And Interestingly enough a DiMaira figure would come on for France, Kingsley Coman. A footballer who possesses the same kind of dribbling skills and trickery as Di Maria.
It would not be enough for France as Argentina continued to battle until the very end. Just an incredible game overall and tournament. Both Messi and Mbappé had tremendous games for their teams. In the end though, Argentina would take the World Cup trophy in the penalty shootout.
Watch the Argentina counter attack and the Di Maria goal in the video below from Telemundo.
Angel Di Maria finished off just a superb counter attack and team goal for Argentina. It really is a work of art this counter attack goal by Argentina.
🇦🇷 ¡¡¡GOOOOOOOOOOOOOOOOOL DE ARGENTINAAAAAAAAAA!!! 🇦🇷

🔥 ¡EL 'FIDEO' ÁNGEL DI MARIAAAAAAAAAA! ¡GOLAZO ARGENTINOOOOOO! 🔥#ARG 2-0 #FRA#MundialTelemundo #ElMundialLoEsTodo #Qatar2022 #ARGvsFRA pic.twitter.com/JExzImqHt9

— Telemundo Deportes (@TelemundoSports) December 18, 2022