Who is the greatest bald soccer player of all time? Of course it's the Frenchman Zidane. He would run the midfield in the bald force soccer team. Rooney would score the goals. Pep would be the coach. Freddie Ljungberg would play out wide.  David Silva would play somewhere in the midfield with Zidane – but Silva might not actually be bald, but instead just shaved his head…
These days, a footballer's haircut is an integral part to their identity. But some footballers prefer the clean shaven look to having a head full of hair. It got us wondering… what if eleven of the best bald players of all time took on eleven of the best hairy players of all time?
Going bald is a common thread that runs through a lot of the classic Seinfeld episodes, and as we've later learned, it stems from Larry David and his own baldness. As David did even more shows with baldness as a theme in his own show on HBO, Curb Your Enthusiasm. But there are a few classic shows that stick out as we select the bald force of world soccer. A force that despite being bald or going bald, lives on to fight on, score goals, win soccer games, and help lead their soccer clubs to titles even.
GEORGE: Yes. Live, damn it. Live! Every precious moment as if this was the last year of your life. Because in many ways…it is.
SALESMAN: All you people with hair think you're so damn superior! You have no idea what it's like. You ever look down in the bottom of your tub and see a fist full hair? How'd you like to start your day with that?! (Looks ready to punch Jerry)
We have the pale force at Barcelona, which was inspired by Conan O'Brien's on pale force, so it only made sense to gather together a bald force of soccer players.
And I must say, I being of an early thirties age don't make light necessarily of the bald force but I'm actually trying to show some solidarity to these soccer players who have to deal with this common facet of getting older for many unlucky men. While I'm making light of it to an extent, it's more to ease their pain and those who might be going through a similar situation, with a good chuckle. Well, at least striving for something like that. Believe me, I have seen my hair thin out and only hope it stops very soon. To play soccer in front of thousands of people when you're losing your hair can't be fun. Sure you get over it but when the hair starts to go it can't help your game.
Pep Guardiola & David Silva – So far Pep is the only manager on the bald force…two bald force members exchanging some information with their bald heads. The best bald manager in all of football, yes, it's probably Pep.
It's not something to scoff at if you haven't gone through it. Especially say if you're in your early twenties and it starts to fall out. I had friend who had to suffer through this indignity as a freshmen in college. No fun anyway you look at it but tough when you're still a young man trying to play college soccer and move up the ranks to the professional level.
Let's get to the elite and the soon smooth and domed Bald Force of world football:
Marouane Chamakh – The former Arenal player now kicks the ball for Crystal Palace, but sadly, his hair is still thinning out. He doesn't seem to care though as he always has a unique hair cut and lets it grow long in the back.
Arjen Robben – The loss of hair has been swift and that's why he's going to lead the Bald Force. He can dribble the ball at pace like nobody else whether he has hair or not.
Freddie Ljungberg– Did he retire since he was losing his hair? Don't think so. He has no problem getting endorsement deals and meeting the ladies minus a few hairs. He's now set to join the Seattle Sounders in the MLS.
Wayne Rooney – He's gone ahead and shaved his head. At just 22 years old, the youngster has been playing in the EPL and for England for ages it seems like. He came to realize that it's just easier to shave it all off.
Esteban Cambiaso – The Argentine and Inter Milan defensive midfielder tried to hold off on completely shaving his head for sometime. He had a long wisp of hair in the front hanging on for dear life. But the once Real Madrid youth player went ahead and shaved his head in the end.
Landon Donovan – More hair he loses the better he plays and more goals he scores. He's on pace to pass 20 goals this year but could end up without much hair on his head by the end of the season.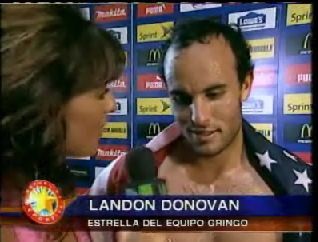 Ricardo Carvalho – Still wears his dwindling hair well, seems only to give him more character and wisdom as he helps Chelsea and Portugal to win games.

David Beckham – Will he end up like the swimmer in Seinfeld who was shaving his head and it turned out he was losing or lost his hair? Beckham is looking to earn more England caps and take over as the most cap player. I doubt Beckham will go bald but you never know.
KURT: Well, it still is. I shave my head for my swim team. I just liked the way it looked, so I kept it.

ELAINE: Are you saying that I could be dating this hair? With you under it?
Then, if you ever watch CNBC to see how your stocks are doing, which I'm guessing CNBC's ratings are soaring with the collapse of the financial system, you've seen those hair replacement commercials that only seem to sting a bit I'm sure for those who have lost a lot of hair. Is it necessary to show the ads so many times in a row? Which begs the question, has there ever been a professional soccer player who's had hair transplants done? Don't think so. It only makes it worse.
Wayne Rooney. Who will score all the goals for the bald force? Rooney. There is one player who has famously had hair transplants done, that's Manchester United's Rooney. Maybe there are other football players who have had hair transplants done so well you can't tell…but hard to say. I sort of admire the guts it takes for Rooney to get hair transplants done when he's in the spotlight so much in England. Rooney even tweeted out a picture of how his hair transplants looked early on.