Barcelona possession kings. When you think possession in soccer what team comes to mind – Barcelona of course. When playing against Barcelona you rarely get to see the soccer ball. They always have it at their feet. Possession isn't worth a goal but maybe it should be a tie breaker or something. Playing Barcelona you'll certainly improve your fitness levels, chasing the ball around in circles. Even Cristiano Ronaldo gets frustrated sometimes and wants to quit when playing against the Barcelona possession machine.

FC Barcelona football philosophy is Tiki Taka – keeping possession of the ball. It's both an attack and a defense, since if your team has the ball the other team doesn't and so they can't score goals against you.

Barcelona is undefeated. That of course is no surprise. They've played five league games and one Champions League match without a loss. And, by all appearances, they are well on their way to another fantastic season. Now, many are asking if this is the best Barcelona team ever. Many say if they can win the league title and Champions League again this year, they will be the best Barcelona team in its 110 history.

We'll update the possession time per game throughout the year. This is for the La Liga season from 2009-2010.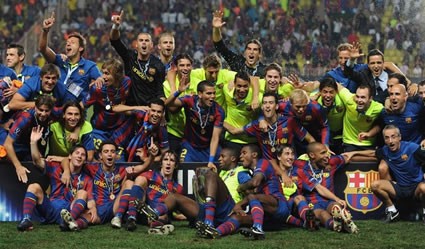 And Barcelona is a football team that has remained whole, more or less, minus the trades of Deco and Ronaldinho some years ago. The core group of players have been together for five or six years now. A core group who, minus Ibrahimovic, who replaced the seemingly irreplaceable Eto'o, are pretty much the same treble winning side from last year.
At times, Barca is so good that it almost doesn't seem fair. They not only win games but also embarrass the opposing team. Which is true even when they're playing away from home and not at the Camp Nou. It would be one thing if they were passing in and out of opposing teams with a certain amount of flair while playing at home, with the crowd behind them. But they play the same way wherever they are. If you watched Messi, Xavi and Alves play in a beach soccer tournament I'm sure they'd pass, pass and pass some more without letting the other team touch the ball.
Barcelona consistently rack up possession against ever team they play. After five games this year, their average possession time in La Liga is 70%. And against Inter Milan, the reigning Serie A league champs, who they played in Milan in their first Champions League match, they had 65% of the ball in the match, which ended in a nil nil draw.
| | | |
| --- | --- | --- |
| | Barcelona's Possession Time | Result |
| Sporting Gijon | 79% | Win: 3-0 |
| Getafe | 58% | Win: 2-0 |
| Atletico Madrid | 59% | Win: 5-2 |
| Racing Santander | 78% | Win: 4-2 |
| Malaga | 74% | Win: 2-0 |
| Almeria | 73% | Win: 1-0 |
| Valencia | 60% | Tie: 0-0 |
| Real Zaragoza | 79% | Win: 6-1 |
| Osasuna | 72% | Tie: 1-1 |
| Mallorca | 69% | Win: 4-2 |
| Athletic Bilbao | 66% | Tie: 1-1 |
| Real Madrid | 62% | Win: 1-0 |
| Xerez | 71% | Win: 2-0 |
| Deportivo La Coruña | 72% | Win: 3-1 |
| Espanyol | 71% | Win: 1-0 |
| Villarreal | 61% | Tie: 1-1 |
| Tenerife | 67% | Win: 5-0 |
| Sevilla FC | 72% | Win: 4-0 |
| Valladolid | 67% | Win: 3-0 |
| Sporting Gijon | 74% | Win: 1-0 |
| Getafe | 50% | Win: 2-1 |
| Atletico Madrid | 66% | Lost: 2-1 |
| Racing Santander | 67% | Win: 4-0 |
| Malaga | 76% | Win: 2-1 |
| Almeria | 71% | Tie: 2-2 |
| Valencia | 60% | Win: 3-0 |
| Zaragoza | 63% | Win: 4-2 |
| Osasuna | 73% | Win: 2-0 |
| Deportivo La Coruna | 76% | Win: 3-0 |
| Xerez | 74% | Win: 3-1 |
| Tenerife | 83% | Win: 4-1 |
| Sevilla FC | 69% | Win: 3-2 |
| Valladolid | 69% | Win: 4-0 |
| Average per game | 68% | |
What's amazing, is a few of these games Barcelona have been down a man do to a red card, and they've still had a huge possession percentage in the game.
Teams have tired to vary their approach against Barcelona. Some have gone high pressure during periods of the game, only to get passed around from the back and see Henry racing down the sidelines on a counter attack. Most teams hope lies in staying compact and scoring off a set piece or springing on the counter when they get their 30% of possession time.
Barca have few if any chinks in their armor. They were perhaps missing a forward who could score with his head and hold the ball up. They now have Ibrahimovic, who does much more than just that. Their one chink left might be that they don't have a free kick specialist. Dani Alves might fill that role and Messi seems to want to take the role on, but neither has proven to show some consistency. It may be their only lacking as a side.
What is Barcelona's record total amount of possession time in a La Liga match? It could be their first game of the 2009 campaign against Sporting Gijon, where they had a possession time of 79%. Will they play a game where the opposing team doesn't see the ball for 90% of the match? It would be incredible but not surprising when you consider Iniesta is just coming back to the team after an injury.
However, despite all of this, Barcelona is not in first place in La Liga right now. Instead, Real Madrid hold is at the top. A team that has an average possession time of 55% per game so far this year, and are ahead on goals scored. Madrid has scored 14 goals so far this year while Barcelona has 13.
I was trying to dig up the possession time for Barcelona during their summer preseason tour of the U.S. When they played two MLS teams, the Seattle Sounders and the LA Galaxy, but no recaps gave the possession times. It was just the same refrain within the context of the recap pieces: Barcelona dominated possession time. The MLS teams lost, and possession time was clearly in Barcelona's favor, but I don't think it was beyond the 70% range.
Sir Alex Ferguson, who called Barcelona's style of play the 'passing carousel', was beat out by the passing attack in the Champions League final. Who said you can't play beautiful soccer and win?
Yet this beautiful style could become boring quick like, as teams just can't compete with Barcelona since they can't get the ball. At some point they're going to have to force Barcelona to play with one less man or strap an ankle weight to Xavi's leg. That won't work either though, since they'll just play through Iniesta. There's just no stopping Barcelona. Well, perhaps maybe Real Madrid will stop them, who spent a pile of money to do just that in acquiring Kaka and Cristiano.
Mark your calendars. Perhaps the el clasico of all el clasicos takes place on November 29th, just wonder if Real Madrid will see any of the ball though.
Update: See Barcelona's possession totals per game for the 2010-2011 La Liga season and then Arsenal's possesion totals per game for the 2010-2011 English Premier League season.