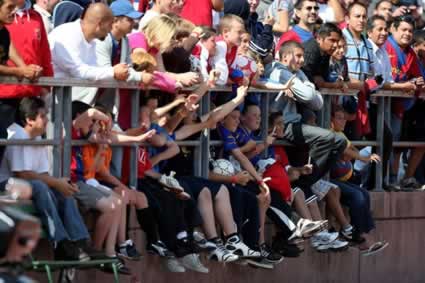 Barcelona at Kezar: It's Just Practice.
Overheard at the Barcelona training session at Kezar in San Francisco:
'This line is frickin longer than the ones at Great America'.  – Two ten year olds rushing up to the ticket line.
'My husband said not to talk to anyone, since I didn't know who was practicing here.  He said it was like the Yankees coming to town.  I can tell though they look like great athletes just by looking at them from afar.' – Woman looking through the fence outside the park.
The line snaked around the corner, and this was just a soccer/football practice.  $10 bucks to see Barcelona run through soccer drills for an hour and a half.  Two motorcycle cops guided the big black bus along the street that carried the Barcelona team as it made its way into the stadium the crowd begin to cheer.
Barcelona split up into two groups of about ten, and in a small square did the classic game that all soccer teams take part in, 5v2.  They then did some stretching and running – short sprints.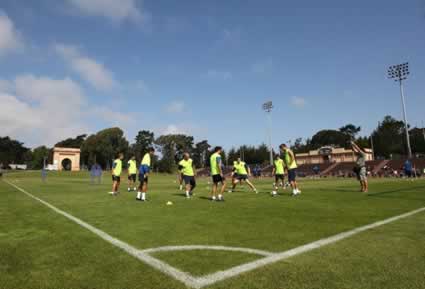 Later, it was an elaborate shooting drill.  A couple passes were exchanged and then one player would play a two wall passes that ended with a shot on goal.  Some flags and defender stand-in, the kind you might use to setup a fake wall, acted as the defenders.  Every pass was sharp, every shot was crisp, and the drill was done in a tight space and they switch from doing everything with the right to the left foot.
Their last drill was a keep away type of game, with four defenders in the middle with one attacking player, and then five or six attackers around the side.  Pep Guardiola joined in on this last session. They'd try to string as many passes as they could together, using the player in the middle whenever they could.
It was a solid hour and half long training session, steady work, well organized, and in and out. The keepers had their own sort of session with their own coaches.
The players gave the crowd a quick applause before exiting back up to their bus and back to the hotel.  Where would they head next?  Do some sightseeing – the Wharf, Alcatraz, the Golden Gate bridge?
Some other thoughts:
Groups of youngsters with their coaches called out for Messi, he gave them a quick thumbs up
Messi wore longer shorts than everyone else.  He seemed to be operating on another plane, not as a the best to ever play, but just making things look so easy
Zlatan Ibrahimovic joined in on the shooting drill and smashed the ball – he's got a very powerful shot
Iniesta made a few runs and did some stairs
Alves gave the hang loose sign
Roughly 3,000 people showed up and paid $10
What a life they live, traveling the globe playing the game they love
Xavi was all business, didn't even look at the crowd, didn't acknowledge their presence