David Beckham can't get wet! This is one of the funniest things you'll see in a while as far as soccer team jokes and pranks go. The LA Galaxy's Chris Birchall has a laugh with David Beckham as he holds an umbrella over Beckham's head in training when it starts to rain. Don't want Beckham to get a drop of rain on him. I wonder if that was in Beckham's contract…? That he has someone hold an umbrella for him if it rains in LA. Hilarious. It's not supposed to rain in LA, right?
Image credit goes to the LA Galaxy of course.
I guess Landon Donovan doesn't get this kind of special treatment, yet. Wouldn't have been even funnier maybe if it was Donovan holding the umbrella for Beckham…still though this is legendary. Birchall holds umbrella for Beckham: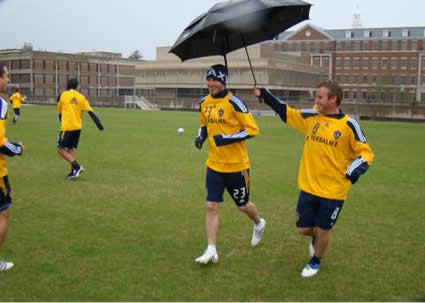 What's even funnier though is that while Birchall held the umbrella for Beckham he sang the Rihanna umbrella song. I think….
Now that it's raining more than ever
Know that we'll still have each other
You can stand under my umbrella
You can stand under my umbrella

(Ella ella, eh eh eh)
Under my umbrella
(Ella ella, eh eh eh)
Under my umbrella
(Ella ella, eh eh eh)
Under my umbrella
(Ella ella, eh eh eh, eh eh eh)
Chris Birchall is making $145,125 per year playing for the LA Galaxy while Beckham makes just $6,500,000, not including endorsement deals or the deal he has with the league to buy a team at a set price that's already gone up in value.
I'm guessing Birchall might actually hold the umbrella for Beckham for a fair price, as would a number of LA Galaxy players making the league minimum of $40,000 per year. They'd probably happily sing a song of his choice while doing so, too.