---
Stadium Spotlight: Blackbaud Stadium
Overall Grade: 9.0/10
Location: Charleston, SC
Tenant: Charleston Battery
Opened: 1999
Capacity: 5,100
Nickname: Battery Park
As one of the true gems of USL-1, Blackbaud Stadium is everything that a lower division team could want. Situated on the beautiful, up-scale Daniel Island in Charleston, Blackbaud boasts one of the most picturesque surroundings imaginable. Palm trees and a sea breeze accompany this small-scale soccer palace, which is modeled after a lower-division English stadium. Blackbaud Stadium was also the first soccer-specific stadium in the United States, followed soon after by Crew Stadium in Columbus, and while it has a solid fan-base, it unfortunately struggles to regularly fill the stands.
The Pros: Fans are right on top of the action in this cozy stadium, and there is not a bad seat in the house. Not only can every last touch on the perfectly maintained pitch be viewed from anywhere in the stadium, but typically most things can be heard (for better or worse). The entrance to the locker rooms even leads the players right through the stands and corridors, making it a very personal experience. As noted, the stadium sits on one of the most beautiful residential islands imaginable, and one of the biggest draws is the Three Lion's Pub. This huge stadium club of sorts offers the usual food and drink, but goes well beyond that. It is stocked with some very highly valued memorabilia from around the world. Step inside and you can find everything from Charleston Battery team-signed balls, to autographed MLS jerseys, to FA Cup gear from decades ago, all while eating a hamburger and downing a beer. As great as the stadium is, the pub is truly something special.
The Cons: One of the most disheartening things to see is something that does not directly have to do with the stadium. For whatever reason, the Battery organization has not been able to regularly sell-out Blackbaud Stadium, even with a successful team. Unfortunately, this takes away from the spirit of things, with gold seats visible throughout the park. Also, as beautiful as Daniel Island is, it is a decent but reasonable ride from downtown Charleston, which may take away those without transportation (though a stadium in the historic downtown district is understandably a pipe dream). As far as the actual stadium goes, the club seats were, during my visit, noticeably dirty and in need of cleaning, and the corridors beneath the stands are a bit "bare bones" and not the most aesthetically pleasing. Overall though, it is a struggle to find negative things about Blackbaud Stadium (as if you couldn't tell), which is even environmentally friendly through things such as solar panels. Blackbaud Stadium shows that the Charleston Battery is exactly the type of organization that American soccer needs at all levels, from Major League Soccer and the US Soccer Federation all the way down the soccer hierarchy to the United Soccer Leagues.
Battery Park by Night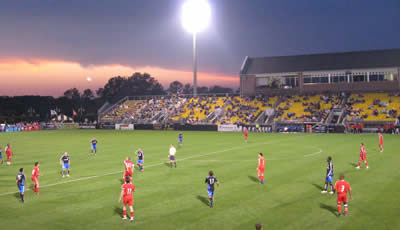 Solar Panels by Day