---
Charlie Rose Interviews Alex Ferguson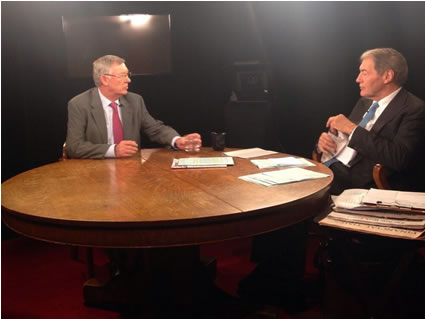 To me, what stood out in the Charlie Rose interview with Alex Ferguson was how Ferguson reacted when asked about David Beckham.
Ferguson could barely name Beckham's wife, the Spice girl he said, and want on to say how he wished Beckham has not gone to the LA Galaxy, but stayed at least with a bigger club. But Ferguson was impressed with what Beckham had made of his life and how he returned to Europe to pay for AC Milan and then PSG.
Full Alex Ferguson interview right this way:
Ferguson also talked about Wayne Rooney, saying there wasn't really a problem between the two of them. He then said wouldn't manager a team again and certainly not Chelsea, even if Roman Abramovich bought him a stable of the best horses in the world – although they might tempt him. And Ferguson talked about how the two loses to Manchester City, 5-1 and 6-1, made him go home and bury his head under the pillow. Finally, Ferguson backed David Moyes as the manager for United. Oh yeah, he's become quite the fan of the history of the Civil War.
Some other quotes from the interview with Charlie Rose:
"The horrible part of the job – when you see a player and you recognize that the day has come, and he's had his time." Sir Alex Ferguson

"I always say to them [the team] at half time, the last 15 minutes – throw the kitchen sink!" Sir Alex Ferguson

"The best players are the ones who have courage." – Sir Alex Ferguson.

"The best player I have ever seen is Pele, and in the recent times are Lionel Messi and Christiano Ronaldo." Sir Alex Ferguson

"Young players will always remember the manager who gave then their first game… Ryan Giggs started at 16 for Manchester United."
And here's what Ferguson said about his plans for the future:
"I'm not interested in managing again or getting myself worked up about Manchester United's results. You would be throwing your money down the drain if you put any money on me coming back as a manager. I made my decision. The timing was perfect. There is no way back for me now. I've got a new life. I want to go to the Kentucky Derby and the US Masters, the Melbourne Cup. I want to visit vineyards in Tuscany and France."