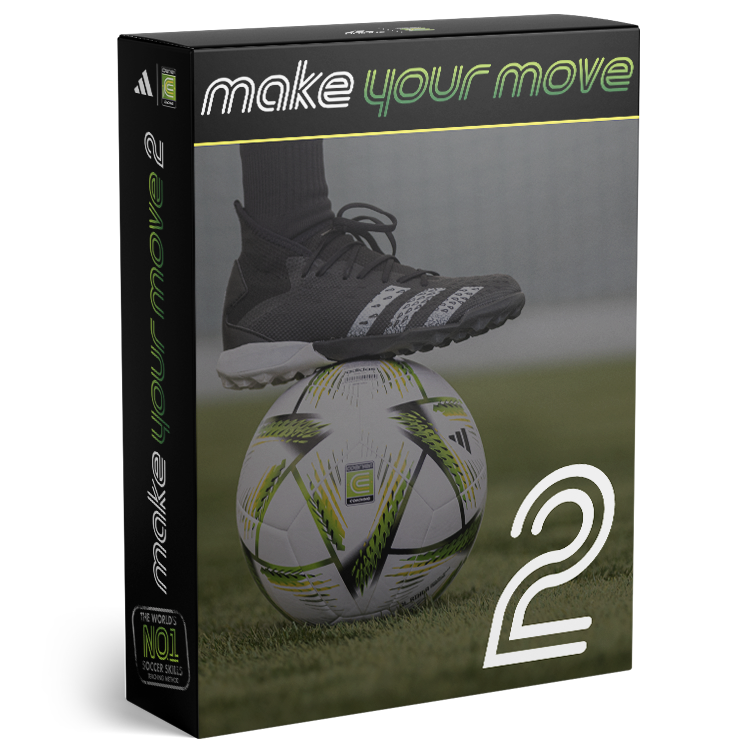 Introducing Make Your Move 2: Master the Art of 1v1 Soccer! 
Back and better than ever, the Coerver Classic Make Your Move is making its triumphant return with the NEW youth soccer coaching must have resource, Make Your Move 2! 
The All-Time Coerver Best Seller: The soccer world was captivated by the game-changing techniques of Make Your Move. And now, due to overwhelming public demand and Coerver's unmatched expertise in 1v1 training, we proudly present Make Your Move 2 – the ultimate sequel to elevate your skills to new heights!
What's new for Make Your Move 2? 
Advanced 1v1 Techniques: Delve into a treasure trove of cutting-edge 1v1 techniques, including feints, dribbles, and turns, that will leave your opponents bewildered and in awe of your skills.

Position-Specific Training: Tailored to players of all positions, Make Your Move 2 hones your abilities with position-specific drills, ensuring you excel in your role on the field.

Match-Ready Decision Making: Enhance your decision-making abilities with real-game scenarios, preparing you to handle any situation that arises during the heat of the match.

Coerver Expert Insights: Learn from the very best! With Coerver's world-renowned coaches guiding you, you'll receive top-tier instruction that guarantees exceptional progress.

Exclusive Bonus Drills: As a special treat, Make Your Move 2 comes packed with exclusive bonus drills, designed to give you that extra edge on the field.

Individual Progress Tracking: With our innovative progress tracking system, you'll witness your growth firsthand, making your journey to soccer excellence even more rewarding.
Elevate Your Coaching with Make Your Move 2!
Whether you're a seasoned coach looking to fine-tune your skills or an aspiring beginner eager to make your mark, Make Your Move 2 caters to all levels of coaches. Unleash the power of Coerver's proven 1v1 training methodology and watch your player's performance soar.
Ready to Dominate the Field? Get Make Your Move 2 Today! 
Join the ranks of soccer legends who have honed their skills with Coerver's Make Your Move series. Don't miss the opportunity to experience the groundbreaking techniques that have set the standard for 1v1 training worldwide.
Unlock Your 1v1 Potential with Make Your Move 2!