Attention soccer all coaches and goalkeepers specifically… Want to keep your soccer players excited, motivated and working on key areas of their game? Check out Coerver's goalkeeping essentials videos.
Goalies – Want to Dominate Your Box? Want to make that save on a free kick when you can't even see the ball because of the wall? If you're a goalkeeper, then this is a must watch video.
Learn advanced techniques and become a better goalie with the Goalkeeping Essentials DVD or get the online version from Coerver Coaching! Our unique Pyramid of Goalkeeping is unrivaled in its ability to improve your game and confidence level and is centered on five building blocks of being a good goalkeeper, including: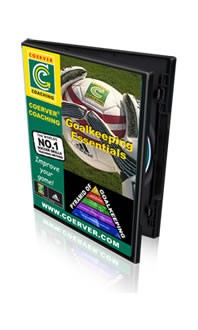 Basic technique and handling
Footwork
Mobility
Positioning
Shot stopping
Crosses
Distribution
Gameplay
All moves can even be modified for skill level, age and field condition!
Goalkeeping Essentials $49.95

Save 20% when you buy Improve Your Game & Goalkeeping Essentials
Save 20% when you buy Make Your Move & Goalkeeping Essentials
All DVDs backed by Coerver's 90 Day, 100% satisfaction guarantee! New online version also available.
Take a Look at What You'll Learn:
How to read your game better
How to work on your core muscles
How the gunslinger position will make you a better goalkeeper
The proper way to receive a ground balls and balls above the waist
Safer hands – the proper way to secure the ball
How to condition yourself to move forward and attack the ball
How to develop all around vision and game awareness
Faster footwork – How to develop the ability to move backwards quickly
How to adjust to shots from any angle (good footwork)
How to develop confidence diving at feet
How to stay focused under pressure
Come off your line with greater confidence
Here's a sample video from the Coerver Goalkeeping Essentials DVD: