Practice your skills and polish your game all year long with Coerver Coaching's Improve Your Game DVD training set! Designed to complement our soccer camps, these discs can be used by players at home, both alone and with the help of parents, friends or teammates. Coerver Improve Your Game focuses on three levels of self-improvement (Skill, Strength & Stamina) for all soccer players and includes: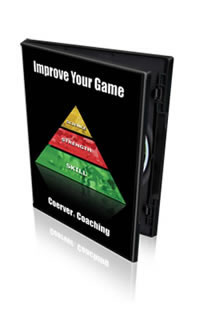 13 warm-up exercises
13 speed drills and 7 variations with partners and small groups
2 stamina / skill drills and 6 variation with partners and small groups
11 group skill assignments
12 variations incorporating stops, starts and feints
Relevant information dealing with the science and importance of exercising and proper sports training – aimed at parents
20 home assignments
6 variations of ground juggling skills
For maximum effectiveness, players should also be familiar with the skills learned on the Make Your Move DVDs.
Improve Your Game (3 Disc DVD Set) $69.95
Save 20% when you buy Improve Your Game & Goalkeeping Essentials
Save 20% when you buy Make Your Move & Improve Your Game
All DVDs backed by Coerver's 90 Day, 100% satisfaction guarantee!