Mendy goal line save. Incredible effort by Mendy to clear the ball for Real Madrid. The score was 1-0 Manchester City at this moment. Jack Grealish had just charged up the line with the ball at his feet and looked like he was going to score. The question really is should he have tried to score instead of seeming to try to cross the ball to Phil Foden. It was sort of an in between shot / cross that didn't reach Foden. Mendy could have even cleared it off of Foden and into his own goal.
With the $139 transfer fee that Man City had to pay Aston Villa for Grealish's services there's perhaps now more talk about what impact Grealish is making. At that price he should score more goals, surely. Grealish is incredible skillful with the ball at his feet. And he's fouled all the time too because of this.
However, you'd like to see Grealish make more of his chances. To score big goals like at this moment. Instead of even thinking about crossing the ball just trying to score himself. Grealish had done all the hard work. Left a series of Real Madrid defenders in his wake.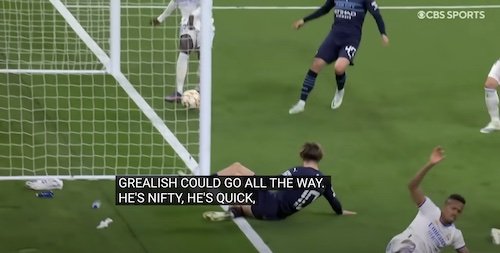 Yet Guardiola's teams and Manchester City are sort of so good because they make that extra pass. Again though, a top player knows when to take over at a certain moment and score himself. I wonder what Guardiola is telling Grealish? He's been at the club long enough now to settle in. There might be some pressure on Grealish in coming games and next year for him to score more goals like Kevin de Bruyne and Riyad Mahrez.
But just an incredible play by Mendy in the 87 minute for Real Madrid. See the Mendy goal line save as well as the rest of the highlights. The video below jumps right to Grealish racing down the line with the ball and Mendy making the remarkable goal line clearance.
Perhaps Grealish can make in impact in Manchester City's final games to clinch the English Premier League title.