---
It's no surprise young players want to learn how to play like Gareth Bale or find out what cleats he wears, especially after he tore apart Inter Milan in the Champions Leagues. There's nothing wrong with copying what the best players do. Actually, that's what you should do, watch the best and mimic them. Below, Bale shows you one of his favorite dribbling drills.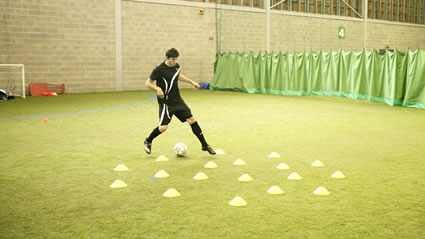 Attack the cones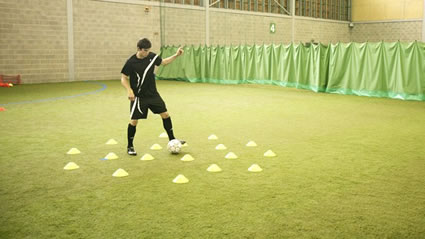 Negotiate your way through the minefield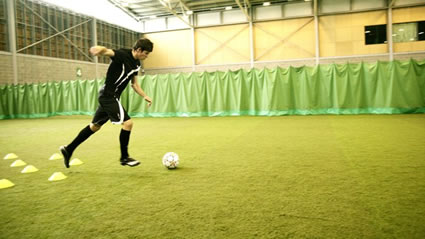 Finish with a shot at goal
"This looks hard but is one of my favorites: place 14 cones pretty close to each other but at random in a smallish circle, then dribble through them, without the ball touching any of them, before running on goal and shooting.
Your close control will need to be at its best to navigate the cones at speed, and then put your head up to pick your target before striking on goal.
I don't tend to take that many shots from outside the area, but when I do, it's always with the side-foot for placement, and the laces for power.
This one brings all the pieces of the jigsaw together – speed, control, flexibility, quick feet and finishing ability."
And Gareth Bale has incredible speed and power. Watch him score this goal versus Barcelona. Even Cristiano Ronaldo celebrated his teammate on this one. This also shows tremendous confidence, to drive at goal like this. I don't think players do this enough, dribble at speed into space when it's there. You will surprise a lot of defenders if you charge into the open space when it's on.
Gareth Bale's incredible goal against Barcelona in the Copa del Rey Final 2014
Source: FouFourTwo – Performance