---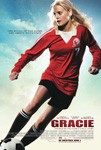 Set in 1978, a teenage girl overcomes the loss of her brother and fights the odds to achieve her dream of playing competitive soccer at a time when girls' soccer did not exist. Living in South Orange New Jersey, 15 year old Gracie Bowen is the only girl in a family of three brothers. Their family life revolves almost entirely around soccer: her father and brothers are obsessed with the sport, practicing in the backyard's makeshift field every day from morning 'til night.
Tragedy unexpectedly strikes when Gracie's older brother Johnny, star of the high school varsity soccer team and Gracie's only protector, is killed in a car accident. Struggling with grief over her family's loss, Gracie decides to fill the void left on her brother's team by petitioning the school board to allow her to play on the boy's high school varsity soccer team in his place. Her father, a former soccer star himself, tries to prove to Gracie that she is not tough enough or talented enough to play with boys. Her mother, Lindsey Bowen, already an outsider in the sports-obsessed family, is no help either. Undeterred, Gracie finds reserves of strength she never knew existed, and persists in changing everyone's beliefs in what she is capable of, including her own.
Gracie not only forces her father to wake up from his grief and see her as the beautiful and strong person that she has always been but she also brings her family together in the face of their tragedy.
Watch the trailer, just hit play: