Who knew Nathan Collins took karate? Jack Grealish has been struggling for Manchester City but scored early on in this game only to suffer this karate kick from Collins. This is a karate kick worthy of Eric Cantona or Zlatan Ibrahimovic or better yet the Nigel De Jong's karate kick on Xabi Alonso in the 2010 World Cup. Do they have a worst foul in the English Premier League award? Surely Grealish karate kicked by Collins is the winner.
Wolves go down to ten men against Manchester City, as Nathan Collins gets his marching orders after flying into a rash challenge on Jack Grealish.
What's funny about this is when Collins points to the soccer ball. Trying to tell the referee that he won the ball with his karate kick. I mean it's funny but not so funny for Grealish as he took a kick to the stomach and more dangerously the groin area!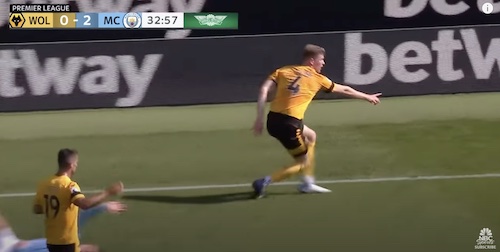 Nathan Collins sent off for dangerous tackle on Jack Grealish | Premier League | NBC Sports. It's beyond a dangerous "tackle" by Collins. Grealish karate kicked is more like it.
Thankfully for Grealish is starting to play better and have more of an impact in games and it's helped that he's had the support from his manager Pep Guardiola.