Do you even lift bro? Jozy Altidore appears to have spent some time in the gym. After scoring an incredible goal versus Costa Rica, Altidore ripped off his jersey to celebrate and showed just how strong he's become. I don't recall Altidore being that big and strong in years past. He's put on some extra weight and the muscles in the arms and shoulder areas are Hulk like now. As a defender, Altidore is someone you'd want to have to face off against…

Jozy's celebration could be called, "do you even lift bro". However, in the modern game of soccer, it's the skinny soccer player who is usually the best player on the field, whether that's Neymar or Iniesta. But for forward's like Jozy or say Manchester United's Romelu Lukaku, being big and strong helps you as a hold up forward keep possession and fight of defenders and lay the ball off. Oh, it can also help you score goals too, by enabling you to  knock off defenders and push through compact defenses.

Jozy Altidore is almost reaching Adama Traore levels of strength – well, not quite but you get the idea.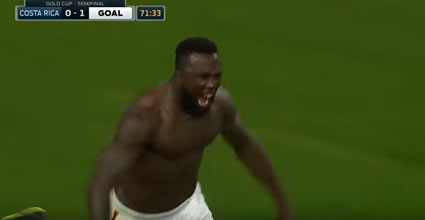 Yes, Altidore was never say a skinny soccer player, but it seems Jozy has been doing some curls and bench press or some kind of weight lifting routine. He's now like the Incredible Hulk, accept not green and someone who just scores big goals in big games. What's the secret strength training program Jozy?