Juggling tennis ball as a soccer player: These days, while working your skills at home, why not try to challenge yourself a bit more and juggle a tennis ball. Then, when a soccer ball is flying to you in the air you can juggle it like Dennis Bergkamp and score. Watch as Arsenal's Alex Oxlade-Chamberlain and Liverpool's Jordan Henderson do battle to see who can juggle the tennis ball the most. It's a good old keepy uppy challenge but of course much harder with a tennis ball.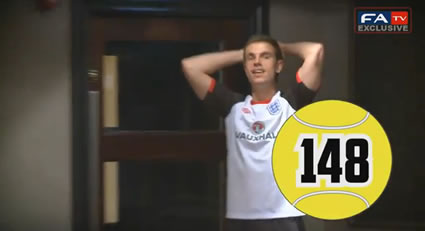 Henderson ends up winning the challenge with a score of 148 and he could have done even more, as he tried to pull off a trick at the end. Once you can juggle a tennis ball with ease then juggling the soccer ball is that much easier!
Chamberlain ends up with 136. How many times can you juggle a tennis ball? Once you start working with a tennis ball or a smaller say size three soccer ball then playing with a big regular soccer ball is just easy. Juggling the soccer ball though is an art, a skill that comes into play in real games when you least expect it.
Want to improve your soccer skills and see how you match up with other players from all over the world? Give this Tennis Ball Juggling Time Trial a shot! Again, one you can juggle a tennis ball then juggling a size five soccer ball becomes that much easier.